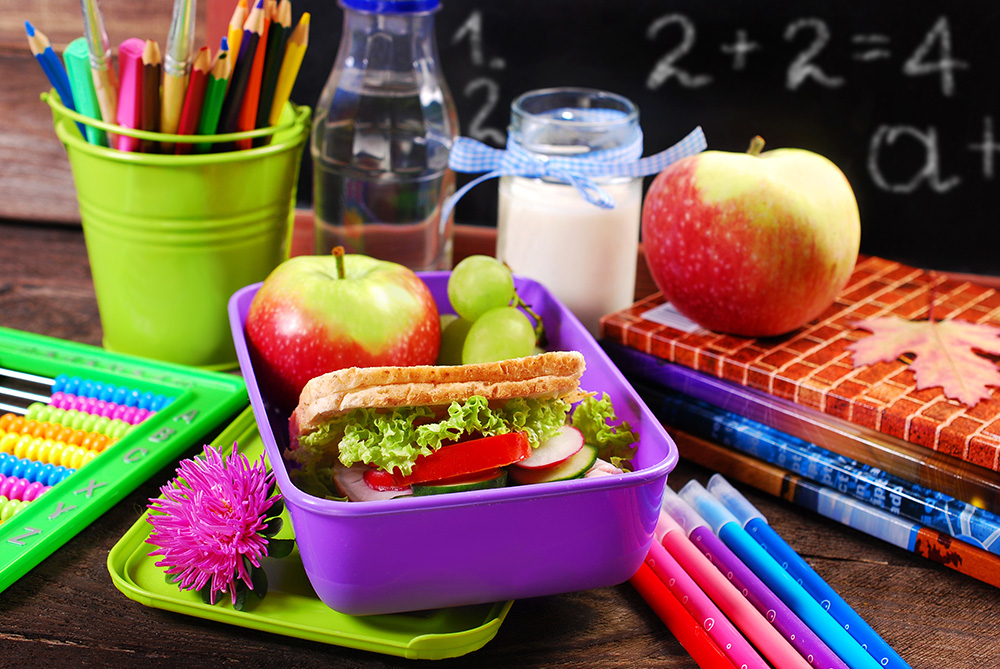 It's that time again. School is starting and the morning rush to get to school on time will soon be the focus in homes around the country. If your house is anything like mine on a typical school morning (especially Mondays), then you know it's easy to forget about being environmentally friendly when it comes to packing lunches for school. It seems easier to grab some single-serving lunch products, pop some vegetables in a plastic bag and call it a day. But, according to http://www.wastefreelunches.org/, "Much of the trash we generate comes from the packaging on the food we buy, and lunch foods are no exception. In fact, it has been estimated that on average a school-age child using a disposable lunch generates 67 pounds of waste per school year.
"That equates to 18,760 pounds of lunch waste for just one average-size elementary school."
And we've talked before about how food waste has become such a huge issue in our country, for example, on average a family of four spends $2,275 on groceries that they never eat. Visit https://recyclenation.com/2015/09/how-can-you-cut-down-on-food-waste for the whole story.
Here are some tips to make sure in the midst of all the chaos your kids can have a health lunch and the planet (and your wallet) will reap the benefits:
Plan Ahead
Have your kids help you plan the lunch menu. I know if my daughters are helping with what goes into their lunches, there is less food wasted at the end of the school day.
Prepare what you can ahead of time. A lot of fruits and vegetables can be prepped ahead of time and put into reusable containers. You can also cook pasta days ahead, toss it with a little extra virgin olive oil and store it. This will make putting together a pasta, veggie or fruit salad quick and easy.
Buy food items in bulk and separate into reusable containers. Instead of buying packaged granola bars, buy granola in bulk and add your own fresh fruit each day.
Avoid Disposable and Embrace Reusable
Use reusable lunch bags instead of disposable ones. Find one that is large enough to fit your child's lunch and is insulated to keep all their food as fresh as possible or make your own like these adorable DIY bags at Babble.com.
Use reusable containers to pack sandwiches, salads and snacks. Glass jars and containers are my go-to for food storage. If you have smaller children, you may want to invest in stainless steel food containers like the ones at http://www.planetbox.com/.
Use stainless steel flatware instead of using disposable plastic ones.
Use cloth napkins for your sweeties to keep those faces and fingers food free. You can usually find a variety of cloth napkins at your local thrift store or make your own.
Fresh fruit doesn't require any additional packaging so it's the ultimate zero-waste food.
Some Favorite Reusable Storage Options
Stasher Storage Bags from Food52.com. These self-sealing, airtight and reusable storage bags are awesome. They are BPA-free and made of 100 percent pure platinum food grade silicone so they can be reused again and again. You can also wash them in the dishwasher. You can find them at Food52.com.
BottleRocket Water Bottle from PlanetBox.com. What I love the most about this water bottle is that it's designed so you can clean all the parts thoroughly and there are no straws to clean (yay!). They are also BPA-free and the stainless steel body is double-walled and vacuum-insulated so it doesn't sweat. You can find this at PlanetBox.com.
Remember to have your kiddos bring home lunch leftovers. You can get an idea of what items they really love for lunch, tweak serving sizes and grab those peels and scraps for the compost bin. Now that we have lunches taken care of, I can start freaking out about my oldest going into the dreaded Middle School. Wish me luck.