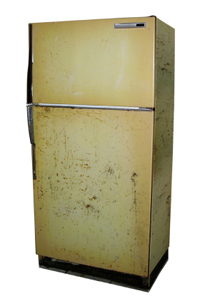 Refrigerators are one of the top household appliance energy hogs. According to Energy Star, a pre-1993 model can use up to two times more energy than a newer and more energy-efficient one. You can save far more energy and money by switching to a newer fridge, but what do you do with an old one that works just fine?
With the new Refrigerator and Freezer Recycling Program offered through Southern California Edison (SCE), SCE customers can earn a $50 rebate for swapping an old refrigerator or freezer for a new Energy Star unit that exceeds current federal standards by 20% or more. Based on 2009 average SCE customer usage and conditions, switching to a new unit can save up to $255 per year on your energy bill; getting rid of a spare old, inefficient refrigerator can save you up to $330 per year. Actual savings is not guaranteed and may vary.
California law prohibits the dumping of refrigerators and freezers in landfills. Through the Refrigerator and Freezer Recycling Program, SCE will pick up an old refrigerator from a customer's SCE service address and haul it away for free. The old appliance is then taken to a recycling center, where its metals and refrigerants are removed in an environmentally safe manner, and the customer gets a rebate check in the mail within five weeks. Appliances must be in working condition and between 10 to 27 cubic feet. The program, part of the Home Energy Efficiency Rebate (HEER) Program, is offered on a first-come, first-served basis to SCE customers who purchase and install qualifying appliances from January 1, 2009, until December 31, 2009, or when funds run out.
Click here for more information on the Refrigerator and Freezer Recycling Program and here for a list of qualifying Energy Star products. Find out how much your current refrigerator costs you by following this link. Not an SCE customer? Read this from Energy Star and find out how to recycle your energy-inefficient refrigerator or freezer.