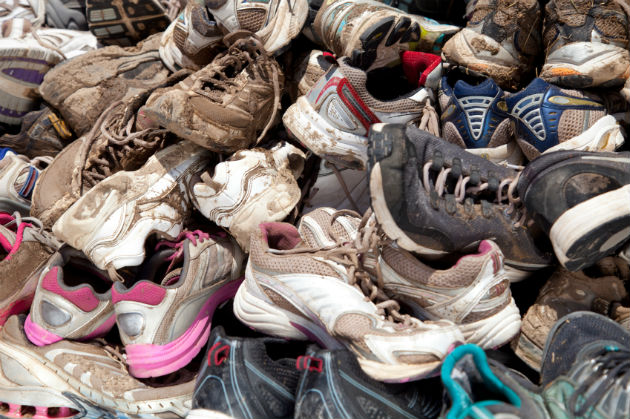 Serious runners can go through
running shoes
as the seasons change. Even casual runners will need to replace their old tired running shoes with newer models someday. And although runners often feel a strange connection to the running shoes that helped them cross the finish line in that last big race, at some point they will need to make room in their closet. So what should you do with your old running shoes? In the age of "going green" and doing what you can to eliminate pollution, don't throw your shoes in the trash, reuse and recycle them! There are several different uses for your shoes depending on the shape they are in. You could consider dropping your shoes off at the nearest Goodwill or Salvation Army. But if you want to make sure your shoes land on the feet of a runner in need, consider these programs:
Shoe4Africa.org
(gently used shoes only) – they shipped their first pair of running shoes to Africa in 1995 and began sponsoring running events, camps and races. OneWorldRunning –
One World Running
is an international program promoting an awareness of health, fitness and nutrition by providing running shoes to those in need in the United States and around the world. To make it easy on yourself, contact your favorite local running store. Many stores now have running shoe recycling bins where you can leave your shoes and they will do the recycling for you.
See Jane Run
, in Noe Valley and Oakland, delivers the shoes to the
Delancy Street Foundation
and the Salvation Army.
Fleet Feet
in the Marina sends the used shoes to Nike, for their NikeGrind program. They grind up the shoes and use them to make playground surfaces as a part of their
NikePLAY
program.
MetroSport
will send the shoes to homeless shelters or ship them to an organization in Africa.