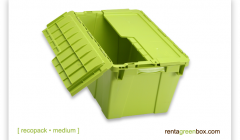 The landfill typically is the place where discarded plastic goes to die, except it can take up to 450 years for it to decompose on its own. But, Rent-a-Green-Box, a company specializing in moving and packing supplies made from recycled materials, gives unrecycled plastic a new life with its Recopack moving crates.
Instead of using cardboard boxes for your move, Rent-a-Green-Box created this cool system of lightweight Recopack crates made from 100% post-consumer plastic trash rescued from local landfills. Recopacks are stackable and nestable, complete with two flip-top lids that are secured shut with Reco zip ties made out of recycled plastic bottle caps — no packing tape required!
The Recopacks also come in three convenient sizes to accommodate the size and weight of the items you are transporting. Another bonus is not having to painstakingly take the time to put cardboard boxes together, and then break them down after use. Recopacks are delivered to your home doorstep or business in the Southern California area, and then picked up when you are done (so as not to go to waste).