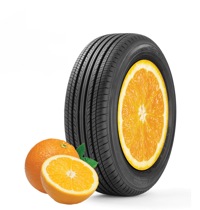 Environmental Leader
The earliest tires were made from rubber, a renewable resource. But demand for tires outstripped the supply of rubber. A new development brings the tire full-circle.
Yokohama's new Super E-spec tire, which is made in part from oils extracted from orange peels, is composed of 80 percent non-petroleum materials and has improved rolling resistance, meaning it is more fuel-efficient, according to a press release. The tire has 20 percent improved rolling resistance.
The new tire combines oil from orange peels with natural rubber and improves a vehicle's gripping power, Mark Chung, Yokohama's director of corporate strategy and planning, said.
The tires are being made in sizes to fit popular hybrids, such as the Toyota Prius, Honda Civic and Toyota Camry, which increasingly are being incorporated into corporate fleets and rental car fleets.
About 18 months ago, Yokohama introduced a more energy efficient tire.
In 2007, the tire company launched an online green social network, Eco Treadsetters, that offers daily green news and forums, "how to" guides, and interviews with musicians.