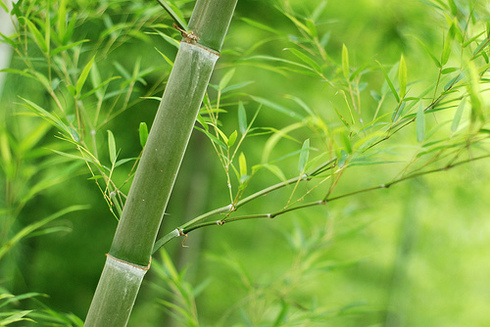 As consumers become more eco-aware, they seek out products made from materials we consider green. Bamboo is the current darling of sustainable materials and people are interested in buying bamboo products and clothes. But, is bamboo clothing that's being marketed as eco-conscious to shoppers truly green? Clothes made from bamboo have a comfy and soft feel and are said to have natural anti-fungal, anti-bacterial and deodorizing qualities, so they don't need to be washed as frequently. They're also naturally pest resistant and the plant itself requires very little water to grow, which seems like a much better choice than cotton, which requires pesticides and lots of water for its production. It turns out that bamboo farming is green, but spinning it into clothing is where things get tricky. Bamboo textiles still go through chemical processing when cooked with solvents like sodium hydroxide and carbon disulfide to make them feel like cotton, putting the textile workers at health risks just like traditional clothing production does. Still, bamboo proponents believe bamboo clothes are greener than traditional clothing made from synthetic and nonrenewable materials. Below are some business-to-business standards that have been established to show that bamboo clothing producers are ethically responsible:
International Organization for Standardization (ISO) 14001 Certification — Since bamboo clothing can't be certified organic like cotton, there is a different type of seal of approval available. Factories that produce bamboo qualify for ISO 14001 certification if they implement environmental guidelines to green their manufacturing processes. Be warned, however, that the ISO's guidelines have their criticisms.
Oeko-Tex Standard 100 Certification — The globally uniform Oeko-Tex Standard 100 certifies the products have undergone objective testing for substances that are prohibited by law, carcinogenic and harmful to health.
International Organization for Standardization 9000 Certification — Because most bamboo is produced in China, labor standards are also an important factor. The ISO 9000 certification is meant to show that bamboo producers follow certain guidelines in management and labor practices.