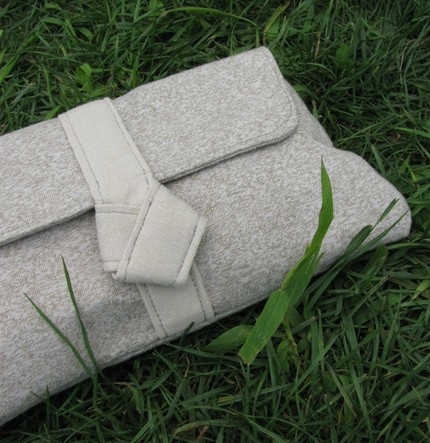 Put in about three minutes of Googling and you can find recycled handbags made out of just about every conceivable material, from soda cans to chopsticks to New York City subway maps. What follows is a rundown of some of the trends in recycled handbags — some of which you may be familiar with and some of which may surprise you.
The luxury market
Everyone would like their lives to be a little more posh, so let's start with luxury bags. Nothing says luxury like an inner tube, right? OK, not usually, but the bags from
Passchal
may change your mind — they make super-chic (and not so cheap!) clutches, hobos and briefcases made from old tires and other rubber products. Not willing to forgo leather? Then
reMade USA
might be for you, with its one-of-a-kind bags made from repurposed leather clothing and scraps. Luxe recycled bags still seem to be a relatively small section of the market, but one that's catching on, despite the potential for sticker shock in this economy.
Recyclothes
There are plenty of other bags made from recycled clothing that don't break the bank.
The Green Door
and
Salvation Sacks
have some interesting examples made from salvaged jeans, belts and sweaters; while the
Talking Squid
constructs handbags and clutches entirely out of old t-shirt parts. The quality of these kinds of bags vary wildly, and (for better of for worse) their relative affordability has made them ubiquitous at craft fairs and DIY outlets like
Etsy
.
That bag is made of what?
Then there are the bags made from the most nontraditional materials:
billboards
,
license plates
,
candy wrappers
,
newspapers
and
seat belts
, to name a few. The quality and price points of these bags also runs the gamut, but you can bet that at the very least they'd all make great conversation starters.
For the crafty among us
The products I've mentioned so far have been a mixed bag (pun intended) of handmade and mass-produced items, but what does the truly recession-chic among us do? Make your own! Indeed, crafty activities like sewing, knitting and crocheting have been making a comeback among those that want to look hip but not spend a fortune, and handbags are definitely a part of that trend. The Internet boasts scores of how-to pages for making your own bags from recycled materials, but here are a few that score the highest on the inexpensive scale (though not necessarily on the easy scale):