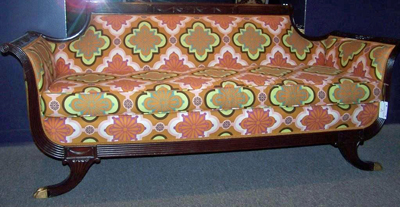 While I stood looking at
Paperstone
countertops, glass tiles made from recycled bottles, bamboo flooring and dual-flush toilets, I couldn't help feeling like I was back in the tech-savvy, eco-friendly northwestern United States. However, upon leaving Michael Gatz's store and stepping outside, the humidity and hodgepodge of pickup trucks quickly reminded me of my Baton Rouge, LA, residency. While an upscale boutique isn't anything new, the intriguing fact is how Gatz somehow managed to pull off opening his store,
Noelie Harmon
, and make it successful — with a green image — in the worst economic recession since the Great Depression… in the Deep South. What does this tell us about the new, earth-conscious mentality? In the words of Gatz, it "definitely won't be a fad."
A soon-to-be two-time graduate of Louisiana State University, Gatz originally entered the workforce as an IT technician. Today, however, his business interests are very different. Operating under the mantra of "Look Good, Do Good," Gatz has been promoting Noelie Harmon as a "conscious boutique," and with good reason. Noelie Harmon opened its doors less than two years ago, and offers customers a wide selection of eco-friendly, socially responsible and fair trade products.
Whether you need goods for the home, or men's, women's or children's apparel that comes from a social responsibility market, Noelie Harmon has it. One can even find a collection of everyday goods created by local artisans. The newest, and perhaps most exciting, addition to this store's offerings lies in the back corner. There you will find the Green Building Shop. A personal home renovation turned Gatz onto the whole green building mentality a few years back, and after he discovered it was impossible to find one builder, store or vendor to supply the various green building supplies in Baton Rouge, Gatz took it upon himself to offer a solution.
From flooring to finishes, The Green Building Shop offers an environmentally conscious solution. Bathrooms, kitchens and even attics can benefit from energy-saving techniques or recycled materials. "I wanted to create a one-stop shop," Gatz explained. Dual-flush toilets save water; recycled jean fabric is used as insulation for the home; reclaimed wood from a decades-old barn in New Orleans can be purchased for flooring. The most popular item the Green Building Shop offers is custom-made glass tile created from recycled bottles by a small company in Portland. With these, a client can pick from a vast array of colors, finishes and shapes to create a look to fit every style.
A lot of the products do come from the Northwest, Gatz admits. This is the one downside in the eyes of a true green guru, since transportation of these materials requires large amounts of fuel burnt in either trucks or planes. But, since this is the only store that offers all of these products under one roof, Noelie Harmon and the Green Building Shop greatly reduces a client's need to drive to various places and order every item and material from across the country. Most of what Noelie Harmon does is on par with the greenest practices out there. The fact that this store brings green building ideas, materials and, most importantly, principles to the South is indication enough that there is a small but strong population of green-minded citizens. And, there's more. "The greenest thing we do," Gatz offers, "is refurb[ish]ing furniture." Gatz doubled his efforts by opening a furniture store, Gallery Bohemia, just a few miles away from Noelie Harmon.
Gallery Bohemia
offers a fun and funky collection of old furniture that has been given facelifts with structural repairs and new upholstery. According to Gatz, old furniture was built better and offers greater opportunity to be rebuilt, reused and kept out of landfills. Armchairs, sofas and end tables fill this two-room gallery with eye-catching color attached to retro styles. Going green has never been as popular and easy to do as it is today. If I can find the only green apparel, furniture and building store in Baton Rouge, who knows what you can uncover in your area… once you look for it.