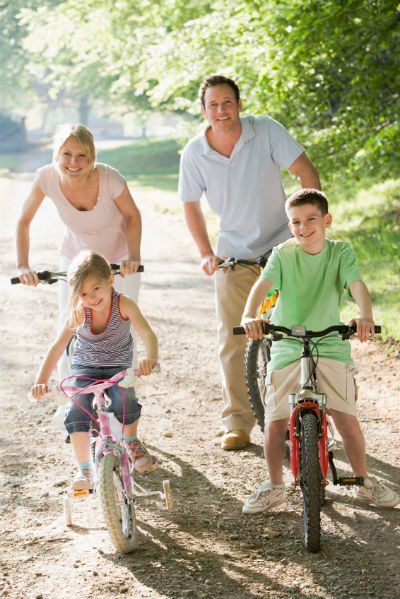 Working out doesn't have to be done on an energy-guzzling treadmill in an overly air-conditioned gym. There are plenty of exercises you and your family can do that are healthy, fun and environmentally friendly. Biking is an excellent form of green exercise, and many cities have fun bicycle routes to explore. Here are a few cities that see bicycling as a healthy, communal and green exercise. In Miami, a loop of downtown streets closes once every few months for
Bike Miami Days
. Here, children and adults can learn about bike safety while riding car-free on the road. Former Miami mayor Manny Diaz began this free street party to offer healthy exercise, bike safety, live music and green living to Miami residents. Members of the city of Miami Police Department are in attendance to teach vehicular riding and bicycle safety in this not-so-pedestrian-friendly city. If you're a Bay Area dweller, learn a little bit about the
San Francisco Bicycle Coalition
, an organization that has been exciting cyclists since the 1970s. Because of the San Francisco Bicycle Coalition, bicyclists now enjoy 201 miles of bike lanes throughout the city, bike access on the Golden Gate Bridge and on mass transportation systems, free urban cycling classes, free valet bike parking at San Francisco Giants games and other major events. The organization's annual
Winterfest
event gathers people of all ages for beer, music, food, art and a chance to share their love of bicycling. This year's event will take place December 6, with free valet bike parking, 60 bike-inspired pieces of art for auction, a bicycle quilt for auction, a photo booth and free
New Belgium
beer with admission.
Click here
to see all SFBC events. If you're only visiting San Francisco, check out
Bay City Bike
, offering daily family-friendly guided bike tours as well as bike rentals for DIY tours. Boston mayor Thomas Menino envisions a bike-friendly city, and he's working to make that possible.
Boston Bikes
installed 250 new bike racks in Boston in 2009, and Menino wants to install 250 more in 2010. Though the cold weather and snow tapers bicycle events off in Boston for wintertime,
Mass Bike
works to better the entire state of Massachusetts for cyclists year round. On its website you can find ride clubs to join in different areas of the state. Washington, DC, proves its bike friendliness through the
Washington Area Bicyclist Association
. This organization provides seminars for safe city cycling and child cycling, information on recreational ride groups, bike-friendly events throughout the city and bicycling maps for seeing the city in a different way. Everything is bigger in Texas, including the biking love. The
Texas Bicycle Coalition
collects all Texas bike events in one convenient location. In Kerrville, you'll find the annual Easter Hill Country Tour, where more than 1,000 cyclists gather for a weekend of riding through the scenic Texas countryside. Join the annual Tour of the Peanut Country in Gormon and choose between the 100K, 45-mile, 26-mile or 9-mile route. If your city doesn't have a bicycle coalition, talk to your local government representative for ways to promote bicycle safety. You could even start a group ride in your neighborhood and find like-minded green exercisers. For some of the better biking trips around the country, check out 1-800-RECYCLING's
Top 10 Cycling Trips
.