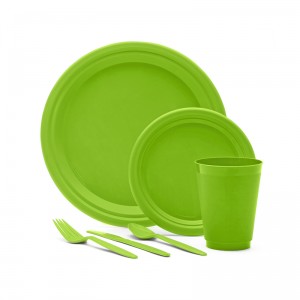 One of the most obvious elements when throwing a party that will cause a dent in landfills is the paper/plasticware used for food and beverages. The good news is that in the last few years many manufacturers and distributors have made eco-friendly dishware more readily available. Even big box stores have started carrying eco-friendly dishware. Here's what to look for:
Corn-based dishware
A common, eco-friendly way to go is to purchase dishware that is made from corn. These utensils, plates and plastic cups are made from corn byproducts, making good use out of what would otherwise be thrown away. They will break down easily in landfills, many within six months. They are very sturdy and strong, putting many conventional plasticware to shame. If you're having a difficult time finding these types of products in your local stores, check out
cornplasticstore.com
.
Recycled dishware
Another type of dishware comes from 100% recycled materials. You can find plates, cups, napkins and utensils in this category. Many paper plates and napkins come from recycled paper and the cups and utensils come from recycled plastic. The best part of this type of dishware is that it can be reincarnated again and again. These items won't ever make it to a landfill. They continue to be recycled over and over again as various plastic and paper products.
BYO
This last solution is one that is a no-brainier. It will cost you nothing, cost your guests nothing and cost the earth nothing (except a bit of water to clean them). When you send out your invitations, explain your mission to save the planet while celebrating this holiday season and ask your guests to bring their own dishware and cups. Why not? People get a kick out of this. You can even have a contest where your guests can vote on the best dishware brought. At the end of the party, fill the sink up with hot soapy water and wash all the dishes, cups and utensils in one sink-full of water. Sustainability for all! Your holiday party doesn't have to add to the accumulating landfills. You can do your part by encouraging your guests to remain earth conscience even while partying.