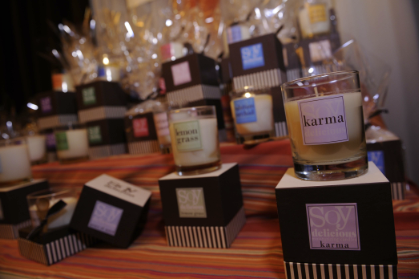 Soy Delicious Moisturizing Candles
are cooked up by two best friends in a Miami kitchen. Maggie Maceiras and Georgette Hoyo produce a soy candle that is reusable in every way. Their candles are made with 100% soy. Soy wax is made from the renewable soybean. When this 80-hour candle burns out, you'll have a 13.5-oz. tumbler left. Clean it out, and pour yourself a drink (a Mojito, if you're in Miami). But, that's not the best part. These delicious candles are also a moisturizer. Each candle comes with a dipping spoon, and as your candle burns (or right after you blow it out), you can dip in your spoon and extract some moisturizing oils for your body. (You won't get burned; these candles don't burn much hotter than your body temperature.) Soy contains vitamin E, hydrating properties and antioxidants. The wicks are made of cotton, and are dye-free and lead-free. A 13.5-oz. Soy Delicious candle sells for $34 and comes with a dipping spoon. Favorite scents are Dulce de Leche, Lotus Flower, Tahitian Orchid and Havana Nights. Holiday scents have been selling well, too; especially Oh Christmas Tree and Harvest Spice. If you've ever been to South Florida, I'm sure you've heard sultry Spanish speakers and their beautiful rolling tongues. The ladies of Soy Delicious point out their play on
soy
, which means "I am" in Spanish. When you light up a Soy Delicious candle, these ladies hope you're also thinking, "I am delicious." Maceiras was kind enough to answer a few questions for 1-800-RECYLING.
1-800-RECYCLING:
What has the holiday response been so far this season?
Maceiras:
[The candles] make great gifts, and people wait all year long for the holiday scents to come out. Oh Christmas Tree is the best seller, and we sell out at every show we attend. Our clients love to give them as gifts, and we get emails from people who have loved receiving them — that is the best compliment to us about our product!
1-800-RECYCLING:
Since going green has become more popular, have you seen a rise in sales or more interest in your product line?
Maceiras:
Not really. Our inspiration was definitely to have a green product because it's important to our environment and it is the wave of the future. People are much more aware of the need for going green than they were several years ago. Sales have increased, but we attain that to having a great candle. Not only is it green, but it smells great, and the delicious scents really fill up a home.
1-800-RECYCLING:
Are you living your dream? What do you envision for the future of Soy Delicious?
Maceiras:
Definitely living the dream. Not many people get to start a business with their best friend! The future brings so many good things — we'll be expanding the line this spring with scrubs, diffusers and soaps, who knows what else. The sky's the limit!
Currently, you can buy Soy Delicious candles online and in Florida, New York, Tennessee, New Jersey, Alabama, Georgia and Puerto Rico.