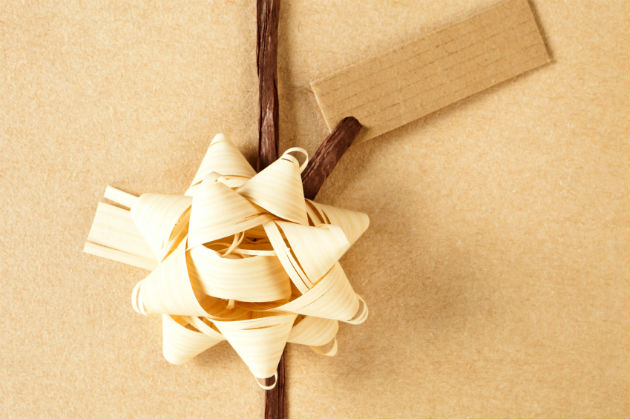 The scenario is simply packaged: I had 48 hours to find an eco-friendly alternative to my Costco-bought gift wrapping and packaging or I would be a self-pronounced hypocritical green writer — another consumer who doesn't care about the environment when persuaded by a cheap price. Another artist painting a canvas of caring, but in fact buying toxic paper to paint on without a second thought. Perhaps I'm being a bit melodramatic, but I couldn't help it; for the first full day I unsuccessfully researched areas around my house that sell environmentally sustainable wrapping paper and packaging. On the outset, I was smiling confidently when my editor asked me to write an entry about eco-friendly packaging and wrapping paper. After all, I like to boast that I live in a place where there is no alternative to green-centric businesses. But then, after no luck finding a sustainability-focused gift shop on my own, I was Yelping frantically for a West LA spot. A result came up that looked like a decent option, and I almost settled for shopping at
The Green Life
, a Main Street Santa Monica store that sells all sorts of green products. It looked like a nice store with a big eco-friendly focus, but there was one major problem: Nothing exactly fit into a writer's budget — at least not this writer… yet. Finances sparked the thought that it would also cost me too many resources — gas and money — to drive clear across town. Then a revolutionary idea hit me right on the head — I'd make my gift wrap. Not only would it be eco-friendly with my recycled paper, but I'd also save money by assembling materials by myself and I'd save gas by searching online. I found many fascinating alternatives, but here are some highlights:
Gift wrapping
On HowStuffWorks.com, I found out how to make colorful gift wrapping paper by using paint and recycled paper that is so easy a kid could do it.
After reading how-tos on EarthEasy.com, I will never look at a calendar, comic strip or tablecloth the same again; endless reusing opportunities exist!
Packaging
Every website searched was able to tell me the definition of sustainability in some form, but the quest for sustainable packaging seemed to be led by the
Sustainable Packaging Coalition
, a project of GreenBlue, a not-for-profit, 501(C)(3) tax-exempt organization. Along with explaining the goals, including using only renewable energy to make the product, it also gives a list of members who have joined the cause. Current companies include fast food chains like McDonald's and shoe brands such as Nike. Problem solved! Thanks to the Internet, I didn't have to waste resources or my time making wrapping out of some comic strips to send off to my mom. Only after I sent it did I see the
recycled card program at St. Jude's Ranch
, a fundraising reuse of cards by kids and volunteers where you can buy and donate greeting cards to be sent all over the world. Maybe I'll ask for my mom to mail her card back after Christmas. OK, maybe I'll stick to saving my own.