Yes, even the most diligent of recyclers can still reuse or trade materials for something else. Really, "one man's trash is another man's treasure!"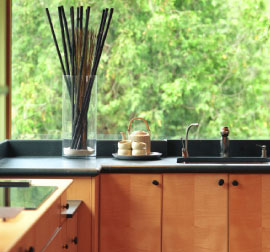 Thankfully, I have always been a fan of salvage. But, today, even dumpster diving can take on an entirely upscale meaning. Thanks to the  building and remodeling boon there has been a real growth in what is called "deconstruction." This old/new idea has led to a real surplus of both luxury and vintage building materials. There are many businesses now specializing in this field offering  a virtual treasure trove of products that run from luxury (granite) to green (bamboo). On any given week you will find unique and interesting items that can be used to build, remodel or simply redecorate a home. From Habitat for Humanity to your local city or county dump, it's "in" to sell/buy or trade salvage. Search for the term "reuse" and you undoubtedly will field a great deal of local sites dedicated to unwanted construction materials. Reuse facilities offer training and courses on how to use or repurpose many items — from building an entire home to reconstructing an existing home with only recycled  materials. Many cities are now including their own recycling yards and adding online boards from which to purchase, trade, sell or simply give away building materials. Green building incorporates many recycled products. Several companies already manufacture many products made of recycled content — from countertops, to tiles, to flooring, to carpet and insulation, it's endless. You can make your own repurposed or "upcycled" items by being inventive and thinking outside the box. Rather than send bottles to recycling facility, break them down (with the necessary safety precautions) to make your own landscape accents to fill in bedding or containers. And, don't be afraid to see what is available to freshen your kitchen or bath, as there are cabinet boxes and doors and knobs all available and easy to install. Take old doors and find leaded glass windows. Replace the interior panels of doors with the windows or insert etched glass or even resins for a transparent yet strong focal point. Take windows and etch the glass yourself and insert (within the existing frame) or hang in front of the window as a unique window treatment that still provides privacy but allows for light transmission. Old doors and windows can be refashioned into fireplace screens or room dividers. They can function as wall decor, headboards or desktops with minimal tweaking. These are great for apartments and are very affordable. Art is another way to find practical ways to reuse. Find artists willing to work with recycled materials. Many talented craftsman are finding ways to incorporate upcyled items in their work — I've seen lamps made of old pipes and chairs from street signs. Another artist uses dishware and crystal to fashion amazing chandeliers and lighting fixtures. Even newspapers are being used to make pillows. The possibilities of old materials being crafted into new uses are endless.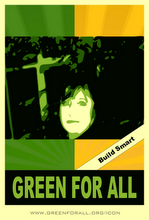 Recycling is not trashing, it's saving. Find new ways to reuse old materials in modern and green ways. Reuse, restore and reconfigure.
Tanya Stock is the principal of Vida Verde, a Seattle-based green-building consultant. Believing that green is more than a color, Vida Verde works with those who are seeking their right shade of green. Sustainable building is more than just a building, it's the lives and works of those occupying it. A building should provide a quality of life that is not only good for its occupants, but also the planet. It's not easy being green, but it doesn't have to be hard, and that is the why Vida Verde is finding easy solutions that are both eco-friendly and affordable.