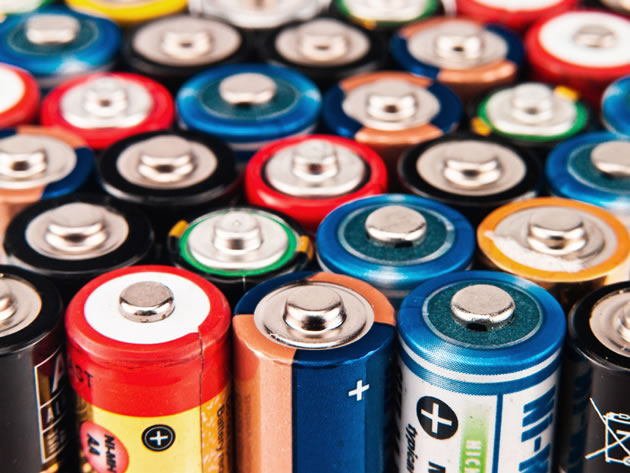 Many household items have hidden toxins lurking inside them. What happens when you're done using these products? Dumping certain items, such as batteries and mercury-containing light bulbs in the trashcan is taxing on the environment. Here are several common household items with toxic elements, and what you can do to safely get rid of them.
Batteries
Rechargeable and disposable batteries both include toxins. Mercury, cadmium and sulfuric acid (in car batteries) can be harmful if they are simply dumped in the waste bin. Many Best Buy, Office Depot and Staples locations accept rechargeable batteries for recycling. Single-use batteries may be a bit more tricky to recycle. Try mailing batteries to
EcoLights
for safe recycling (there may be a fee to do so).
Antifreeze and motor oil
Automotive products such as gasoline, antifreeze and motor oil contain cadmium and lead. If these products aren't properly disposed of, they could get into water supplies and put animals and humans in danger. Check with your local Firestone or Advance Auto Parts to inquire about used motor oil recycling.
Light bulbs
CFLs (compact florescent light bulbs) contain mercury. If these bulbs break or are thrown in the garbage, the mercury that is released can be very dangerous. Most Home Depot locations can recycle CFLs; check with your local store to be sure it accepts used CFLs for recycling.
Paint
You probably know most paint gives off volatile organic compounds that can be harmful to your health. Try to choose a paint with less harmful vapors.
Green Planet Paints
sells nontoxic paint made from a soy-based alkyd, and Soy Clean sells a
Soy Guard Wood Sealer
to safely seal wood and repel water. It can be difficult to locate a facility that will accept paint for recycling. Before buying paint for your home, carefully consider how much paint you will need and try not to over buy. If you have paint leftover, try a local charity, Habitat for Humanity location or local theater to see if they accept paint donations.
As always, for any of your recycling concerns, you can visit 1-800-RECYCLING's recycling location search to find locations nearby that accept items you don't need anymore.