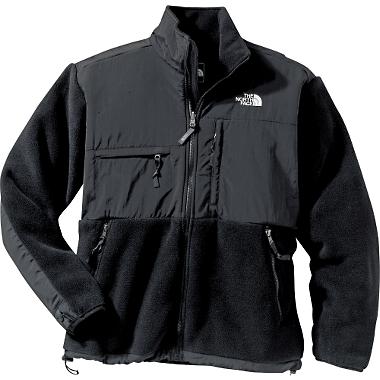 Despite the cold weather, damp atmosphere and overall dreariness, people of the Pacific Northwest are far from dissuaded from enjoying outdoor activities throughout the winter months. This is exactly the reason why apparel created by rugged outdoors clothier The North Face is so popular in this and other hardy regions of the United States. Mountain climbers, skiers, snowboarders, hikers and general fans of wilderness alike have benefitted from this company's tough products since the late 1960s. For precisely this reason it came as a surprise to me when my girlfriend, who could be classified as perhaps the furthest thing from "rugged" and "outdoorsy," brought The North Face's evolution of their most iconic jacket (the Denali) to my attention. Aside from overabundance on college campuses while I was in school, the Denali jacket is noticeable for other reasons and is described on
The North Face
website as, "A favorite among outdoors enthusiasts, this classic fleece jacket provides comfort and warmth in cool to cold weather." Soft fabrics, pragmatic pockets and an easily recognizable look solidly position this jacket as one of the regional favorites from California up the coast. For both men and women, the Denali is a go-to piece of outerwear when the temperature falls to or below what's generally known as "brisk." These are all good traits, but the most current version of the Denali jacket is really what has impressed me about The North Face. The current generation of the Denali jacket is manufactured in a line of products that The North Face has labeled "Polartec Eco." The Polartec Eco "materials are made from 90 percent post-industrial waste and 10 percent post-consumer waste, stopping the flow of materials to the landfill and creating valuable materials from waste," the website helpfully informs us. Earth-friendly benefits that come about from producing the Denali with Polartec Eco materials as opposed to the traditional manner results in the following:
Each yard of Denali fleece fabric saves 40 pounds of greenhouse gasses and 20.9 pounds of CO2 emissions from entering the atmosphere.
Every Denali sold saves 0.8 gallons of gasoline.
The per-yard energy savings is equivalent to 0.52 gallons of gasoline.
Along with this new rendition of the classic North Face Denali jacket, the men's El Cap Peak 1/4 Zip, and Women's El Cap Temple 1/4 Zip jackets are also constructed with recycled material. The North Face tells us that these products are all functioning as part of its commitment to sustainability. The environmental benefits from the El Cap are indicated as follows:
Roughly 15.6 pounds in CO2 emissions are spared from entering the atmosphere for each El Cap garment.
Production of each El Cap saves roughly 0.33 gallons of gas.
Per-yard energy savings equivalent to 0.17 gallons of gas.
To me, it is a great thing to see from a popular clothing manufacturer. Continuing in the tradition of creating products that are beneficial in the local climate, The North Face has now adopted production practices to respond to the more liberal, eco-friendly consumer climate of this region. And, for that, people like me, my girlfriend and I'm sure lots more, are quite grateful.