On March 9, 2010, Starbucks rolled out its spring promotions filled with new bold coffee varieties, a dark chocolate-covered raspberry mocha and a push to encourage recycling and environmental consciousness. With a new variety of recycled mugs, coffee presses and gift cards, the company is sending a strong message that it believes in more than just selling a double tall nonfat two-pump caramel macchiato, with whip.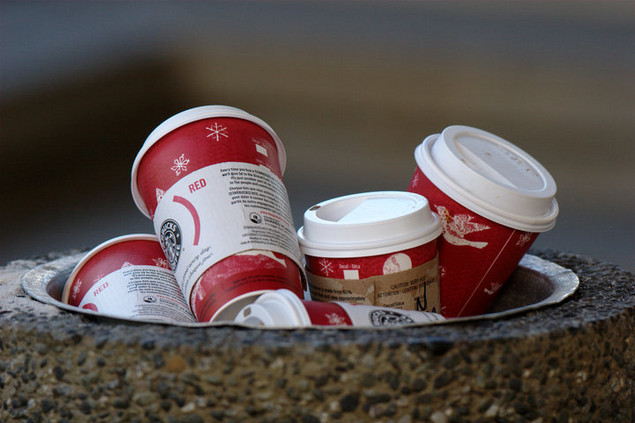 One of the products Starbucks is pushing is its new preservation gift cards. These gift cards are made from 80% post-industrial recycled materials, and every time a customer uses the gift card to make a purchase in any amount, the company will contribute 5 cents to
Conservation International
. Conservation International is one of the largest conservation organizations helping to save forests and replant those that have been chopped down. The new Bodum French press, kindly called the "green press" is made of 30% post-consumer plastic. The press is green in color, which is the color Starbucks chose for most of its promotional material this spring, and it is packaged with a brown recycled paper sleeve wrapped around it. The 34-ounce press comfortable serves two to three people. One of the notable items in this spring promotion is a 100% recycled glass mug from Spain. The mug is made from discarded cola bottles that would otherwise make their home in a landfill. The mug has a green tint, much like a glass cola bottle and has an imprinted logo that reads, "authentic glass — 100% recycled." Along with the glass mug, Starbucks is pushing another type of ceramic mug made of 20% recycled material. It is packaged with recycled paper, reuses discarded dinnerware, mugs and teacups, and is produced in a zero-waste factory in Japan. The white mug has the words "reincarnate, renew and reinvent" written in green on the side of the mug.
The company is even rolling out new eco-minded tumblers. The body of the travel mug is made of 19-21% post-consumer recycled material and the body itself is 100% recyclable and BPA-free. The tumbler is available in 8, 12, 16 and 20 ounces. Each size has its own green design, promoting conservation, recycling and global awareness. Starbucks makes every effort to encourage its employees to recycle whenever possible. Baristas are instructed to set aside all plastic containers and place in a separate bin for recycling. The company is known for its super-soft recycled napkins, recycled cup sleeves and cup discount when a customer brings his or her own mug. The Grounds for Your Garden program provides used coffee grounds for customers to take free of charge to use in their home garden. Starbucks has received some criticism because its paper and plastic cups are not recyclable. According to
thepoint.com
, 2.3 billion Starbucks cups end up in landfills every year. A statement from Starbucks.com states, "We've set a goal of having recycling available in 100 percent of our stores where we control waste pick-up by 2015." For some, 2015 seems too far off, considering recyclable cups are available today. It would be nice if we could snap our fingers and make this change, but there are huge hurdles to overcome — production and organizational issues that need to be addressed — before the coffee giant can successfully make the switch. Aside from the cup controversy, it is evident that Starbucks is making great strides in recycling and encouraging others to do the same. The company started a program to oversee all eco-friendly issues called
Shared Planet
. Shared Planet supervises the company's recycling program, conservation partnerships, the RED partnership and the organic/fair trade coffees. It's evident that Starbucks is aggressively working toward a safer, healthier planet. Join in with the spring promotion at your local Starbucks by using a preservation gift card, purchasing a fully recycled glass coffee mug or picking up 5 pounds of grounds for your garden.