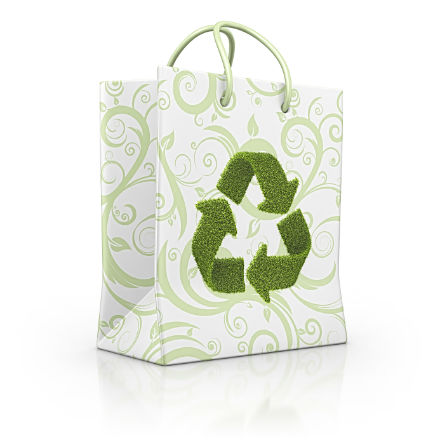 I already bring my own tote bags to the grocery store, so I have been patting myself on the back for some time now. But, the other day, as I was shopping for vegetables, I noticed I had five plastic bags in my cart — one bag each for my tomatoes, onions, potatoes, apples and ginger. This cannot be the best I can do.
Recycling
In a quick online search, I found
PlasticBagRecycling.org
, which gives helpful information to consumers, businesses, recyclers and retailers. The
consumer page
of the website answered nearly all of my questions. You can find clear and concise information on what kinds of plastic bags can be recycled and where you can recycle them. As long as your plastic bags are clean and dry, you can recycle not only plastic produce bags, but also newspaper bags; bread bags; furniture bags; zip-lock bags (with the hard plastic parts removed); dry cleaning bags; packaging for napkins, paper towels and toilet paper; plastic liner from cereal boxes; case wrap and regular grocery bags. Major retailers such as Walmart, Food Lion, Albertson's, Safeway, Harris Teeter, Whole Foods, Kroger, Publix and Piggly Wiggly accept plastic bags for recycling in certain locations. If retailers accept plastic bags for recycling, the bin at the store should clearly say so. You can't just drop them in the regular recycling bins. Call your local grocery store for more details. You can also
search your state
for locations and recycling centers to take your used plastic bags. (As a reminder, remove all receipts before taking them to be recycled.)
Alternatives
Although recycling grocery and produce bags is better than trashing them, it is even better to buy reusable bags to bring with you for produce.
ECOBAGS
sells several different reusable
bags for produce
at prices ranging from $3 to $15. The bags are machine washable and made from natural and organic cotton.
Baggu
has stylish, reusable bags for produce and normal shopping. These bags come in lots of colors, and some styles are made from recycled cotton canvas. The more you buy, the bigger discount you get.
ReusableBags.com
sells
reusable bags for produce
and many other occasions. On this website, you can find reusable containers for food, sandwich holders, bamboo utensils with recycled carrying cases and lots more. You can also search for reusable produce bags on one of my favorite websites,
Etsy
, which provides artisans a marketplace to share their handmade and vintage items with consumers. On Etsy, you can also do a local search to help support your local artisans. A few cool shops with reusable produce bags are
LoveForEarth
in Virginia Beach, VA;
ninaglaser
in Baltimore;
wonderthunder
in Seattle;
LittleFriendsbySarah
in Las Vegas;
RosyUndPosy
in Vancouver, Canada; and
ficklefaerie
in Ontario, Canada.