High fashion is an incredible world of free thinking, new ideas and big bucks. Thinking about spending $900 on a purse is something I could never grasp, but it happens every day all around the world. The green movement has made an impact on popular culture on almost every front. Hollywood is going green, musicians are promoting green ideology and now the high-fashion worlds of Paris, Milan and New York are catching up. This spring, many high-fashion designers are hopping on board the green movement with hopes to make a little more green (the other kind).
Gucci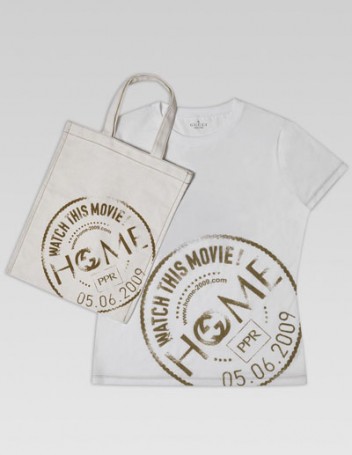 Slowly, Gucci is
ramping up its green efforts
. One of the company's first attempts is designed by one of its most popular designers, Frida Giannini. The eco-friendly T-shirt was front and center on the runway in recent fashion shows. The film
HOME
, which has a deep message about the earth and the need to protect and care for it, inspired the shirt design. The T-shirt is made of organic cotton and is dyed with dyes derived from plants instead of a test tube. The design incorporates the Gucci and
HOME
logos. This eco-friendly T-shirt retails for $195 in 50 countries around the world.
Anna Cohen
Anna Cohen is one of the fashion's industry best kept secrets. Cohen is the mastermind behind many designs for Guess, Max Mara and Patrizia Pepe. Her belief in the earth and the desire to make conscious decisions daily that affect natural resources has impacted her choices in design and material. She has secretly spread the eco-message throughout her career. Cohen strives to combine Italian style, edgy fashion and eco-conscious philosophy into her design. In an industry that is not very interested in much more than cash flow, she is persistently trying to
change the focus
.
Earth Pledge
Earth Pledge, located in New York City, is
forging new ground in the fashion world
. The company is intentionally creating relationships between government, businesses and communities to promote sustainable practices. Earth Pledge focuses on several urban living aspects, such as fashion, growing gardens in the city, creating energy using trash and other innovative ways to "green" city life. This past January, Earth Pledge held a trend-setting fashion show in New York to showcase stunning eco-fashion. Some of the fashions not only demonstrated innovation in design, but also in the fabrics used. For example, some of the clothing was made from
sasawashi
, an Asian fabric derived from herbs and recycled paper. Another popular renewable fabric source was hemp. Earth Pledge's commitment to making a difference in fashion and other areas of popular culture should only continue to grow. While the fashion world is slower than other aspects of culture to hop on the green wagon, it is starting to see the benefit of sustainable and renewable fashion. Unfortunately, money may be the main motivating factor to join the green revolution, but the more each designer participates in eco-fashion, they will slowly see the benefit and need to care for our planet.