Paul Simon's compressed carbon tune of 1986 waxed poetic about a woman who wore diamonds on the soles of her shoes, and yet, 24 years later, very few of us have the means, let alone the desire
,
to be so flashy (metaphorical or otherwise). Beyond being a somewhat looney notion, ice-studded soles would probably serve the majority of us far better in this economy if they were cashed in at a pawn shop instead. However, those who embrace eco-sensibility know that when they support sustainable shoe brands, their footwear is as good as gold without the bank account-depleting price tag. Today's highly desirable, fashion-forward eco-footwear is not only just as affordable and easy on the eyes as conventional versions, but it is also crafted with a treasure trove of materials that are harvested straight from the closest garbage can! A South African sandal brand called Plakkies — the literal term for "slippers" in Afrikaans — does far more than offer stylish footwear to those who desire a little easy-breezy, air-conditioned comfort. The company creates stable economic opportunities for local residents who are typically the victims of chronic poverty by offering them long-term employment complete with generous wages, daily complimentary lunch, HIV education and anti-retroviral drugs. Producing sleek leather sandal styles adorned with cheerful drawings created by local orphans may sound like a recipe made in heaven, but they up the eco-ante by incorporating comfortable sustainable cork insoles in all of their styles as well as lining the bottom of each walking surface with recycled rubber tires. Oh, but it gets even better. One hundred percent of the profits from their Durban-manufactured sandals are donated to South Africa's KidsRights' charity projects.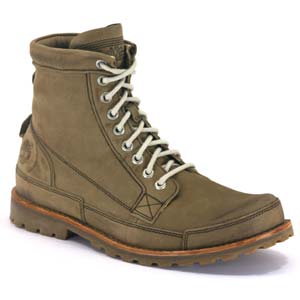 It is hard to follow such an extraordinarily classy social and environmentally conscious act, but much closer to home, Simple Shoes has been quietly carving out its own eco-niche with a 100% sustainable footwear collection, extending all the way to the packaging, which is 100% recyclable and/or biodegradable. Integrating earth-friendly materials like rapidly replenishing bamboo, eco-certified suede and leather, hemp fibers, certified organic cotton, cork, natural crepe rubber, recycled PET plastics and recycled rubber inner tubes and bike tires, Simple has created a wide assortment of footwear styles that do Mother Nature proud, figuratively and literally leaving virtually no footprint behind. Even Timberland has gotten in the green footwear business with its relatively new Earthkeepers low-carbon collection, which reflects one of the basic golden rules to reduce, reuse and recycle when at all possible. Boasting shoes with a minimum 50% Malaysian-sourced recycled tire sole content, Timberland's green rubber components can be melted down in the company's Georgia recycling factory and poured into new outsole molds for future footwear incarnations. Unlike other mainstream brands, Timberland has considered the potential deconstruction and recyclability of all of its shoe materials by committing to harvesting metal hardware, polyester linings and even leather, the latter of which is refurbished in the company's Dominican Republic factory. Surprisingly, with all of the extra attention to sustainability, the prices are comparable to other well-made albeit mainstream
brands. With all of this talk of sustainable kicks, those who have a DIY ember burning brightly in their souls could easily forego the store altogether in favor of fashioning their very own pair of
one-of-a-kind eco-friendly shoes
. Ever considered crafting your own fused
plastic shopping bag shoes
,
retro-style running shoes
complete with repurposed tire soles,
rustic outdoor sandals
or
recycled denim jean flip flops
? Tutorials abound on the Internet, and whether you like the idea of sporting something edgy or perhaps slightly more refined, integrating repurposed materials into your design will bestow the final product with oodles of earthy appeal. You might just find yourself intentionally avoiding the mall altogether!