Ladies
looove
firefighters, not only for their bravery, but also for their dedication to such a noble pursuit. New unique product lines offered by Feuerwear and Elvis & Kresse, two European companies that meld the innate googly eyes that women have for firemen with the everyday reusable practicality. The hoses in question are indeed the rubbery, flaming red-hot, decommissioned kind. Despite being designed to hold up to the rigors of high-pressure water, today's fire hoses — constructed of nylon or polyester filament coated with UV, a temperature-, chemical- and abrasion-resistant synthetic rubber — don't last forever. The National Fire Protection Association (NFPA) says that the inner fabric liner tends to degrade the longer that the hoses are in use, compromising water flow and causing plugged nozzles, among other safety and performance issues. Consequently, firehouses are advised to retire this essential piece of equipment
after 10 years
, resulting in a surplus of material that all too often wallows away in our landfills.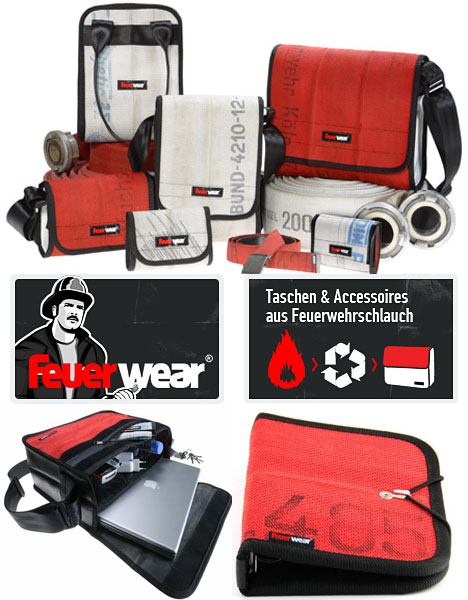 In Europe, there is a continually eager entrepreneurial spirit at play with regard to recycling, repurposing and reusing. Not
one
but
two
eco-minded organizations make the most of retired fire hoses by fashioning them into an interesting and comprehensive line of bags and other practical accessories. Cologne fashion label
Feuerwear
thoroughly hand scrubs each of its "type B" and "type C" fire hoses before cutting the material and stitching it into shopping totes, planners, laptop bags, pocketbooks, fanny packs, wallets and belts. Company founder Martin Klüsener refers to the products as "green hero wear," since what was initially used to help "fight fires and save lives is now fighting against environmental pollution and saving the environment." He is proud of the fact that none of the one-of-a-kind pieces use virgin materials and are shipped via DHL's carbon-neutral GoGreen service.
Elvis & Kresse
has taken the recycled fire hose concept even further by using other types of reclaimed industrial materials in its collection of goods and packaging, successfully diverting 45+ tons from the landfill thus far. Everything from "typical" retired fire hoses, office furniture textiles, coffee sacks, air traffic control flight strips and sail cloth is used to create the impossibly luxe-looking fashion accessories and home décor items as well as personal aids (like toiletry bags and guitar straps). In most cases, the company treats the synthetic rubber hose like an eco-substitute for leather, using it as the exterior of a product that is then lined with recycled parachute silk, repurposed fabric, etc. The green approach comes full circle with Elvis & Kresse's packaging, which utilizes materials that have been around the block at least once before ending up in their customers' mailboxes. Consistently using reclaimed supplies such as leftover tea bag paper (tea-free, of course), repurposed foil-lined tea packaging, old fruit crates, recycled shoeboxes and eyeglass/sunglass cases enables them to offer truly planet-friendly, guilt-free goods that do Momma Nature proud.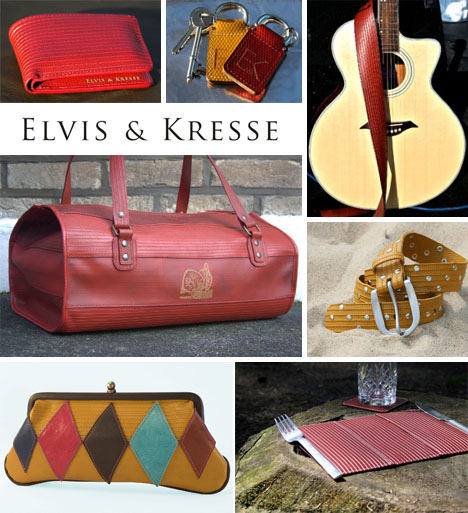 Founder Kresse Wesling sets her endeavor apart from the previously mentioned competitor, not only through the innate eco-friendly vibe and glamorous look of her offerings (thanks to high-end production values courtesy of a Romanian manufacturer), but also due to her underlying charitable twist. In addition to funding a Nicaraguan coffee grower's domestic water filtration system and a construction project for a Guatemalan java producer, Elvis & Kresse earmarks a whopping 50% of its profits from all fire hose-related products toward Britain's Fire Fighter's Charity. Ladies the world over can now indulge their inner eco-divas while saluting the heroes who keep us out of harm's way. On the other hand, they can simply just choose to smile like a Cheshire cat, knowing that the raw hose used to produce their goods was once powerfully wielded by the object of their fanciful imagination. Either way, it's a win-win situation.