Everyone has finished their meal, the conversation has come to a complete standstill and now several members of your household have officially dispatched to do homework, zone out in front of the television and/or tackle that neglected stack of junk mail that continually landslides onto the floor. It's that time of the day when you find yourself staring at your bazillionth pile of dirty dishes and imagining just how liberating it might be to fling the whole lot out of the window and start from scratch. Oh yes, it's terribly tempting, particularly if your home backs up to open space. No one would be the wiser, you tell yourself, and besides, this dish pattern has seen better days.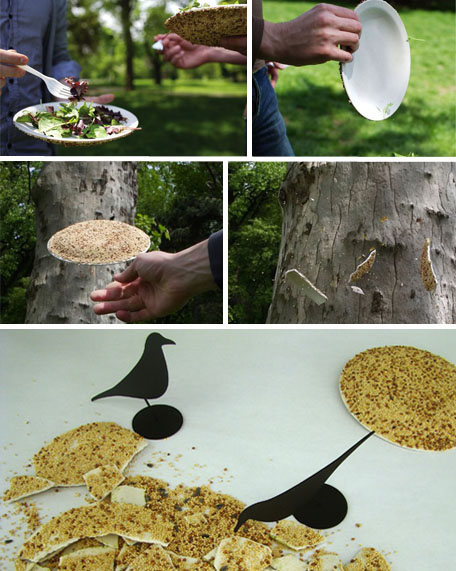 Dirty dishes are always going to be an unfortunate fact of life. Sadly, resorting to disposable serving ware, while admittedly appealing, takes a huge toll on our landfills and wastes precious resources, so that's not exactly a wise alternative. Slurping and gobbling straight from the frying pan isn't the solution, either. There are times, however, when the mere thought of washing dishes is enough to send even the most stable-minded person straight over the edge of a hairy cliff. That's when Andrea Ruggiero's totally biodegradable
Unidentified Feeding Object
picnic plates can gallop in to save the day. Her 9-inch diameter by quarter-inch-deep potato starch-based prototype round features a smooth, inert eating surface that is water resistant, durable and composed of 100% animal-free ingredients, including guar bean gum and seaweed binder. Studded with a birdseed-embedded exterior offering a nifty gripping surface that is also quite sustainable and aesthetically pleasing, once you finish your meal, you can literally fling your plate with no shred of eco-remorse since it is designed to catch the wind like a Frisbee, shattering into convenient little bird and forest creature-friendly shards upon contact with a tree or other hard surface. If for some odd reason their noses don't detect the delicious snack that awaits them, have no fear because with regular precipitation, the plate will harmlessly become one with the soil in approximately two weeks.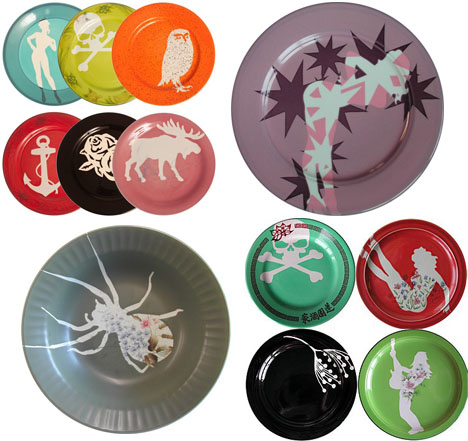 When nothing but real plates will do, it's often our fickle consumer nature that gets in the way, convincing us that we need a new set because our old one is just so
ho hum
. On the other hand, some of us are natural born butterfingers with a penchant for accidentally shattering our way through several collections. For those with blah dishware or a motley mix of misfits, Brooklyn-based designer
Sarah Cihat
has devised a very clever way to make old new once again with her Rehabilitated Dishware collection. Make no mistake, her $60 price tag per piece is not for the faint of heart or wallet, but if you don't mind selling a couple of hundred pints of blood throughout the next several months, perhaps acquiring her delightfully desirable dinnerware will be an easier indulgence to justify?
Using mismatched plates rescued from thrift stores and flea markets as her canvas, she "reincarnates existing products" by transferring her own original kitschy designs onto the surfaces. Cihat then reglazes and refires each plate, creating a permanently edited version that can withstand the rigors of countless meals and washings. Her bold graphics are eye catching while still retaining a cohesive theme with no cookie-cutter feel whatsoever. She says, "Each piece represents a rejection of more brand new products filling shelves and storage closets," and hopes that her collection makes "a subtle statement of the importance of recycling and the renewed value of unwanted things." Goal achieved!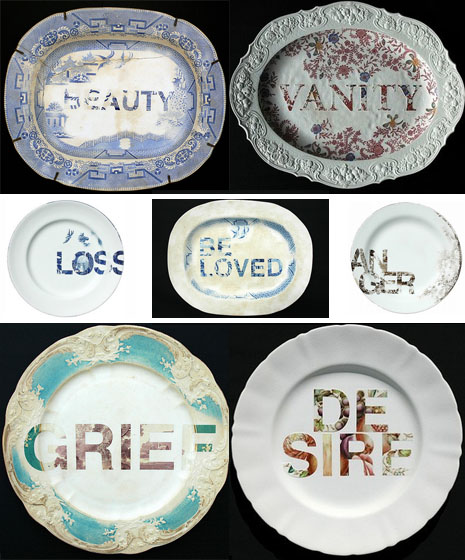 For those who gravitate toward the soap opera side of life,
Karen Ryan's Second Hand Plates
will likely fulfill your inner, emotionally turbulent diva. Again, handcrafted pieces such as these go for a pretty penny because they are considered individual works of art — in fact, interested buyers must contact Ryan via e-mail for specific price quotes (which means that you better be serious about coughing up your cash). Her technique, which is certainly attention grabbing, revolves around roughing up thrift store dishes by carefully removing select portions of the original design and emblazoning each with a solitary piercing word. The artist claims that by consciously deleting "the decorative patterns that camouflage our everyday lies" she is able to "create portraits of hidden domestics left open for others to interpret." Even though her pieces are awash in emotion, they are quite original and would easily perk up the dinner table (particularly if you lean toward drama and intrigue). Upon using any of the above-mentioned eco-friendly plates, your family or dinner guests will either scratch their heads or they'll actually rally around your green choice and think it's genuinely conversation worthy. Who knows, they may even chose to become regular members of the clean plate club just so they can offer interpretations of what lies beneath their food. If you have ever craved a fail-safe tool that would enable you to reinstate family meal time and reconnect with your loved ones, it's quite possible that these sustainable dishes possess the power to move familial mountains!