Sitting alone in the forest can be a beautifully centering experience, wouldn't you agree? Amid the birds, bees and scent of herbaceous botanicals wafting in the breeze, we're instantly nestled amid a simple yet perfectly balanced world that bears no resemblance to the concrete jungle most of us call home. If you really want to split hairs, our urban lives boast a few of the mini-organic creature comforts found in the country (such as potted versions of real live plants and tree relics in the form of furniture), but it's just not the same.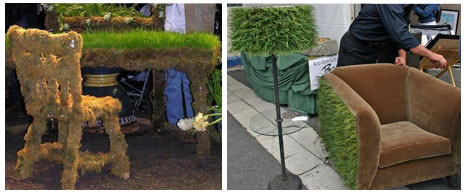 You can you hover over a potted ivy or ficus in your living room, breathe in deeply and convince yourself that you're getting a comparable shot of oxygen to what might be found in the great blue yonder, but on a cellular level, it's hard to imagine that the human body benefits in the same way. Still, our modern lifestyles make it impractical and often impossible to head for the hills on a regular basis, so we have to come up with something that will work in a pinch. That's where living, breathing furniture makes sense. If you want to get your
om on
without all of the meditative chants or long drives, these designs enable lovers of the green to reconnect with Mother Nature in the comfort of their own homes.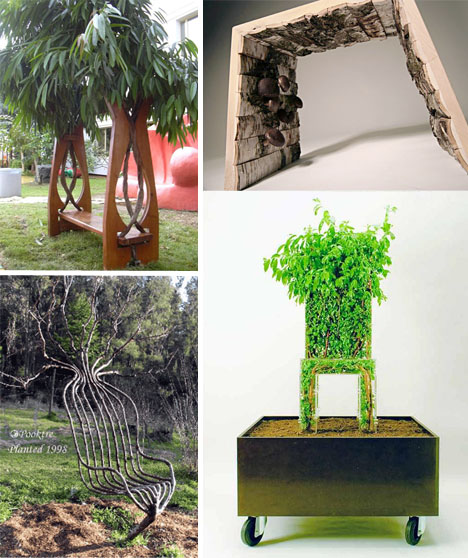 Traipsing through thrift stores and garage sales in search of classic furniture designs generally yields a few great low-cost discoveries, but there are occasional cosmetic issues to contend with. When pieces look like they have been around the block and over the mountain a few thousand times, reupholstering them might be a wise option, but what if you have just one surface that is in blatant need of surgery? Instead of going to the effort of removing all of the fabric and starting from scratch, a far greener solution might be to seed the worn-out section, as Bob Gromofsky Designs has done, allowing it instead to spring to life. From chairs and tables to a "grass-ified"
lamp, no surface is safe from Gromofsky's green thumb, but the effect is lush, fanciful and definitely carbon neutral. To keep the sustainable theme going, you might want to employ a hungry pet guinea pig or neighborhood bunny to keep your lush emerald blades in tip-top form. Wooden furniture may be organically appealing, but who wants to sit on something that has passed over to the other side when they can use a version that has plenty of vim and vigor to spare? The concept of deeply rooted tree furniture is not new, but with so many original incarnations being created these days, it's difficult to know which one to choose from. Peter Cook's Australia-based
Pooktre Tree Shapers
— perhaps the most well known of the bunch — happens to fashion the most aesthetically pleasing seats for those who don't mind waiting years on end until they can claim their final product. Whoever coined the phrase "good things come to those who wait" wasn't kidding! Cook's hand-coaxed creations, made out of plum and cherry tree saplings, take approximately 10 years to come to fruition, but he also offers instructions to those who would like to take matters (literally) into their own hands.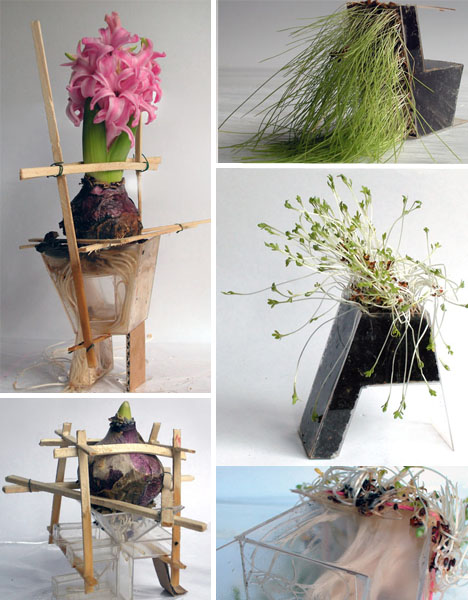 Plantware
isn't too far behind with its decidedly easy-on-the-eyes benches that boast a solar-shielding canopy of foliage thanks to artfully woven trees flanking both sides of the piece. Shinwei Rhoda Yen's rough-cut wooden stool, on the other hand, is honed from a once-living tree specimen. Designed to become an integral part of one's garden, it is especially noteworthy because the underside is studded with mushroom spores that flourish when kept in particularly damp climates. Yen has devised an especially sustainable concept since her seat is meant to biodegrade and become one with the earth as the years (and 'shrooms) multiply. If you fancy Lucite tangling with roots, branches and leaves,
Michael Bussien's Russian vine-wrapped willow trees
taking form beneath a rigid plastic framework will surely please. The Swiss designer's "Growing Chair" is all the more human friendly since it's contained within a rolling planter, enabling the owner to push his or her lush seat wherever the whim strikes. German designer
Kai Linke
is developing a slightly similar plastic furniture framework concept that coaxes plant roots into submission, but has acknowledged that it will take years for his prototypes to be fully realized. In the meantime, with so many carbon sink seats to consider, perhaps it's high time that we say
sayonara
to yesterday's dead wood and roll out the carpet for vibrant, living alternatives instead!