Dwellings that have been saved from the scrap heap and adapted into homes are becoming more commonplace as people strive to recycle and reuse existing structures and make them their own. One of the most well-known repurposed developments is the Tate Modern, but many much smaller ones are just as successful in their own way. Here are seven splendid examples from around the world.
1. Barn Conversion, Buckinghamshire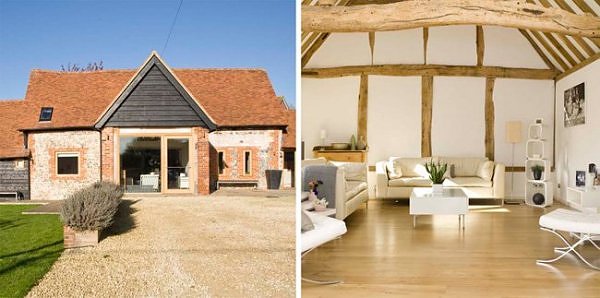 If you're considering a move to the country but can't find the right house for you, why not consider a barn conversion? The idea may not appeal to everybody; after all, most barns are so dilapidated that starting a repurposing project is often like building a house from scratch. The beauty of a barn conversion is that you're starting with a blank canvas and can be as creative or adventurous as the purse strings — and planning permission — will allow. This particular conversion is in Buckinghamshire, England. The 18th century barn has been converted to fit five bedrooms, two bathrooms and a very generous living space with sliding doors leading to the grounds outside. Many traditional features have been retained and refurbished, while contemporary fittings and accessories bring it into the 21st century.
2. Water Tower, Belgium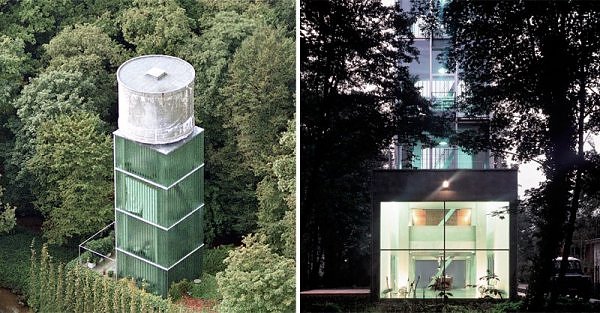 Jutting up through the trees of Brasschaat forest in Belgium is this water tower home, designed by Crepain Binst Architecture of Antwerp. The owner was obsessed by the old tower and waited six years to see completion of the transformation from disused water store to home. Instead of trying to change the appearance of the structure too much, the architects chose to embrace its industrial qualities: glass replaces brick, so the metal staircases connecting each floor can be seen through the rippled transparent walls, and concrete floors, which are the base of each layer, are clearly visible from the outside. The main living area is found at the base of the old tower, with floor-to-ceiling windows offering views of the forest beyond.
3. Deconsecrated Church, London

Deconsecrated churches make for great repurposed homes, as their grandeur and space often mean little structural improvements are needed to make them look spectacular. High ceilings and arches are a few of the inbuilt design features that make churches so appealing to buyers. The architraves of this redesign may have once held magnificent stained glass, which would have been wonderful to keep in place had they been intact, though these floor-to-ceiling windows allow so much light to flood the room that it accentuates the enormity of the space. Various elements of the building's old life are retained, such as the wooden floors and prayer benches used in the kitchen workbench base. It is this fondness for keeping particular details that makes recycled dwellings so much more interesting than new builds.
4. Water Pumping House, Berlin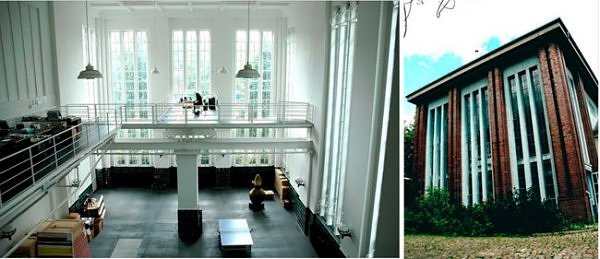 Redesigned by two artist friends, Michael Elmgreen and Ingar Dragset, this disused water pumping house is set in a leafy suburb of Berlin. The building had been vacant since the early 1990s, and because of its position lacked appeal to many big businesses and developers and so lay empty. Elmgreen and Dragset, however, had been looking for a suitable live/work space for some time when they came across the vacuous bargain. After sealing a deal for only $700,000, the pair enlisted the services of Wenk and Wiese architects to transform the pump house into a home. The result comprises two separate living areas and a huge kitchen and attic living room, along with vast exposed areas that accommodate a mix of workspaces.
5. Fish Factory, Latvia
The idea of living in an abandoned fish factory sounds less than appealing, but just look what architect Zaigas Gailes Birojs has accomplished with this refit. Located in Kaltene, a small island in the Baltic Sea, this contemporary redesign shows just what can be done in the name of adaptive reuse. The building, which was discovered by the current owners while visiting the island on a day trip, is a typical example of Soviet architecture from the industrial era. The conversion sees the building split into three separate areas — a two-story apartment for the parents, separate quarters for the children and a Nautilus-inspired outhouse, which, while it is sympathetic to its position by the sea, must prove a chilly entrance on a cold, blowy winter's eve.
6. Grain Silo, Texas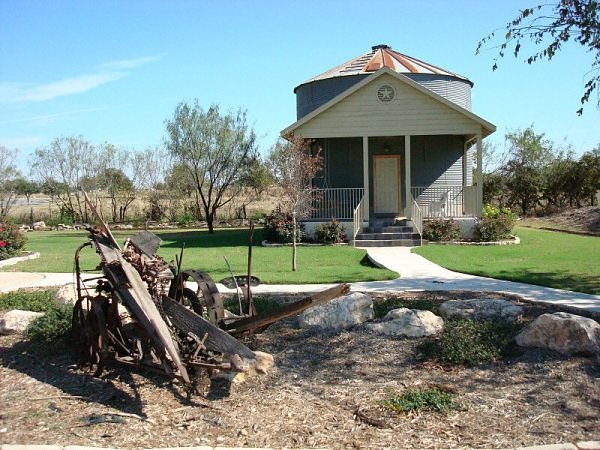 You wouldn't want to have a morbid fear of being drowned in grain in a silo if this repurposed building was to be your new home. Reinvented into a snazzy one-bedroom loft, this once-upon-a-time grain silo was first built in the 1940s, but was purchased in 2007 and relocated to Gruene Homestead Inn by the new owners, Ed and Billie Miles, who specialize in restoring old buildings in their locale. Located in New Braunfels, TX, the rentable round house offers quite a unique lodging experience. Kitted out with a queen bed, full queen sofa bed, shower and his-and-hers sinks, it's a great place to spend some time tucked away from it all. You can stay in Gruene's Grain Silo for between $175 and $210, depending on the season and night of the week.
7. Pigsty, Germany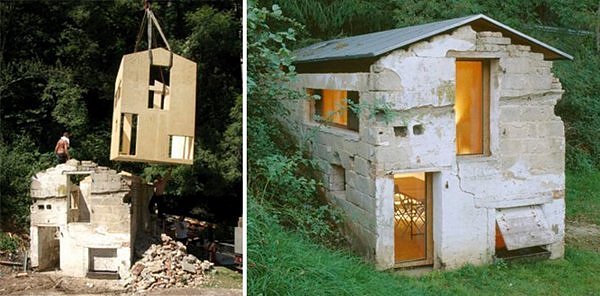 It must be every messy person's dream — to live in a pigsty, although you probably wouldn't get away with being too messy in this one either. Built in 1780, the pigsty was partially destroyed in World War II and had never really been used since. The owner wanted to reinvent it as a showroom for his business, but the condition wasn't good enough for a straight refurbishment, and would have cost too much. So the architecture firm employed, FNP Architekten, chose to retain the existing structure and use the façade as part of the reuse project. The new prefabricated home was then inserted into the shell of the building, with windows and doors lining up to the brick sties. A canopy expands out over the crumbling exterior to prevent further damage. The result is quite extraordinary. Source
1
,
2
,
3
,
4
,
5
,
6
,
7