It's difficult to explain the iconographic appeal of skulls. On the one hand, the skull is an emblem of rebellion and a brand of counterculture; on the other, it is ubiquitous — its recurring appearance in art, fashion and advertising making it part of the mainstream. Who knows why skulls, totemic of death, should continue to inspire artists and rouse consumers, but inspire and rouse they do. We like the following skulls because, though associated with the expired, they are formed by breathing new life into objects otherwise defunct.
Skateboard Skull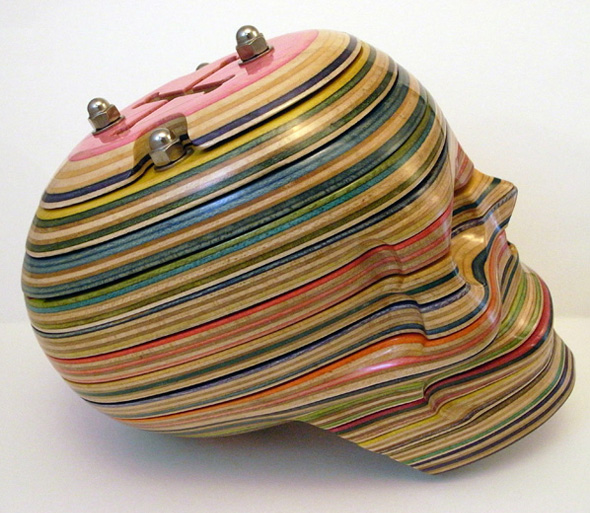 This beautiful sculpture is made by the Japanese artist Hiroshi using old skate decks. A passionate skater since his teens, Hiroshi has seen endless skate decks come to the end of their skateable life. Yet, rather than throw them away — something, he says, can't be done "because they hold sentimental meaning to us" — he stacks, cuts, shaves and polishes them into colorful creations like this one.
Cassette Tape Skull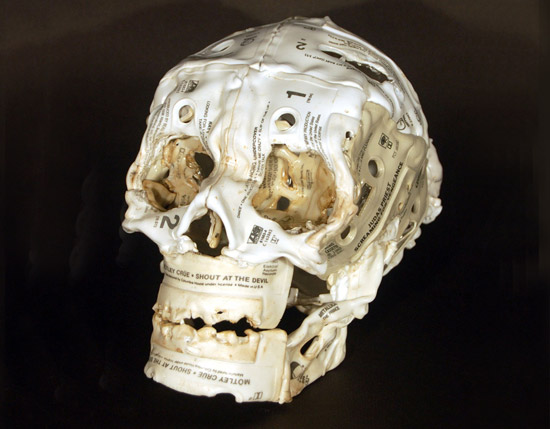 Atlanta-based artist Brian Dettmer sculpts skulls and skeletons out of the increasingly obsolete cassette tape. No glue, fixatives, or any material other than old tapes form the sculpture; the demise of analogue media brilliantly referenced by the artistic rendering of cassettes into a dead thing.
Kitchen Utensils Skull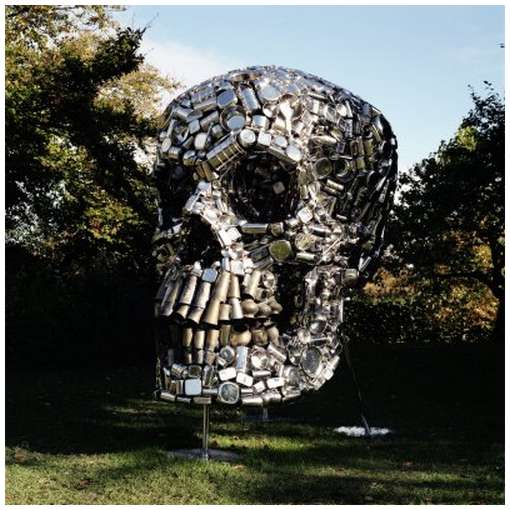 Subodh Gupta, dubbed the "Damien Hirst of Delhi," created this giant skull out of recycled stainless steel cooking utensils. Called "Very Hungry God," it first exhibited in Paris on 2006 — a year before Hirst's rather more extravagant diamond-encrusted skull showcased at London's White Cube gallery. For Gupta, the utensils and the skull are representative of India, where the poor, the middle class and the rich all have pots and pans in their homes, but where some will starve because they have no food to cook.
Recycled Cardboard Skull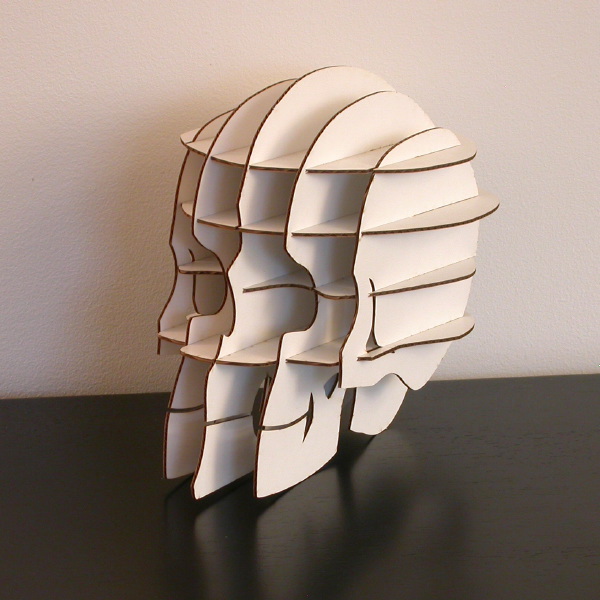 Noah Scalin is an artist most famous for his "Skull-A-Day" project, which saw him create a skull every day for a year out of anything he could lay his hands on. One of those skulls was this one, made out of recycled cardboard. Further to the success of the project, which is documented in his book,
Skulls
, he created 500 limited edition versions of the skull shown here, available in white or brown.
Keyboard Skull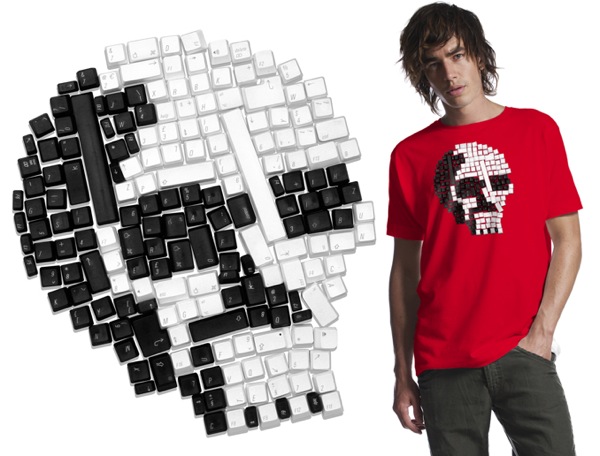 U.K.-based graphic designer Roger, of RubyRed T-Shirt Designs, designed this T-shirt using the keys from his own discarded Apple keyboards. Believing "old Macs deserve more than ending up on the scrap heap after a life of creation and innovation," he arranged and photographed the keys from an old extended white Mac keyboard, as well as those from an original iMac. He claims, in responsible fashion: "I could have done with another keyboard so I could have got more detail in it. But there's a limit to how much equipment I can take apart!"
Follow these links to find out more about each of the above: 1, 2, 3, 4, 5