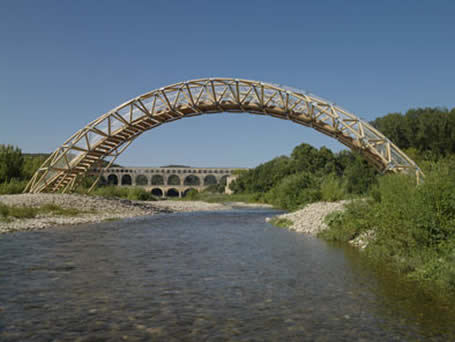 Image: Shigeru Ban Architects
Never underestimate the power of any building material, even one as light and apparently unsuited to heavy construction as paper and cardboard. But, 14 architecture students and architect Shigeru Ban proved that the impossible can be done: In just one month, they built a bridge made of paper and cardboard that could hold up to 20 people at a time. Altogether, they used 281 cardboard tubes, each 4 inches in diameter. The bridge's steps were made from recycled paper and the foundation from wooden boxes filled with sand.
Like a giant spider: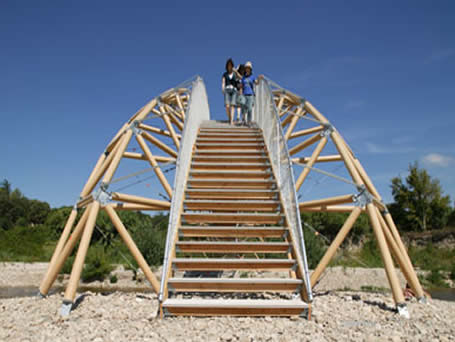 Image: Shigeru Ban Architects
Designed as a summer attraction for tourists in the scenic location of southern France near Nimes, the Paper Bridge was right in the vicinity of Pont du Gard, a Roman aqueduct, structurally its exact opposite: heavy, hard and durable. Still, both bridges lived in harmony as they used the same arc dimensions. Says Ban about the project: "It is a very interesting contrast, the Roman stone bridge and the paper bridge. Paper too can be permanent, can be strong and lasting. We need to get rid of these prejudices."
Shigeru Ban in front of his bridge: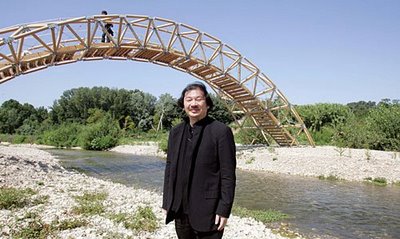 Image via treehugger
And, dismantling building prejudices is something that Ban is good at; his experience with paper and cardboard constructions is impressive: He started with a paper arbor in 1989, then moved on to a paper house in 1995, a paper church (1995-2005), paper emergency shelters for UNHCR in 1999, many more houses and even a school in 2008. With these temporary and permanent constructions, he proved that buildings don't have to be expensive, time consuming or labor intensive.
Takatori Catholic Church in Hyogo, Japan, made from cardboard tubes:
Image: Bujdosó Attila
Ban was born in 1957 in Tokyo. He studied at the Southern California Institute of Architecture and later moved to Cooper Union's School of Architecture, where he graduated in 1984. Early on, Ban was attracted to low-cost, low-tech and recyclable materials like paper and cardboard. In his work, he combines sustainability and low waste measures with humanitarianism and has designed various refugee shelters that were used after the Kobe earthquake, in Turkey, Rwanda and other places around the world. His path-breaking work has won Ban many accolades, among them the prestigious Thomas Jefferson Medal in Architecture from the University of Virginia – Charlottesville. He was also profiled by
Time
magazine as a 21st century innovator in the field of architecture and design. As for the Paper Bridge, it was meant for only one season and would have probably not braved winter storms. So, it was dismantled, and the tubes no doubt kept aside for the next project.
Sources: 1, 2, 3, 4, 5