The EPA has revolutionized the way America cares for and protects the environment. In recent years, the EPA rode the wave of the green movement, educating and inspiring people to do everything in its power to preserve and maintain the earth. The EPA recognizes that one of the most efficient ways to keep an ever-progressing future is to capture the hearts of the young. The EPA has developed a
website
that is geared toward children and teenagers to have fun and learn about the environment at the same time. The website offers something for everyone. A user can explore different issues pertaining to the air or water, get more information about garbage and recycling and learn about the planet. There are three rooms that each child is welcome to explore: the art room, the game room and the science room. Each link takes the user to list of subcategories packed with games, comic books and information that is easy to understand. Each subcategory is intended to provide the child with a positive learning experience.
The air section of the site teaches kids about air quality, asthma, climate change issues and dwindling ozone layer. This section uses a few games to challenge each user to discover the effects of air pollution and how it wreaks havoc on plant and animal life. It also addresses the common childhood issue of asthma and how air quality can affect the condition in humans and animals alike.
The water section delves into the subjects of beach preservation, the water cycle, the different coasts, how sewage affects the oceans and demonstrates how much water is wasted through dripping faucets and leaks in pipes. It helps kids understand and relate to common issues in their home and provides them with the tools to prevent common water wasting.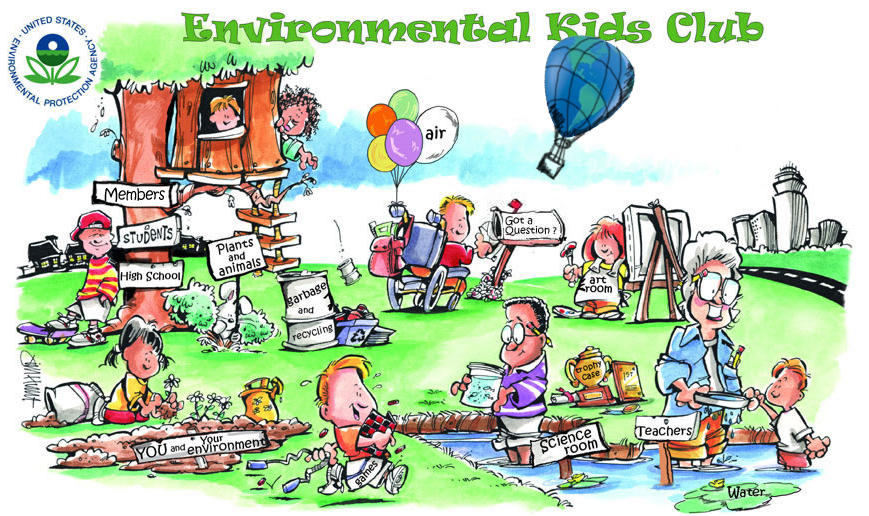 The garbage and recycling section offers a lot of information concerning the importance and process of recycling, and even touches on the importance of worms in the recycling process. This section challenges users to find new ways to recycle and reuse common items that could end up in the trash. It also encourages students to find ways for their schools to recycle more. The art room, game room and science room all provide games, puzzles and hands-on learning activities to reinforce the information from the rest of the site. The site is not intended to be utilized in a few days, but offers a plethora of information so your kids will want to return for more. Your kids can also send a question to the site for more specific learning. There's a special section for teachers, kids and high school students that addresses the specific information that pertains to these groups. Kids love to use computers and surf the Web, so why not provide them with a resource that will teach them, inspire them and help them to fall in love with the planet? The EPA Kids site is the perfect resource for teachers, students and parents. Check it out today — I bet you'll learn something new.