High-end retailers continue to join the sustainability-minded masses, and this time Gucci is putting another green effort in the bag, literally. Consumers, watch for a new brown bag that is all green. All 284 Gucci stores worldwide will be packaging your purchase with Forest Stewardship Council (FSC) certified paper that is 100% recyclable. With the 90th anniversary of Gucci around the corner, Gucci Creative Director Frida Gianninia's concept was based on keeping an Old World sophistication with new environmentally friendly practices. The new brown bag is the focus of the press surrounding Gucci's efforts, but that isn't all that the company is changing.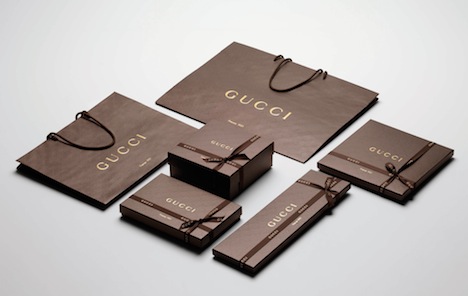 Gucci's brown bags: Are they as cool as they are recyclable?
Using recyclable paper is a big step from bags previously filled with wasteful tissue. To be FSC certified is no small feat. In order to make the certification, the FSC has to be satisfied that all trees used to create the paper bags and boxes comes from well-managed forests and that every stage in the production chain meets FSC standards. Gucci got the green light on every step of its new process. But can a sustainability-minded bag be sophisticated, too? The answer is yes, if you like the look of the contrasting brown color and gold Gucci logo. See Gucci.com for a closer look.
More Gucci efforts to go green
While Gucci is spending much of its efforts toting its new bags, there are other sustainable practices that the company is working on now. The actions underway at the company include:
The progressive substitution of printed collateral materials with e-cards and e-catalogs, with customers being offered a green option when registering;
The implementation of a transportation load optimization policy aimed to reduce truck transportation by 30%;
The introduction of an energy-saving program for the retail store network involving reduced lighting after hours, installed light detectors and switching to 35W halogen bulbs;
The testing of LED lights and the reviewing of composite stone versus marble; and
The use of composite veneer for furniture production, instead of solid wood.
But that's not all: Gucci's goals by year end
What is a new policy without more goals for a greener future? Look for these changes at Gucci by the end of the year:
A reduction of 35 tons of plastic waste;
A reduction of 1,400 tons of paper consumption (coming from the implementation of the new packaging, the replacement of a cardboard box with a recyclable bag and the optimization of paper consumption from catalogs and promotional materials);
A reduction of about 10,000 tons of CO2 emissions; and
A reduction of about 4 millions liters of gas oil consumption.
While Gucci may have a long way to go from fashion giant to green guru, if its brown bags and other sustainability goals are any indication, these new green changes will be a hit with both consumers and the company. Maybe it is possible to teach an old fashion giant new tricks.