Get empowered to go green with the new
1-800-RECYCLING.com app
. With full knowledge that the opening sentence sounded like a marketing slogan, there is faith in you, the reader, to get an author's sense of humor. In other words, it is understood that a 1-800-RECYCLING.com writer reviewing a 1-800-RECYCLING.com application seems like self-cheerleading. Rest assured that this review is as objective as possible. I downloaded the app and tried it out for half an hour and found some cool features, some questions and some suggestions for improvement.
Go green! This app answers all.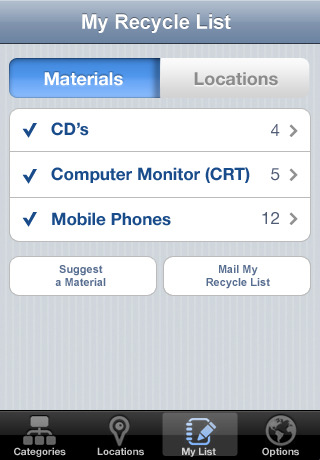 Where do I go to recycle my cans, my glass, my hazardous materials, etc.? How do I remember where the locations are? How do I get organized? This app brings the answer to all of those questions and a lot more in an organized fashion. Much like the site, you start your recycling search by choosing a category. The following nine categories cover everything: plastic, electronics, paper, glass, metal, household, automotive, yard and hazardous. Enter your ZIP code and locations pop up. Manage both material and locations on a list. If you still have questions, you can visit 1-800-RECYCLING.com directly from the app, or sign up for the
monthly newsletter
with the click of a button. There is no confusion about how to recycle what you want at the most convenient location for you, regardless of where you live.
Questions and suggestions: When the app is updated, there should be…
Overall, I was extremely impressed with the app. With that said, I want to point out that there were a few feature placements that may be tweaked. The first question that popped into my head was, "If I didn't know 1-800-RECYCLING.com already, would I know who they are by the first page I see when the app loads?" My answer was, no. This led me to some ideas about placement of resources such as the 1-800-RECYCLING.com link and the online newsletter. Things to consider in future versions of the app:
Making the 1-800-RECYCLING.com link accessible right away, perhaps on the first screen.
Making a short statement about what the online newsletter is before asking me to click and sign up for it. Is it for the typical reader and recycler? This could be clearer; we have some cool stuff coming up and we need to know if the issues will matter to us.
Adding a link to the green news. As an author, this is not only a shameless plug, but also a realistic need. Promoting our new stories will also give our followers a chance to read the latest in recycling and green issues, as well as trends.
My verdict? The ease of use is the best feature of the app. It is a handy sidekick for a day of recycling. Will I be using it? Yes; I do have an old computer to get rid of. Better type in my ZIP code now…
(Editor's note: My Recycle List has been rebranded as the 1800Recycling.com mobile app following the publishing date.)