It is a widely regarded truism that there is no place like home. Taking this homage to our dwellings and flipping it on its head, one Pacific Northwest-based homebuilder might promote that "there's no home like Place."
Place Houses, LLC
's work is popping up around the Puget Sound in the United States with Seattle, not surprisingly, becoming the Petri dish of this new-age approach to housing construction. As explained on the company's website, the answer to the question, "What is a Place house?" is, "top quality, architect-designed houses, a type of pre-fab" that offers "a streamlined hassle-free process."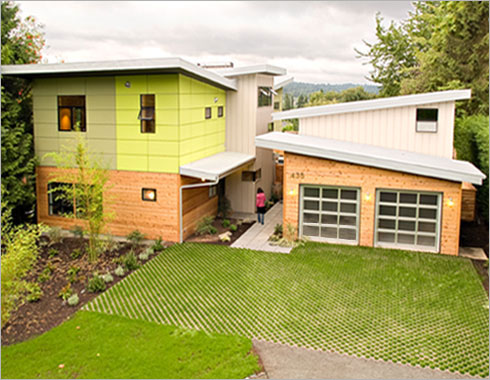 Characterized by strong lines, an eye-catching blend of exterior cladding and materials that bring interest to the façade from all sides, an endless color pallet to choose from and sustainable motifs such as the
porous driveway pictured here
, Place Houses can be designed to fit within any urban, suburban or rural setting while standing out stylistically. Or, put more simply by the company:
Stylish without being elitist; whimsical but reflective; and above all, simple, timeless and affordable, Place Houses are designed to fit wherever you need one — be it on a small lot on the city, or on an acreage with a view.
Like most businesses in the Northwest, the approach to the product has environmentally friendly implications. According to the company website, all homes constructed are done so to the rigorous standards of Built Green, meaning that great efforts are endured to conserve and manage water, energy and materials while, "mitigating the impact of construction, maintenance, and operation of a building through its lifecycle." Some green features include wiring for solar-powered electricity and hot water heating, Energy Star-rated appliances, sustainable finishing material such as bamboo and cork, low-flow fixtures, and design that maximizes natural ventilation and day lighting. Place Houses even gives the option of making your house
super
green. To find out how and to learn about more green features, go
here
. The style of these homes is certainly what stands out most to the passersby, but where Place Houses is perhaps most visionary is in the home-buying process. Like purchasing a new car, the process of purchasing a Place house offers a variety of options to make the final product uniquely tailored to the buyer, while still offering direction and a limited amount of choices in a surprisingly fun and simple process. For instance, four sizes are available: tiny, small, medium and large — great options with limited choices! In fact, the whole process is designed to take less than one year. The company website offers a succinct description on the process as well:
Pick what you want in one meeting, then put your feet up and wait while we take care of the rest. We can even recommend realtors and lenders if you need assistance finding a site or securing financing.
In essence, Place Homes aims to offer the simplicity of tract housing by providing simplified options while still allotting for the design and attention to detail that, until now, only came with custom-built homes. Place Homes strives to become a homebuilding company that allows for the personal touch of custom-built homes without the hefty price tag that correlates. For the time being, Place Houses are only available in the Pacific Northwest, but with such style attention to eco-friendly factors, they will be popping up near you soon.