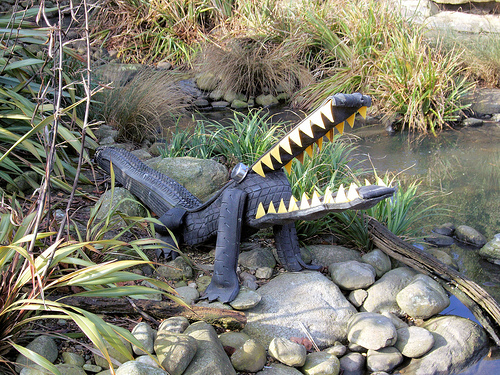 "Crocodile" by Katcha Bilek and Franck Lamour (discarded tires and inner tubes). Photograph by Jim Linwood
It's a wonderful thing to see wildlife in its natural habitat, so the Barnes, England-based WWT London Wetland Centre is a great place to get back in touch with nature, while in the heart of one of the world's great capitals. However, there's something rather unusual about some of these creatures — they're actually sculptures made from recycled parts!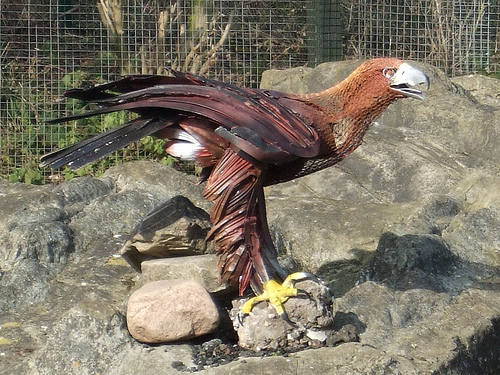 "Golden Eagle" by Kevin Herlihy (painted aluminum, galvanized and stainless steel, concrete base). Photograph by Jim Linwood
For the Love London Recycled Sculpture Show, 24 artists, from Royal Academy exhibitors to school children, assembled 30 works of art for the Centre, inspired by the wetlands and built from discarded materials. While some of the sculptures were inspired by their imaginations, portraying crocodiles and golden eagles, others were of animals that really can be found at the Centre, including frogs, beetles and herons. The show was the launchpad for the Love London 'Green' Festival, which saw environmental events taking place across the city.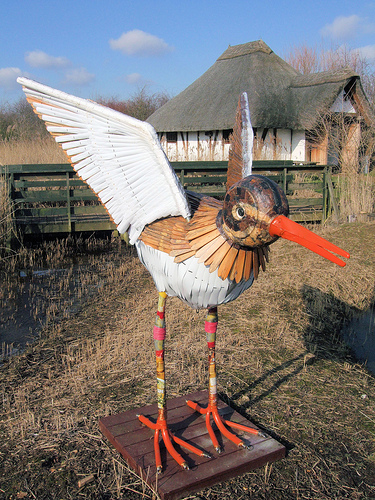 "Redshank" by Michelle Reader (tubing, bar stool, wire, drink cans, tires and wood). Photograph by Jim Linwood
The Centre, run by the Wildfowl & Wetlands Trust, covers 42 hectares and is home to 180 species of birds. It also supports a breeding colony of endangered water voles, and you can find more than half of all the U.K.'s dragonfly and damselfly species at the site.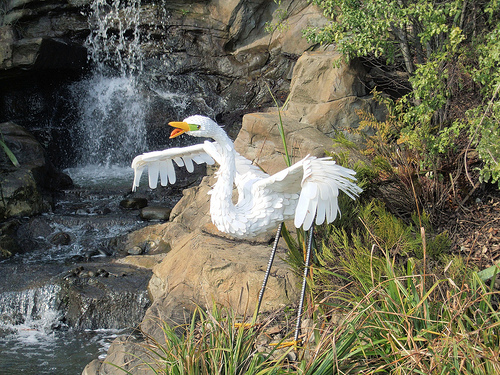 "Crane" by Chris Pilmore (milk cartons, steel and wood). Photograph by Jim Linwood
On display for over 10 months, the sculptures were built to last and were in place at the Wetlands Centre until April 4, 2010 — so if you haven't seen the show already, then you've missed your chance to see them "in the flesh."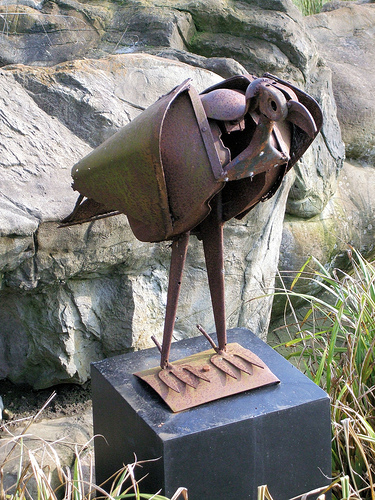 "Heron" by Gilbert Whyman. Photograph by Jim Linwood
Many of the materials used for the sculptures, ranging from shopping trolleys to abandoned milk cartons and vacuum cleaners, have been reclaimed from riverbanks and woodlands in environments very much like the wetlands. One of the aims of the show was to emphasize the importance of keeping habitats unpolluted, as well as reinforcing the ideas of reusing and recycling.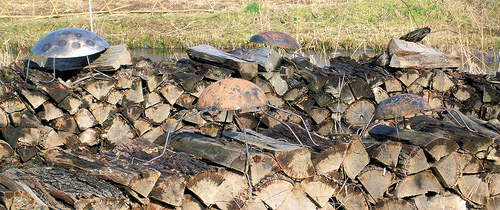 "Bugs" by Lawrie Simonson (kitchen pans, skip finds and car parts). Photograph by Jim Linwood
Explaining the message of the show, Caroline Read, its Director and co-curator, said, "We must all rethink waste and act fast to change our harmful 'throwaway culture' to a 'culture of sustainability.'"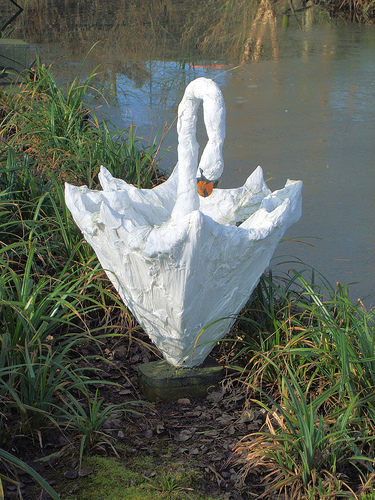 "SwanBrella" by Andrew De Friez (discarded umbrellas and plastic bin liners). Photograph by Jim Linwood
Martin Spray, WWT Chief Executive, added, "The exhibition's 'wetlands' theme… [encourages] our visitors to reuse materials before discarding them. The sculptures are a welcome addition to the Centre that we hope will inspire creativity and encourage visitors to think about the connection between consumer waste and conservation." Other highlights of the show included a heron made from abandoned shopping trolleys, found in a canal, and a frog made out of mobile phones.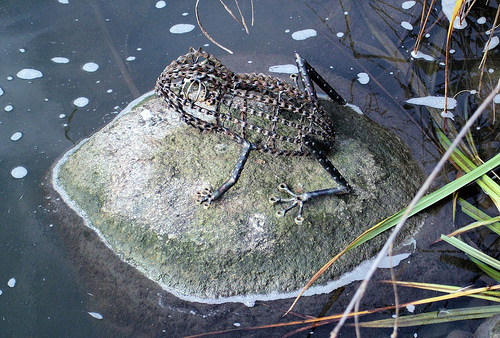 "Frog" by Daren Greenhow. Photograph by Jim Linwood
One of the sculptures portrayed the Wetlands Centre's most secretive denizens — 'The Twitcher." Built by Gavin Darby from scrap metal finds and fire extinguishers, the bird-watching figure is armed with binoculars and a manual as well as the compulsory wooly hat, to keep the weather off.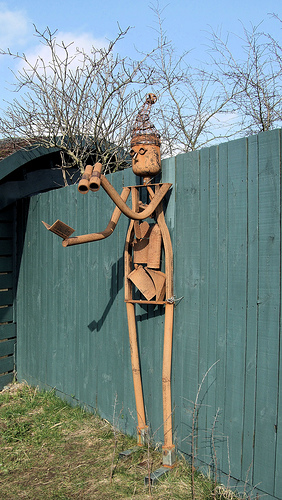 "The Twitcher" by Gavin Darby (scrap metal finds, steel pipe and fire extinguishers). Photograph by Jim Linwood
Sources: 1, 2