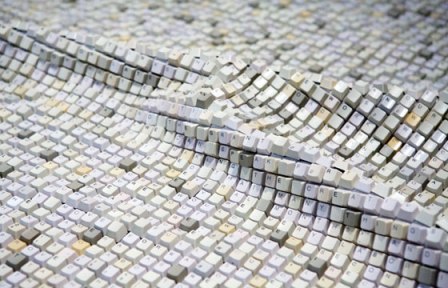 All images courtesy of Jean Shin unless otherwise noted.
Ever wondered what to do with old computer parts, like the keyboard for example? Artist Jean Shin came up with a creative solution: for her 2006 interactive sculpture "TEXTile," she used thousands of recycled keyboard keys (22,528 to be precise) and embedded them into a 20-foot, continuous textile. As if this didn't look cool enough, the keys are also a line-by-line transcript of the artist's email correspondence with suppliers and fabricators, therefore documenting the sculpture's creative process from the beginning.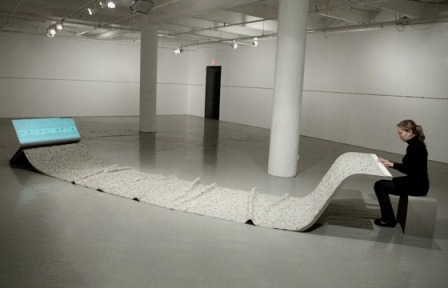 Apart from highlighting the importance of messaging systems such as email in our lives, the project also contrasts modern technology with the fact that keyboard keys go back to old-fashioned typewriters. Our written communication today may be virtual, but it still goes back to yesteryear's tactile typewriter sensation.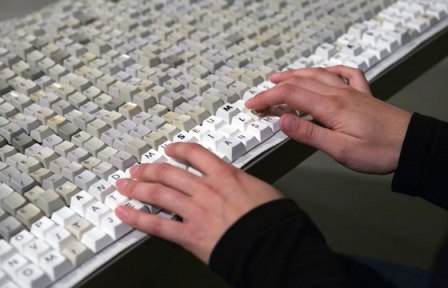 But Chin's interactive process doesn't end here. To continue the virtual dialogue, now with her viewers, Chin has turned the first three rows of her sculpture into an active keyboard. Viewers can type their own messages, which are then projected in real time onto the opposite end of the fabric.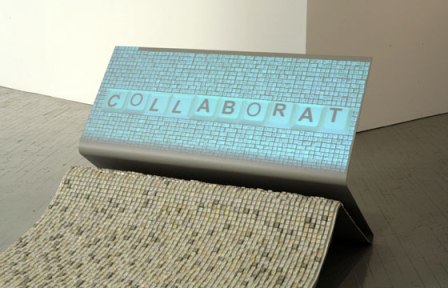 "TEXTile" was created in collaboration with The Fabric Workshop and Museum in Philadelphia and is part of the museum's permanent collection. Each of Shin's projects is characterized by her search for a particular, usually recycled object, be it prescription pill bottles, sports trophies, sweaters or computer keys. The process is labor intensive and includes community involvement, as Chin often sources from participating individuals.
Photo: Mr. T in DC
Jean Shin was born in Seoul, South Korea, and came to the United States to attend the Skowhegan School of Painting and Sculpture in 1999. She received a B.F.A. and M.S. from Pratt Institute in Brooklyn and currently lives and works in New York City. Chin's sculptures, videos and site-specific installations have been widely exhibited in major national and international museums. But what's the reality when it comes to computer junk? On average, only one out of five computers is being recycled today. Though there are many recycling options available, maybe the fact that consumers have to actively go out and pursue this information is too much of deterrence. Maybe a light gray ton for electronic trash next to our green, black, yellow and blue garbage tons would be in order. Otherwise, creativity will be called for.
For more about Jean Chin, check out her website or Facebook page.