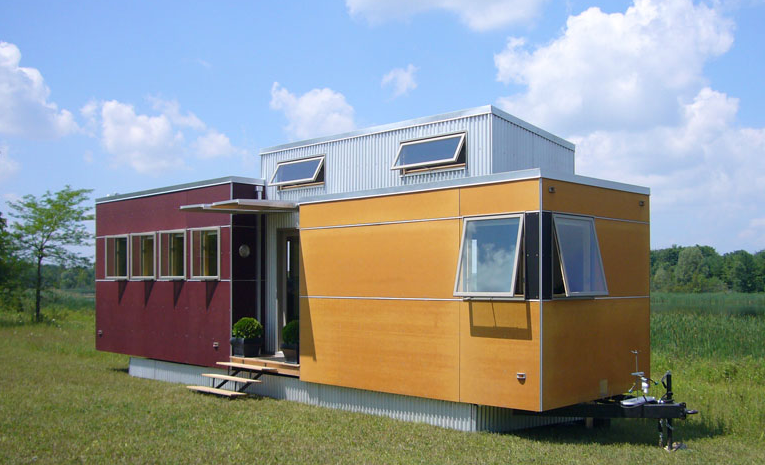 I grew up in Texas in the '80s, when "prefab housing" pretty much exclusively referred to unattractive mobile homes. But oh, what a long way things have come! Today, there are plenty of stylish and eco-friendly prefab housing options out there that would look more at home in a hip urban setting than a trailer park.
Take
Sustain MiniHome
, for example. This Toronto-based architectural design studio embodies the concept of green, stylish modular housing to a T. The structures are made without vinyl, toxic adhesives, formaldehyde or CFCs and boast water- and plant oil-based finishes and certified sustainable woods. They also make it easy to conserve water by including two centrally located downspouts for rainwater collection and treatment and offering the option of composting toilets. Another sustainability component that you might not automatically think of is durability. Sustain MiniHome claims, "Wherever possible, we have opted for homogenous materials, with little or no requirement for maintenance — in the form of painting, or re-finishing. We have also detailed materials to be mechanically fastened so that they can be easily repaired or replaced, and that are designed to breathe and shed moisture so as to not allow decay in the first place." If materials require less upkeep they last longer, and if they last longer, you won't have to waste any resources replacing them. Pretty smart! The company offers both
home
and
commercial
prefab buildings, and is even working on creating entire
Eco Parks
— the cool, sustainable response to the trailer park concept. Their first Eco Park project is in development in Brighton, ON, Canada. Although Sustain MiniHome is based in Canada, the company can ship prefab structures anywhere in North America. You may not know anyone who has a prefab house like this now, but with space only getting harder to come by, you can bet ideas like this will become more popular. So,
read more about the structures
, and who knows, maybe you or someone you know will start the trend in your community.