The market for environmentally friendly products goes beyond humans and extends to the animal kingdom. There are a bevy of green products available for all kinds of pets, but there are a lot of intriguing furniture options made just for Fido. If you're eco-minded, any old dog bed just won't do. Thankfully, there are companies out there that are catering to dogs that are trying to reduce their carbon paw prints. One such company is
Bowsers Pet Products
. Bowsers makes several different eco-friendly dog beds, including a hemp model.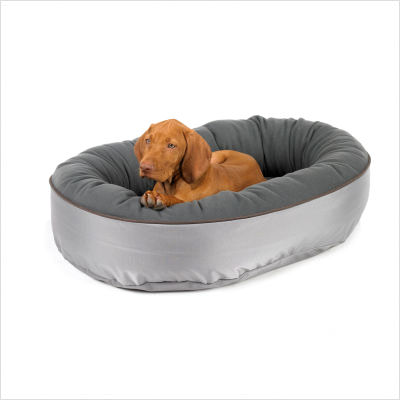 The company sells three different doggy beds made out of eco-fleece — a futon, the Orbit and the Tahoe. Eco-fleece is a durable product that is made out of the polyester fibers obtained by recycling PET plastic soda bottles. In the case of the futon, the use of post-consumer recycled content keeps 20 soda bottles out of landfills for every futon made. If your dog prefers a more natural product, Bowsers Hemp Oval is your best bet. Hemp is a natural fiber, and Bowsers uses hemp grown without harmful chemicals or pesticides. As an added bonus, hemp is very drought resistant, so it requires less water than many other natural fibers that are used to make dog beds. The Bowsers Hemp Oval is filled with fibers made from recycled plastic soda bottles, similar to the product used to create the eco-fleece used in Bowsers' other dog beds. Bowsers also makes an environmentally friendly placemat. Let's face it, most dogs aren't thinking about neatness while eating or drinking, so food and water inevitably end up on the floor. A placemat is a great solution to this problem, but an eco-friendly placemat is an even better solution. Bowsers uses post-consumer recycled products in its placemats. Each placemat features a 3/8" rubber backing made from recycled rubber tires. In addition to keeping the dinner area clean, the placemats also provide a comfy and therapeutic place for your dog to take a quick break. The recycled rubber-backed mats are also good for those of the two-footed persuasion. If you're going to be busy in the kitchen, standing on the mat instead of the hard tile floor can give your feet and joints a break. There are certainly other companies out there that sell green pet products. For example,
West Paw Design
has a full line of eco-products, including dog beds, toys and clothes. If you're more of a cat lover, West Paw Design even has an eco-friendly cat product lineup, including organically grown catnip. Now that's an eco-cat's dream.