So, maybe you're a fully converted member of the green movement family. You try and drive a car with better gas mileage, you eat and drink local and organic, and you tend to gravitate toward signs that read "recyclable," "recycled," "bamboo" and, of course, "green." But, what about that four-legged companion of yours? The creature that brings endless hours of love and attention to our lives every day unfortunately has little to no choice in the matter of helping save the planet. My solution: Show thanks to your beloved dog or cat by bringing them into the wonderful world of green!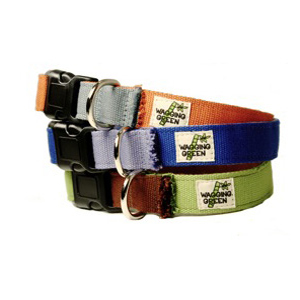 A simple one-stop shop for all your pet accessory needs with sustainable flair can be found at Olive: Green Goods for Modern Dogs (and cats). To fully explore the fashionable, healthy and karma-improving offerings this company carries, visit
olivegreendog.com
. Straight from the green-thinking horse's mouth, Olive beckons shoppers on its website by proudly declaring, "Olive is dedicated to bringing you the largest variety of healthful and environmentally friendly dog products the big ol' internet has to offer. Many of Olive's green goods are one of a kind — hip, modern and eco-friendly dog supplies. Now your discerning pooch can support sustainability without sacrificing style." And, they're right, there certainly are a lot of companies on the big ol' Internet that flash "green," "eco-friendly" or "sustainable" in the nose of the online shopper. What sets Olive apart from others is that a quick read-through of many of its products really shows that a loving embrace of the whole spectrum of healthy and earth-friendly materials and processes. Toys, bowls, collars, medication, apparel (which, personally, I will always think is unnecessary and therefore a waste of resources) and much more of the Olive offerings all have various sustainable qualities. For instance, many collars, leashes and apparel items are made from recycled material or organic, sustainable matter. The
Eco Hip 2-Tone collar
is made using ultra-renewable bamboo, ensuring that the materials used to make dog collars will come back for many, many years without harming the environment. And, to go with that forward-thinking collar, you can complement your dog's style whilst getting some exercise with the
Adjustable Recycled P.E.T. Rope Leash
! PET (plastic #1) is a plastic typically used to make the ubiquitous water, soda or juice bottle. The maker of these leashes, Found My Animal, has blended the age-old tradition of handmade rope making with plastics recycling! This helps turn some of that 8,000 pounds of PET that is recovered from the environment annually into a handy, pet-friendly and sustainable product with a new life! All these specialty bamboo, recycled and
hemp items
certainly give Olive some green credibility, but what is really impressive is that the squeaky toys are all natural! Today, we can never be too sure where the cheap, plastic-like rubber ball or fake chewable bones came from. Every two months, it seems some children's or pet product is being recalled by its manufacturer (or the EPA) for dangerous amounts of hazardous chemicals. But, when it comes to Olive, the chewy goods for your dog pose none of these risks. The
Bellboy Duck Vintage Toy
is one the most adamant chewer is sure to love, and since it's made from, "super durable, all-natural rubber" and contains no lead and toxins, we can feel good about sharing our green lifestyles with our beloved pets.