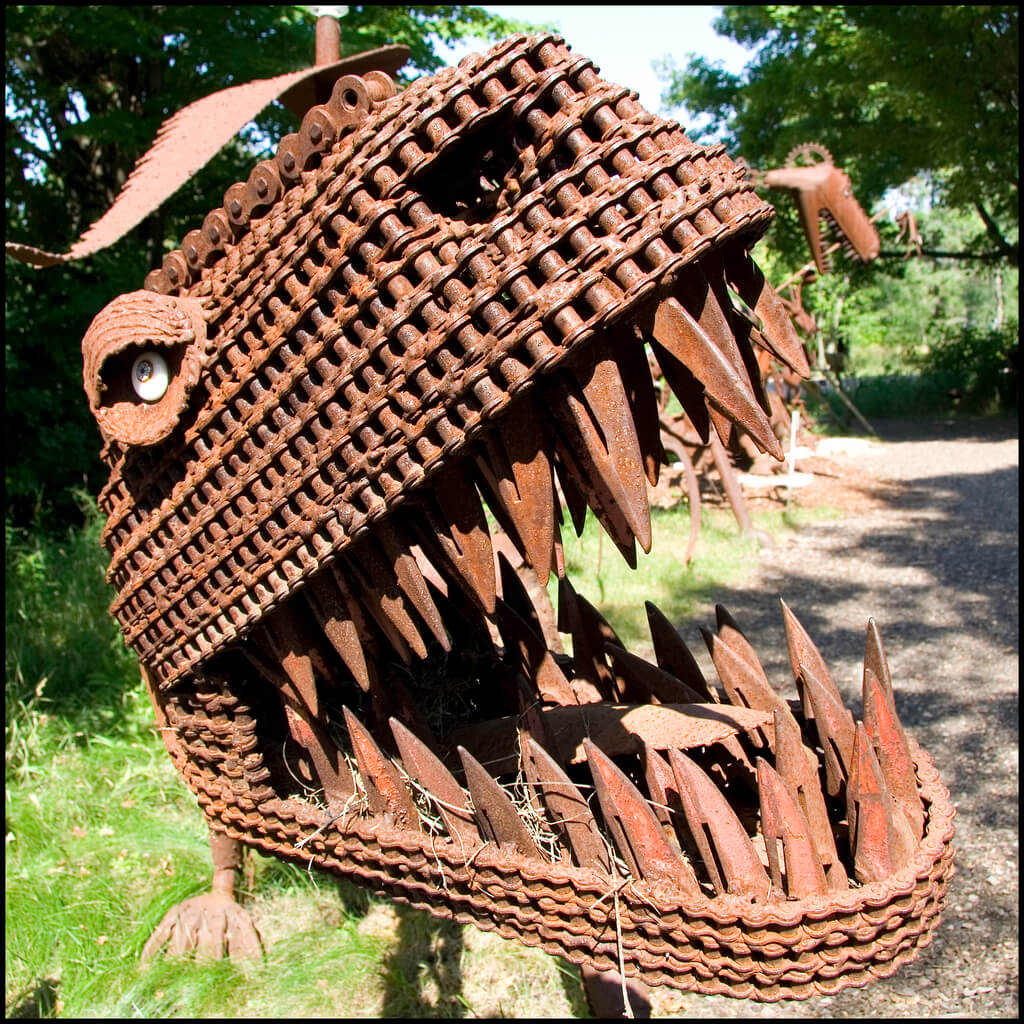 Image: lebovox. All images illustrating this article are copyrighted and used with explicit permission of the photographers.
Despite being tucked away just off Highway E, about 5 miles out of Marshfield, WI, Jurustic Park is a well-known roadside attraction with around 15,000 visitors from near and far every year. The wondrous park run by artist and self-proclaimed amateur paleontologist Clyde Wynia and his wife, Nancy, is well worth a visit. Some 250 rusting sculptures of tiny to large critters usually leave a permanent impression on visitors.
Welcome to Jurustic Park!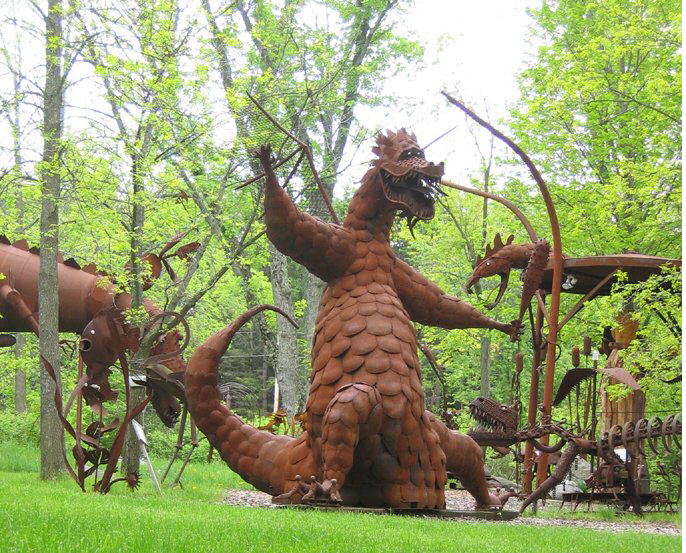 Image: goldfishy
"I'm gonna eat you…"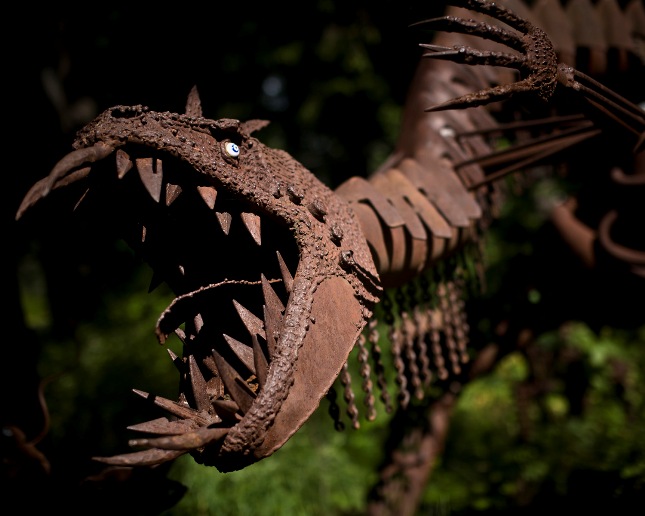 Image: Mac Bailey
Ask Clyde where his creatures came from — never indicate that he created them — and he'll give you the full background: "[I] excavate and recreate as best as possible the now extinct creatures that inhabited the large McMillan Marsh near Marshfield, WI, during the Iron Age."
Gathering of the large critters: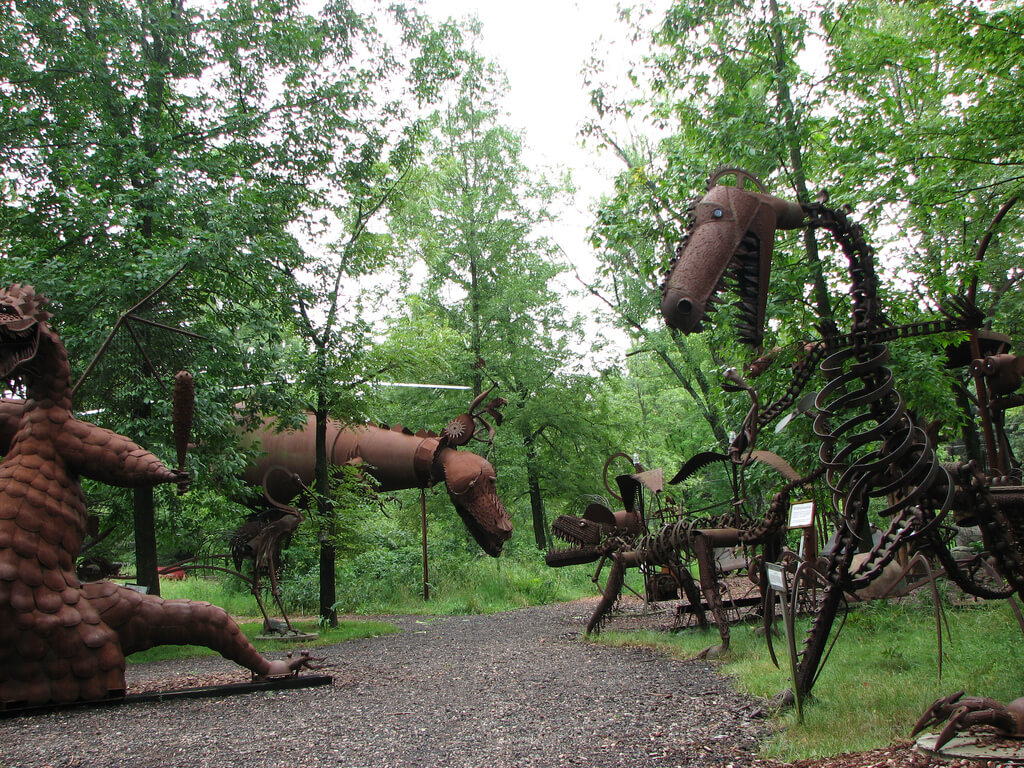 Image: Jurustic Park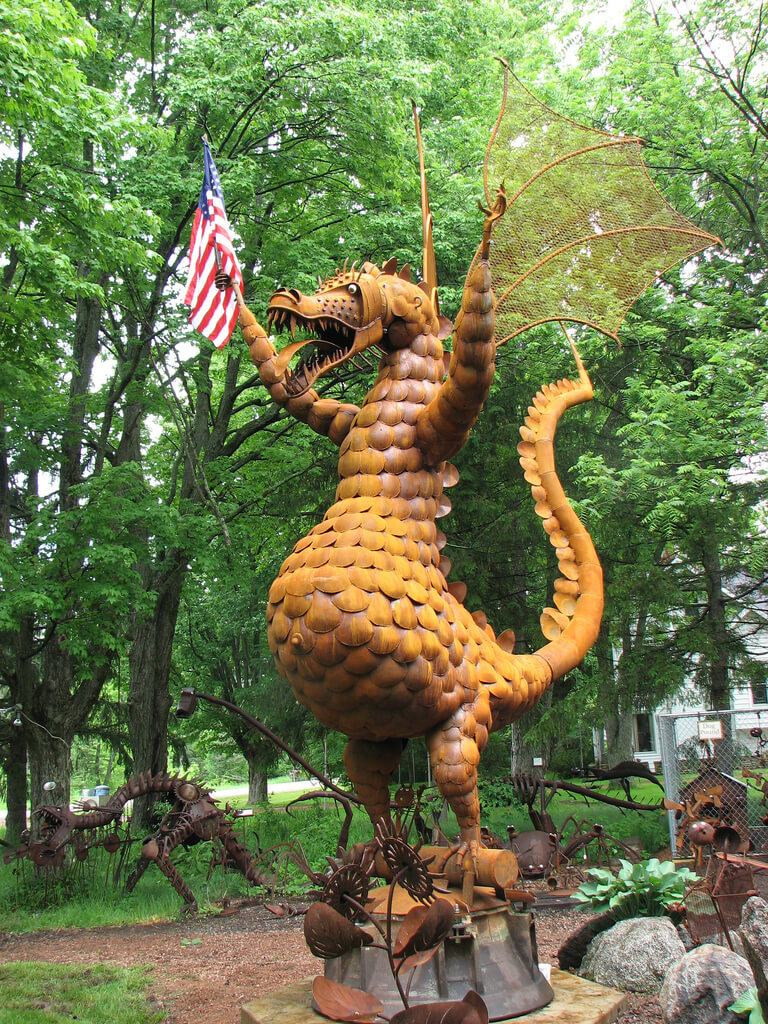 Image: Jurustic Park
According to a history on the website, the creatures got their distinct rust red patina because "the flesh and bones of all the marsh creatures were ferrous metal, usually mild steel, but occasionally stainless, high carbon or various types of more exotic alloys." The history of the species is quite grim, as "many of the iron species died out when farming and industry moved into the area in the mid 19th century." Exploitation played a big part:
"The creatures were often harvested for their parts that were then used in farm and industrial machinery. Over-harvesting eventually led to extinction of many species. Other species became extinct when acid rain caused them to rust over. Good rust inhibitors, which could have slowed the oxidation, were not readily available to these creatures to save them from the corrosive effects of increasing industrial pollution."
Even dragons need to drink once in a while: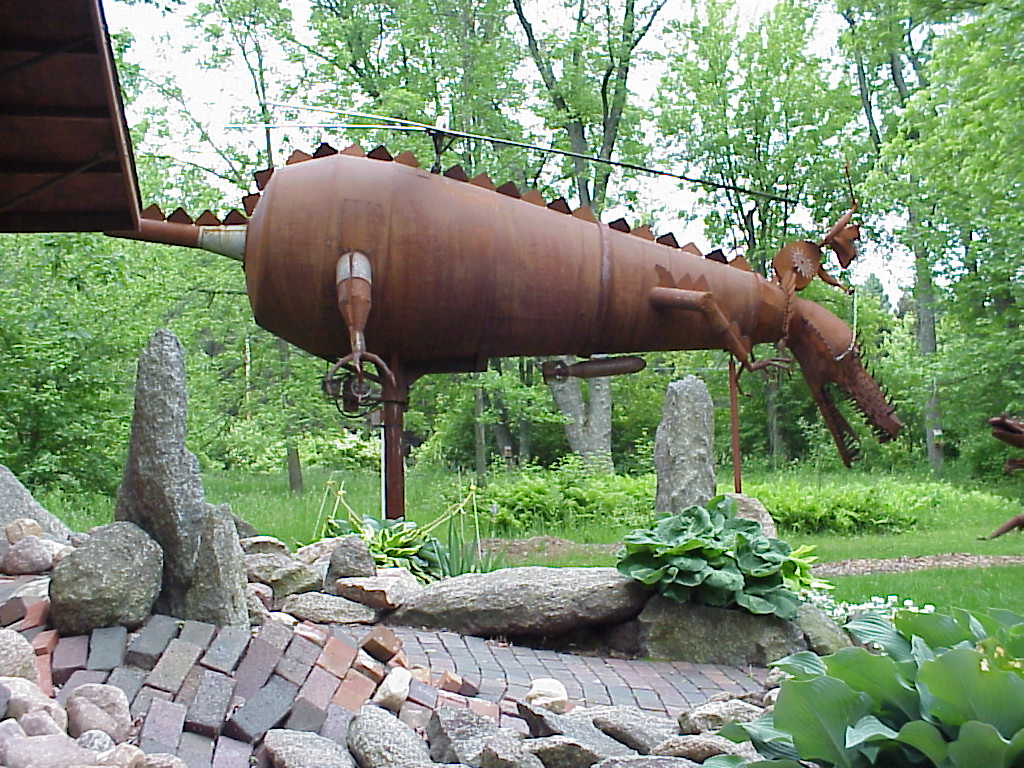 Image: Jurustic Park
One of Clyde's most beautiful creations: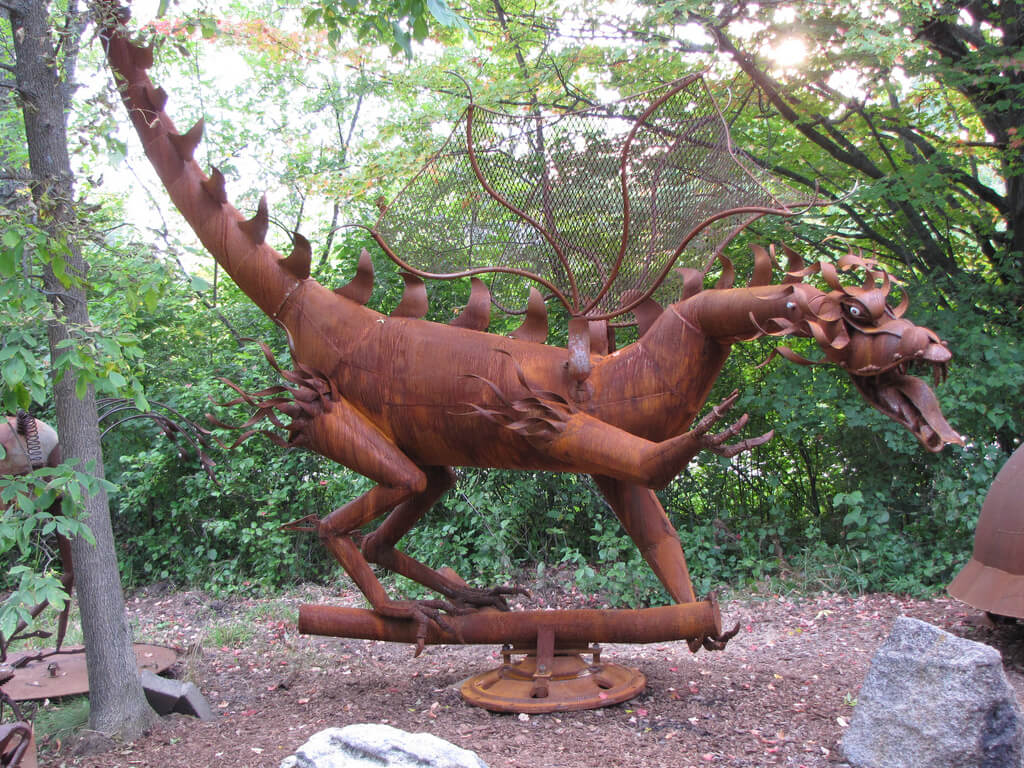 Image: Jurustic Park
Though the creatures have not been reported to move, because they prefer to act lifeless in front of visitors, most of them let themselves be shaken by the wind and sway gently in the breeze, some even producing their own sounds.
Prehistoric fish swam above ground…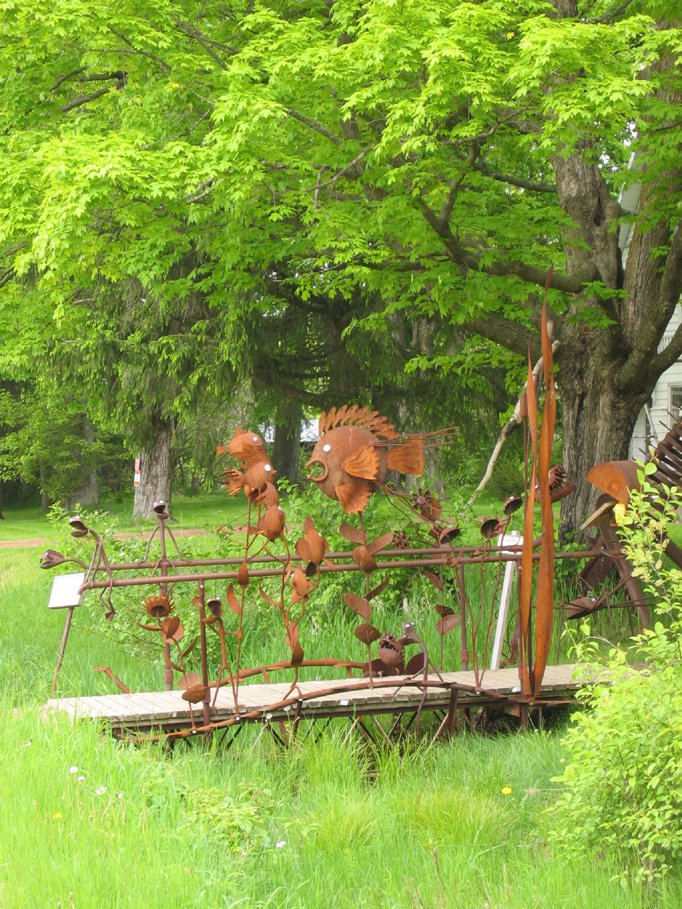 Image: goldfishy
Big and small animals live in perfect harmony: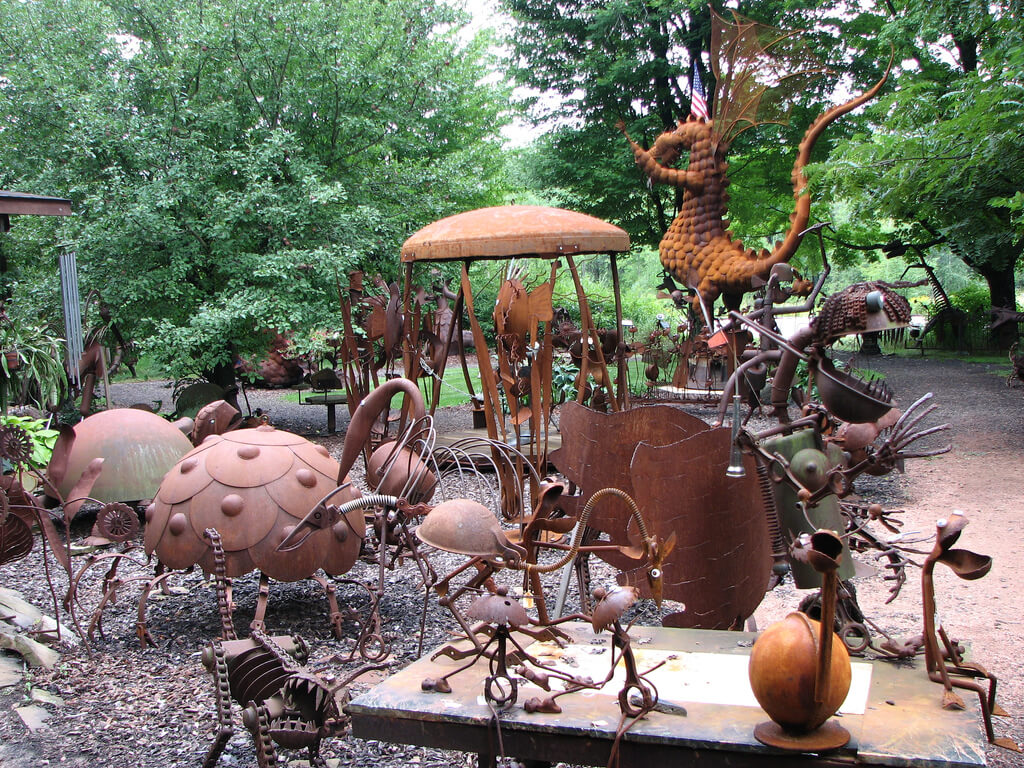 Image: Jurustic Park
For those visitors who are a bit skeptical of the whole idea, there's always Nancy's Hobbit House, where she designs and creates beautiful glass jewelry, colorful fish, flowers and other sculptures. She also processes, dyes, spins and knits her own natural fibers — used to make life-size fabric sculptures, some of which Nancy claims are often mistaken for her relatives. Says photographer Baaron about the influence the Wynias have on the community:
"I grew up next to their home and watched the transformation happen over the years: From a scraggly forest full of derelict machinery to the now lush and inspiring Jurustic Park. The Wynias were an important influence in my life."
Photographer Mac Bailey confirms: "If anyone visits Jurastic Park, you need to be sure to meet Clyde. He is as unique as his creations. Pause long enough and he will tell you a story that is sure to raise an eyebrow. Nan makes some very beautiful jewelry in her shop at the park."
Under the gaze of the beast: Clyde and Nancy at their 52nd wedding anniversary: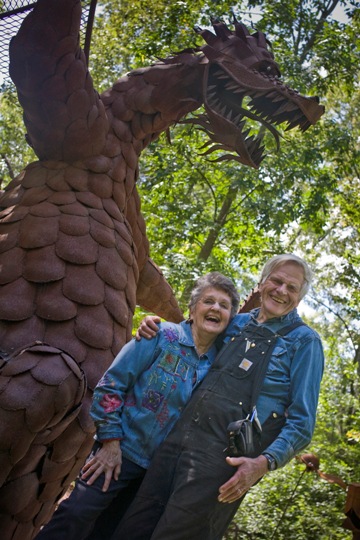 Image: Mac Bailey
The welding shop where the magic, er, the excavations happen:
Image: Jurustic Park
The park had its beginnings in 1993 with one giant iron bird that Clyde decided to hang from one of the trees in his back yard. It immediately drew attention and soon found itself surrounded by more of its kind. Since then, the visitor stream has steadily increased and the park is usually open from 10 a.m. to 4:30 p.m. Smaller pieces are for sale, and though Clyde never sells his larger creatures, he does donate some at charitable auctions to raise funds for various causes.
Contemporary critters like crows are not the least bit scared; on the contrary, they seem intrigued: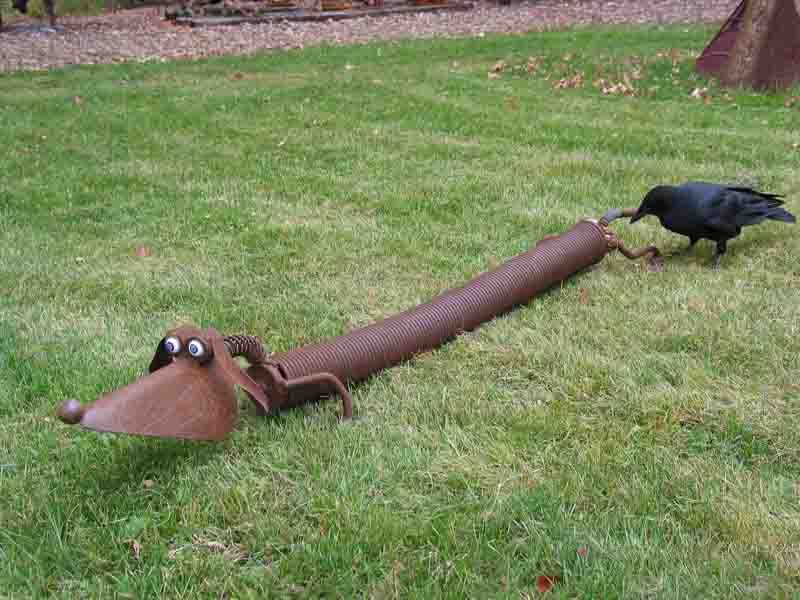 Image: Jurustic Park
If pigs could fly… they might look like this: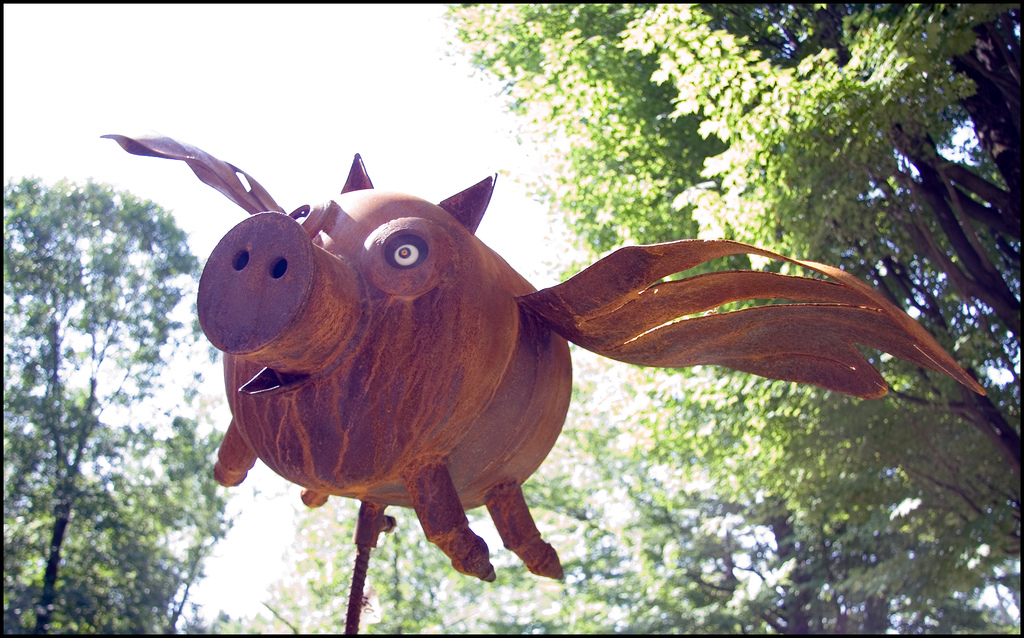 Image: lebovox
One has to admire Clyde's creativity and sense of humor when talking about his "fossils." Yet, his conviction will leave many a visitor wondering, "What if?" Whatever you believe, by no means feed or pet the creatures!
Special thanks to Baaron, Clyde, Ethan and Mac for letting us use their excellent photographs for this feature!