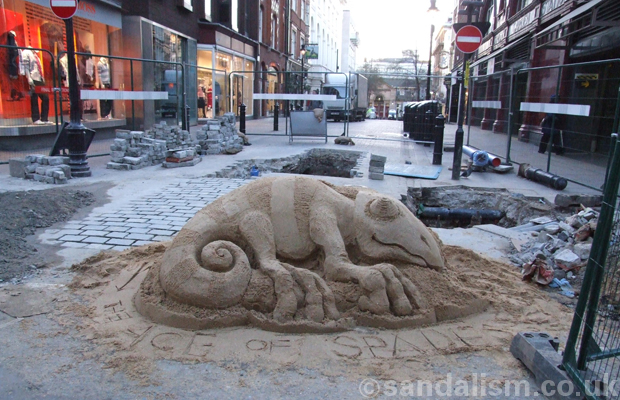 Happy chameleon at Neal St., Covent Garden. Unless otherwise noted, all images courtesy of Zara Gaze; do not use without permission of the artist.
Those strolling past London's many construction sites recently may have had reason to do something they usually don't — stop, watch and smile. What they saw were wonderful creatures made out of the sand left overnight at construction sites — evidence of someone taking advantage of the detritus of the urban environment to cheekily create works of art in the dead of night.
Stranded turtle at Old St. roundabout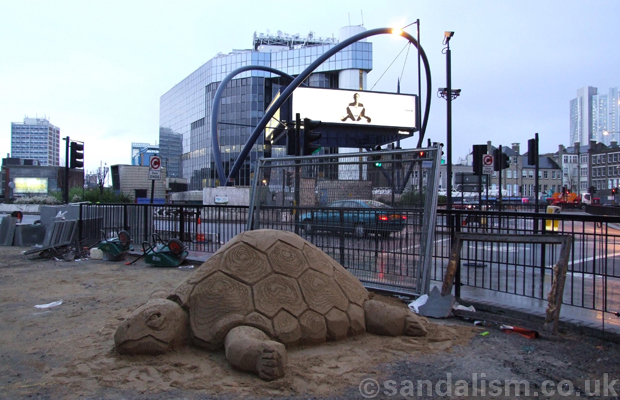 Behind this sand action art, sitting somewhere between vandalism and sculpture, is artist Zara Gaze, who aptly calls the installations "sandalism." The use of sand as a medium is as much pragmatism as it is criticism of our ever-shrinking urban spaces. Says the artist: "My use of roadwork sand as a medium began as necessity when I felt there was no alternative practice space in London I could use." However, the action art aspect and public appeal of Gaze's art, which had originally just been byproducts, soon became the major motivational force for the pieces: "I took to sculpting in the streets at night and realized what I was doing was more interesting for the fact [that] it was a completely free gift for the people who noticed to enjoy. I love watching the commuters in the morning in their utter bamboozlement at the spectacle; they look around for explanations where there are none."
Under the digger — giant frog at Clifton Rd., Maida Vale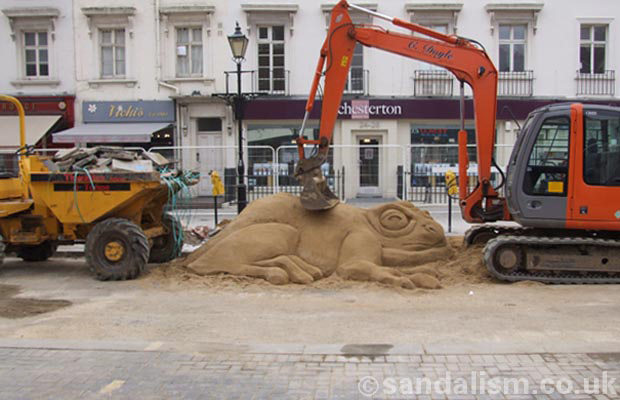 Each work of sand art can take from two to five hours to create. The fact that it is usually gone within three days doesn't bother Gaze, who sees the pieces' charm in their brevity of exposure. Instead of claiming ownership, Gaze feels her art doesn't belong to anyone. "You have to appreciate it while it's there because it is not going to last," she says. Long enough, though, to bring many a smile or smirk to the faces of even those Londoners hardened by their drab daily commute. It was exactly this happy discovery, an
aha
-moment in the morning (Gaze calls it an
Amelie
moment, in reference to the movie of the same name), that made sandalism well known and appreciated beyond London. Doesn't just looking at the photographs make you smile? The creative process, and the reactions that her pieces receive, work their charm on Gaze as well.
Pulling the plug at Gabriel's Wharf, South Bank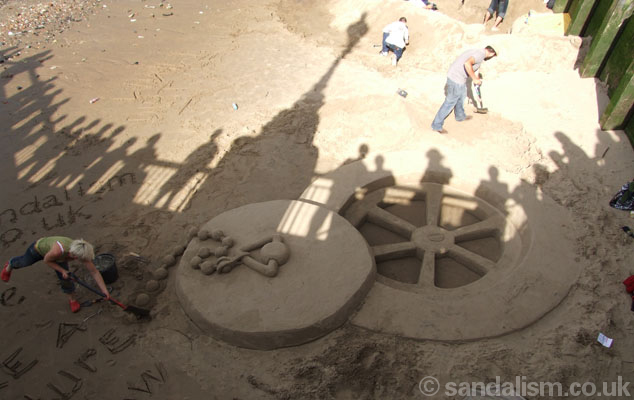 Says Gaze, "I'm sure it actually makes me a healthier, happier person to briefly brighten the days of others without money being an issue. I like echoing the Situationist mentality, making use of street furnishings that already exist. I have found a perfect way to create without adding any more useless stuff to the world, just harmlessly rearranging what is already there." Which doesn't even mention the reverse graffiti and recycling aspect of Gaze's art. She's been thinking about using recycled materials ever since she left a fine arts course at London's St. Martin's and started roaming the city streets in search of discarded material to turn into sculptures. Gaze says of her preference for street art: "I found the art world too stuffy and cut off from its audience. I've always been interested in street art because it is so instant for the viewer."
Even the construction workers like their new mate — at Neal St., Covent Garden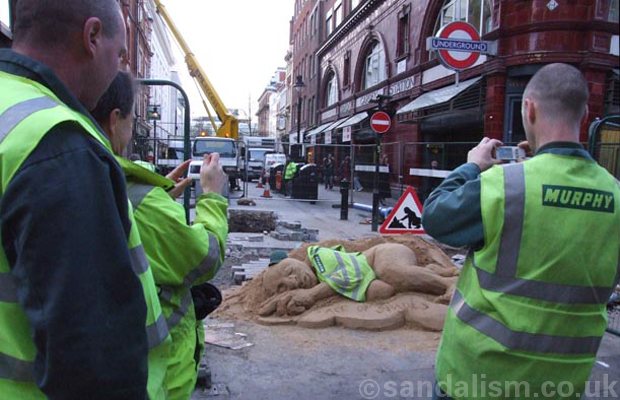 We couldn't agree more, and do hope that this nightly activity might create a craze beyond the confines of beaches. Yes, we're thinking sandpits, playgrounds, you name it… Happy digging!
Zara Gaze at the Fiesa International Sand Sculpture Festival in May 2010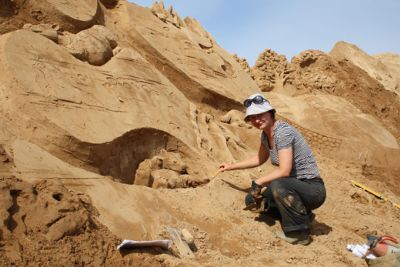 Image via algarveresident
Special thanks to Zara Gaze for providing the images and information for this article. Music lovers may have seen Gaze in action at the recent Glastonbury festival, where she contributed a piece. Those who'd like to get into the sand pit themselves can take a sand sculpture workshop or order a sculpture for a festival, corporate event or party. More about sandalism can be found on its website.
Additional sources: 1, 2