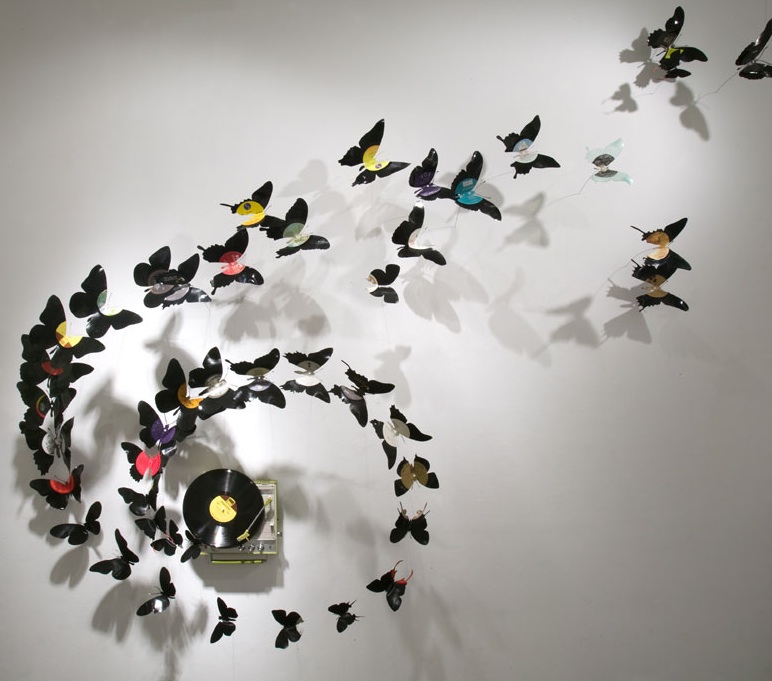 "Revolver," 2009, by Paul Villinski. Photograph: Paul Villinski
While it might seem unthinkable now, there was once a time when every household had a collection of whopping 12-inch vinyl discs. With the advent of new technology and higher-quality audio, that archive is now little more than landfill for anyone but vinyl diehards. Nevertheless, vinyl does have its own groovy charms, and a great way of keeping vinyl with us is to recycle it (but don't tell the vinyl obsessives)! While compact discs might make convenient coasters, and cassette tapes might not be much good for anything at all, vinyl records are actually an amazing medium from which to create everything from works of art to home accessories. Here are some great ways to find new uses for your classic albums!
1. Wall art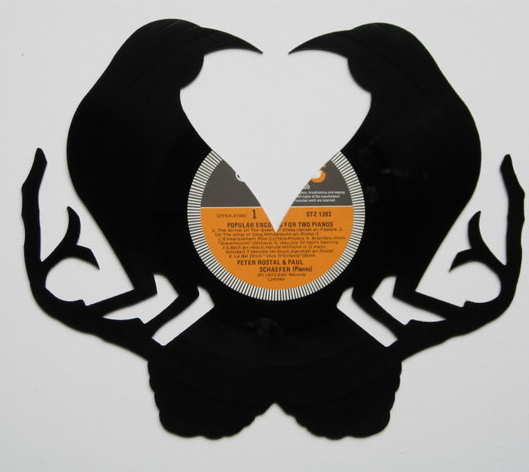 "Birdsong — Popular Songs for Piano Double Huia Record" (from "Rostal and Schaeffer: Popular Encores for Two Pianos"). Photograph: Toggle
While beautiful, these intricately carved pieces by Aimee Gruar, showing the silhouetted forms of Huia birds carved from old records, also have a certain poignancy — though it might seem as though vinyl is becoming extinct, the birds depicted here really are gone forever, with the last confirmed sighting having taken place over a century ago.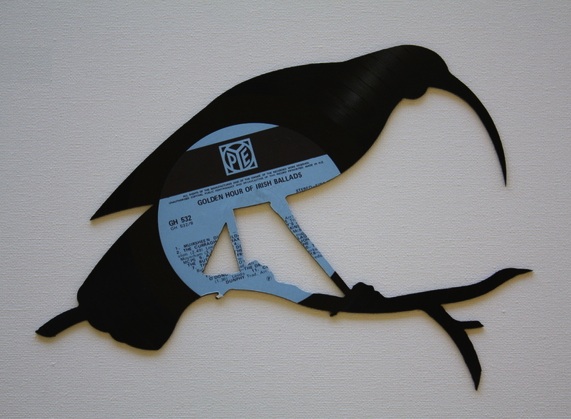 "Birdsong — Irish Ballads Huia Record" (from "Golden Hour of Irish Ballads"). Photograph: Toggle
Each of the carvings is unique and, as each is made from a single, solid disc, it only takes one mistake to ruin the design. As well as featuring the original album information, each of the "Birdsong" pieces comes with the album sleeve that once housed the LP, adding another layer of meaning to the artwork.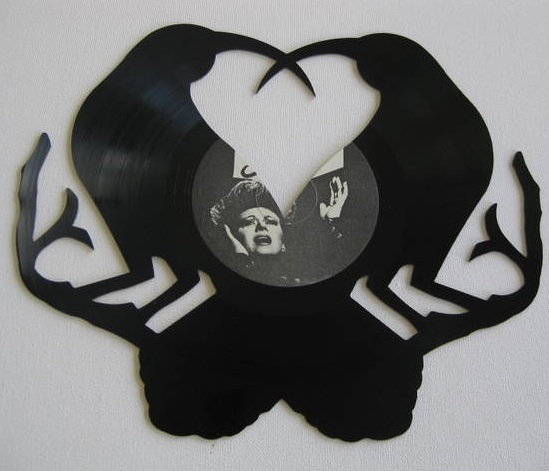 "Birdsong — Elaine Paige Double Huia Record" (from "Elaine Paige: Stages"). Photograph: Toggle
The birds illustrated up top can be recognized as male due to the relatively short length of their beaks, while the two images below show females, distinctive due to their long, thin beaks.
2. Butterflies!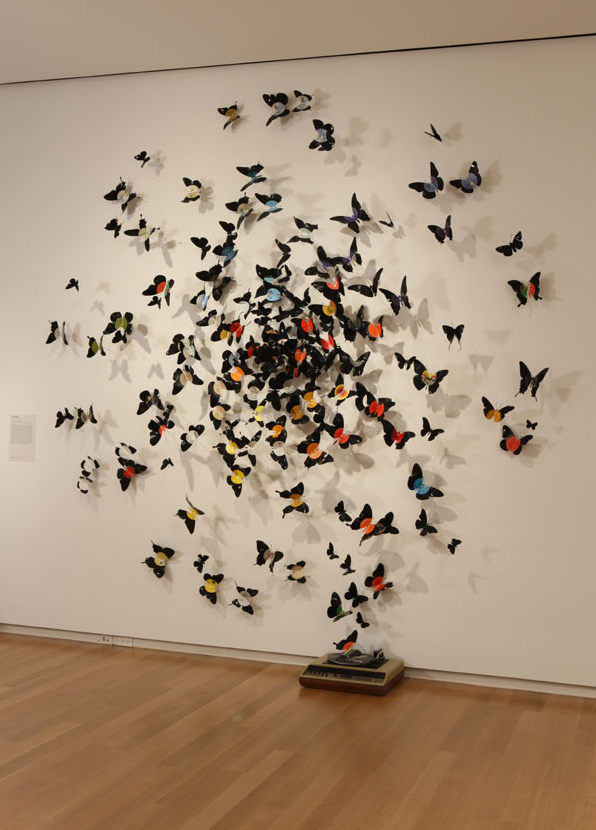 "My Back Pages (Second Iteration)," 2008, by Paul Villinski. Photograph: Paul Villinski
Paul Villinski's amazing installations embody everything that is positive about music, showing flocks of brilliantly colored vinyl butterflies seemingly emerging from old record player turntables. As the artist explains, his designs, imbued with the symbolism of the metamorphosing insects, are about making the air visible — and in these cases with the sight of music floating on the breeze.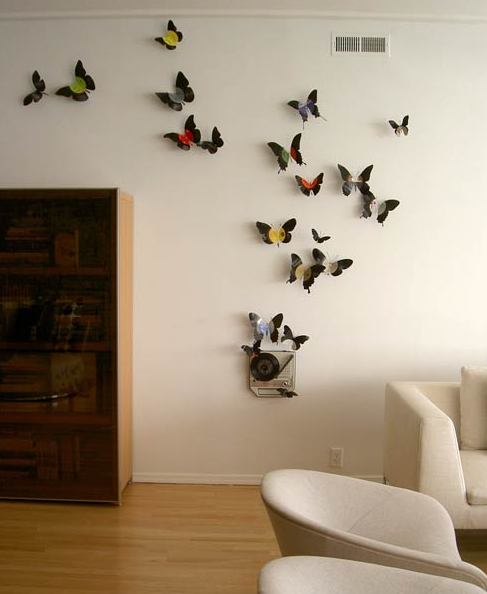 "My Back Pages (Fourth Iteration)," 2008, by Paul Villinski. Photograph: Paul Villinski
"[They] have a quirky, otherworldly quality," says Villinski. "Like a strange child has trained the insects, or as if the butterflies are performing some ritual dance we are not usually privy to."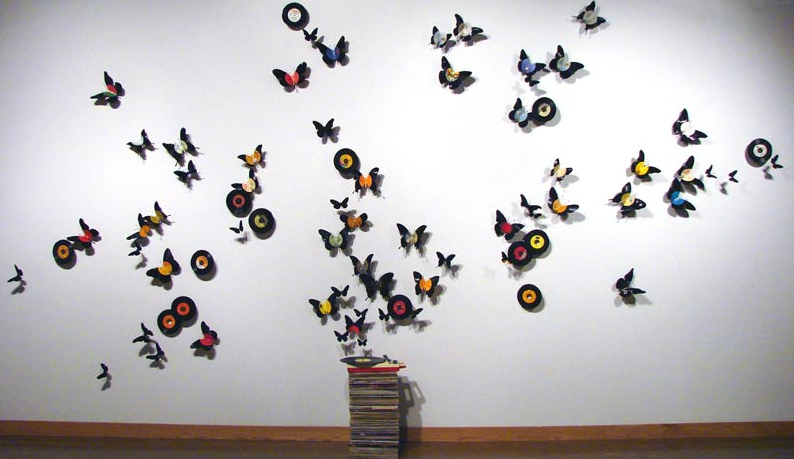 "My Back Pages (First Iteration)," 2007, by Paul Villinski. Photograph: Paul Villinski
Every single one of the dozens of record-built-butterflies is unique, carved into a slightly different shape and from a different record, but each is simultaneously part of the same grander design.
3. Jewelry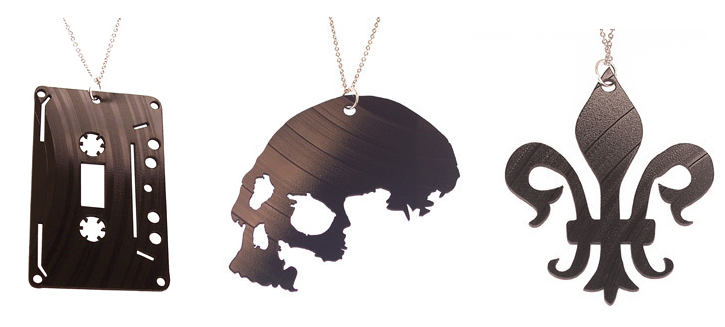 Black and white designs. Photograph: VLING
Can't get enough of that vinyl feel? Don't want to leave home without it? Then VLING jewelry might be what you're looking for. Through its online store, Alarm Industries sells a whole range of vinyl bling, using recycled records to achieve amazing effects. Each piece is a one-of-a-kind and made from genuine recycled vinyl records.

Color designs. Photograph: VLING
The intricately carved designs come in all shapes and sizes, exhibiting the amazing properties of vinyl. The firm even has a line in limited-edition colored jewelry, made from tinted records. They also create custom designs, so anything you can imagine they can build.
4. Funky fashion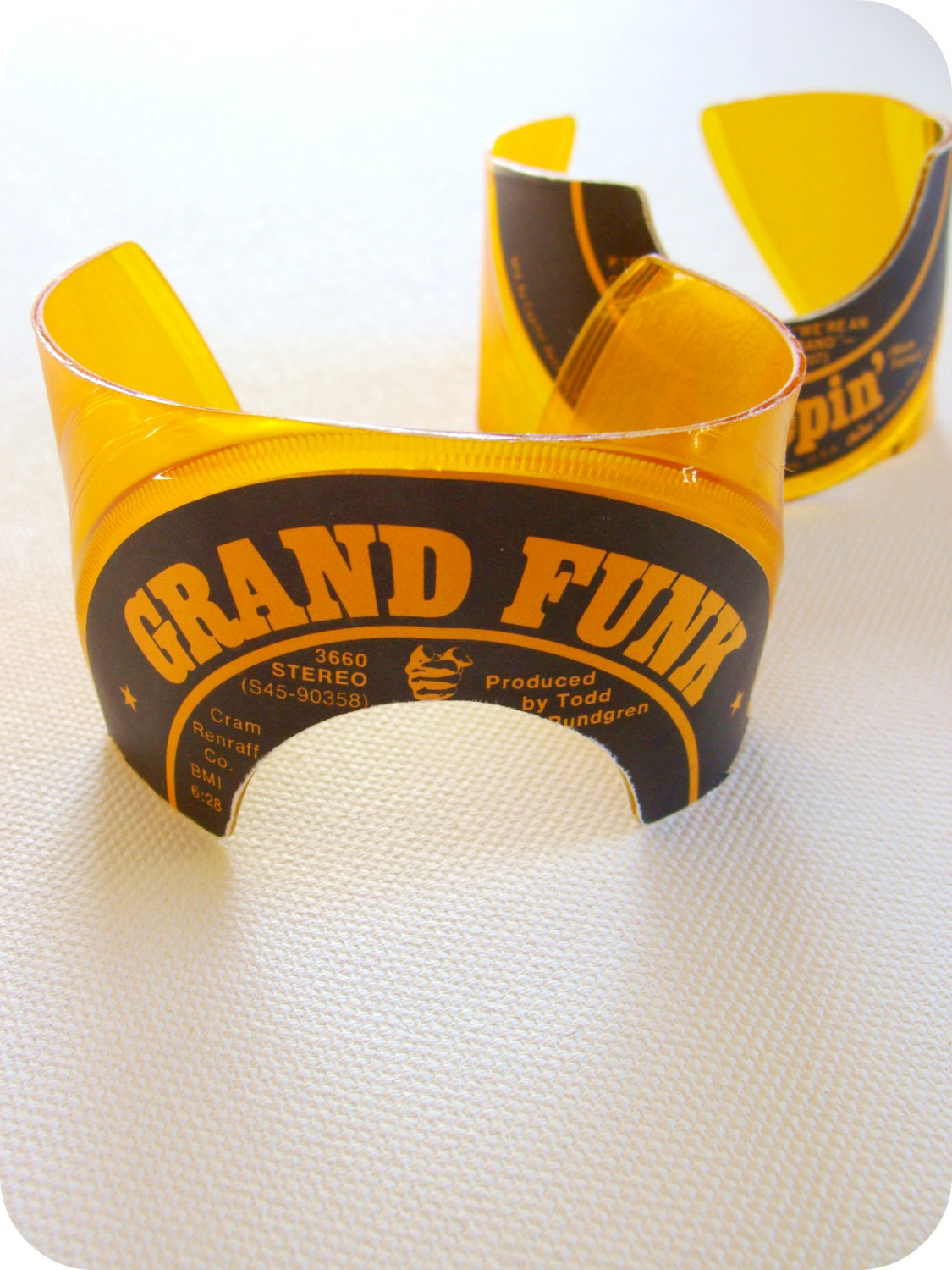 Men's Yellow Vinyl Roman Record Cuffs. Photograph: Christine Claringbold
When heated, vinyl is actually pliable enough to take all manner of shapes without losing its form, so if you can't get enough of vinyl, you can do more than just hang it around your neck. The cuffs above have been made from an old 45 rpm yellow-tinted Grand Funk Railroad record — due to which they are in extremely limited supply. And, because each of the handmade accessories is crafted from a different record, every single one is unique. This really is some funky fashion!
5. Canvases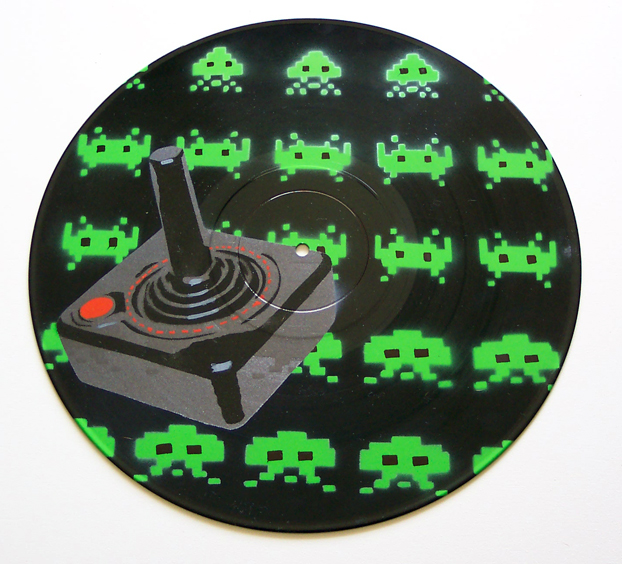 Space Invaders. Photograph: snippets101
If you don't want to cut something out of your old records, or shape them into something new, then vinyl can work surprisingly well as a canvas, without degrading color or detail. Painted directly onto old vinyl discs with the use of a stencil, the design above was inspired by the classic
Space Invaders
computer game, while the image below takes its cue from the
Star Wars
series, depicting a Snowspeeder from
The Empire Strikes Back
. Perhaps these are analog versatile discs?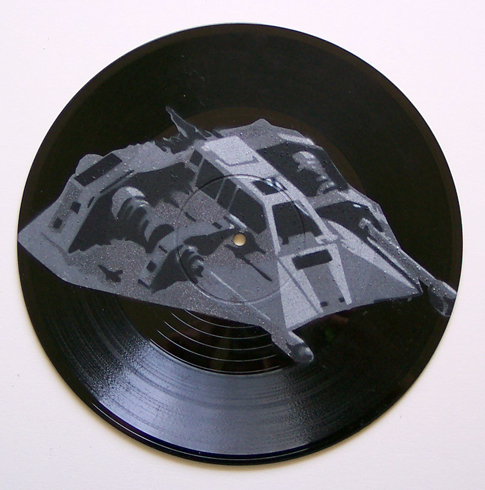 Snowspeeder. Photograph: snippets101
6. Bowls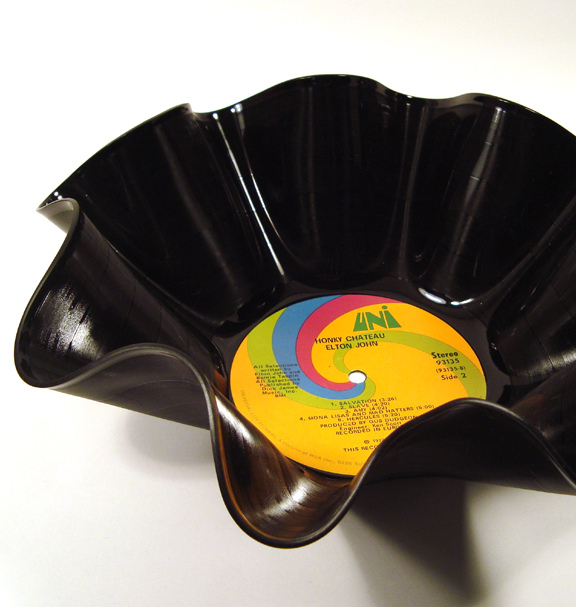 Photograph: Queen Puff Puff
If you're not putting records up then you can always put things in them. Nicole Vasbinder's boutique accessories firm specializes in retro and vintage designs, so working with vinyl records is only natural. The designs feature artists such as Bon Jovi, James Taylor, Elton John (seen above) and Adam Ant (seen below), for some real retro chic.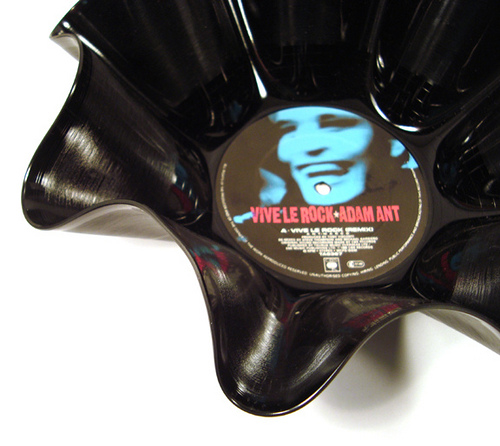 Photograph: Queen Puff Puff
Each record is carefully molded into the shape of a durable bowl, taking its strength from the curves in its design, while the original record label sits in the base. But, don't forget, they have a hole in the middle!
7. T-shirt designs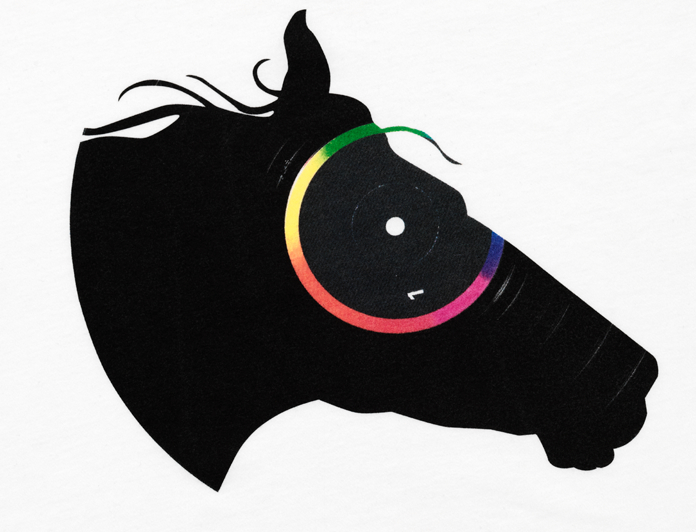 Photograph: Junior Massive
If there's one thing that's always true of vinyl records, it's that they have a hole in the middle. Working with that idea, Junior Massive have made a series of portrait designs, each one using the hole in the center of the record as an eye in a silhouette design, encircled by a psychedelic rainbow from the original record print.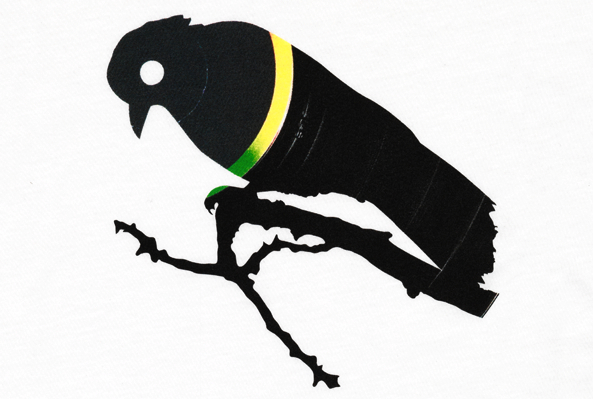 Photograph: Junior Massive
But, these aren't just wall prints — they're the basis for a series of T-shirt designs manufactured by the company in Melbourne, Australia.
8. Clock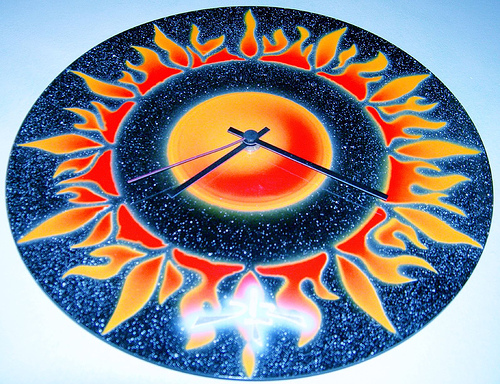 Cold Flames wall clock. Photograph: Daniele Margaroli
Being round and having a hole in the middle, vinyl LPs fulfill all the criteria required of a basic clock face, and with the abundance of obsolete records available, many people have taken up the challenge. While it's not unusual to see recycled albums bearing their original central logos, vinyl also makes a great surface to paint on. The design above, "Cold Flames," was captured by Daniele Margaroli and bears a stunning painted design of embers flickering in space.
9. Card holder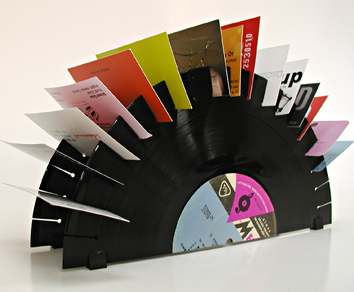 Cardholder. Photographs: Yinnon & Danit Simhi. Groovy
Made by Yinnon and Danit Simhi of Groovy, this sleek business card holder does away with office clutter, combining funky style with a functional aesthetic and holding up to 20 cards at a time. In any case, it's a great way to keep things on the record!
10. Pinwheel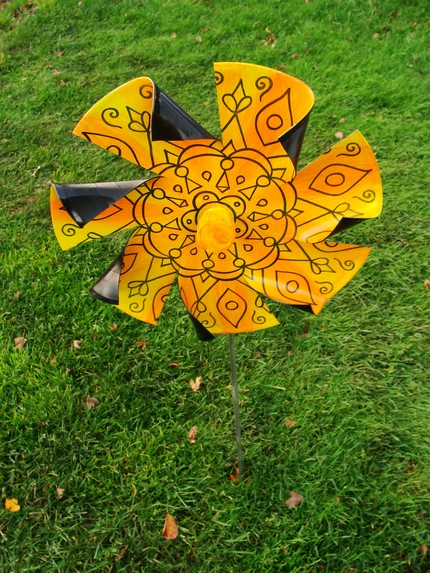 Sunshine Yellow Mandala Pinwheel. Photograph: Christine Claringbold
Recycled vinyl can come in all shapes and sizes and can take on all sorts of uses, whether inside the house or out. Using a mandala design, Christine Claringbold has even made a vinyl pinwheel, which will spin in the wind when planted in the ground in your garden or positioned on your balcony. Though it might need to be taken out of the sun on hot days, the pinwheel really is a testament to just how sturdy vinyl is!