Image via hoax-slayer
7. South Korean Boeing 747 Restaurant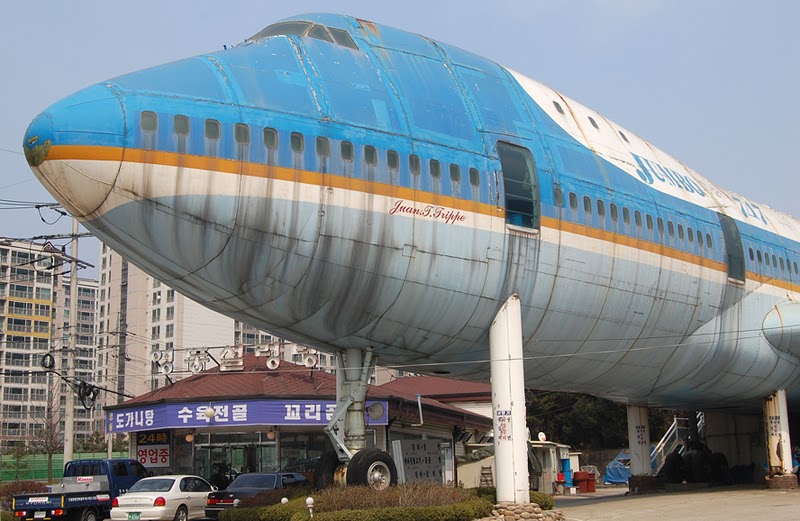 Image: Jon Dunbar via darkroastedblend
This restaurant and bar, converted from a retired Boeing 747, doesn't look too appealing from the outside. No wonder, because the once bustling establishment now lies vacant. It could sure do with a paint job and some brighter colors to shed that abandoned gas station look.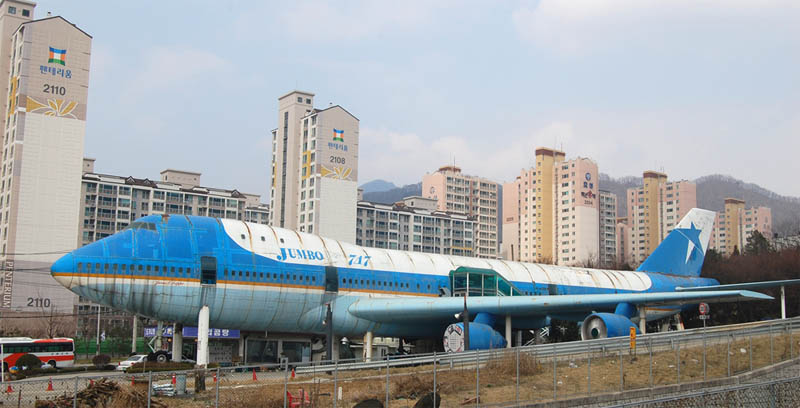 Image: Jon Dunbar via darkroastedblend
But maybe it's just the tall apartment buildings all around it, dwarfing the otherwise so majestic metal bird. That's what you get when you ground planes. Maybe it was simply snapped on a gray day and just needs a bit of sunshine. We do like the interior though:
Image: Jon Dunbar via darkroastedblend
6. The Plane Boat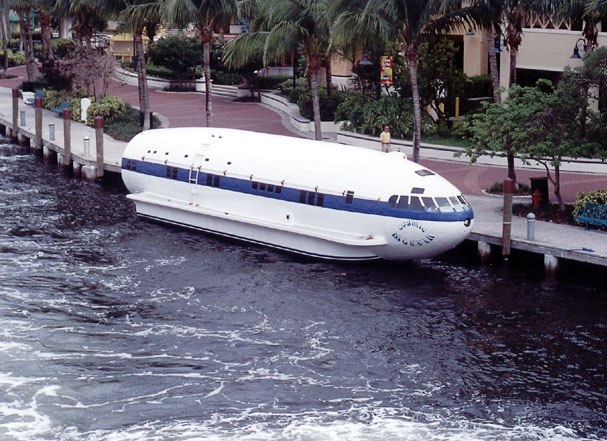 Image via planeboats
"In case of an emergency landing, please use your seat cushion as a flotation device." The owner of Plane Boats must have taken this warning to heart and thought, "Wait a minute, why not turn the whole boat into a flotation device?" Though not strictly speaking a home, this plane
boat
, called Cosmic Muffin, was the brainchild of Dave Drimmer, who created Plane Boats, Inc. in 1994. For the conversion from plane to boat, a plane's hull, interior and cockpit are completely rebuilt and a new motor is installed. Then, the plane boat can be rented for advertising and promotional purposes like meetings and parties. We like this project because it's public and anyone can have a piece of the plane.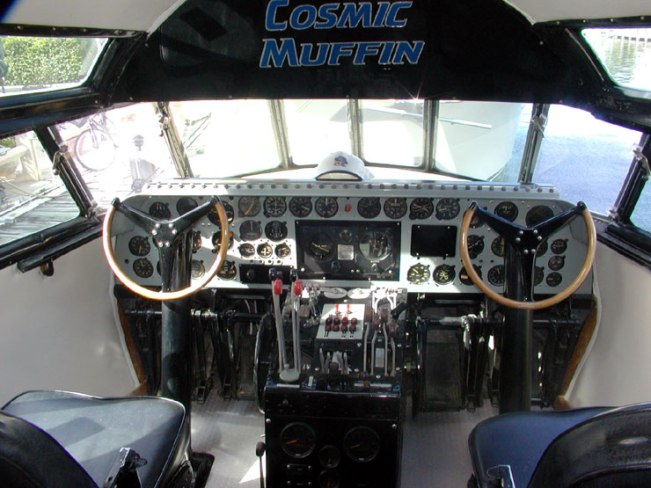 Image via planeboats
5. The Boeing 727 Lakeside Home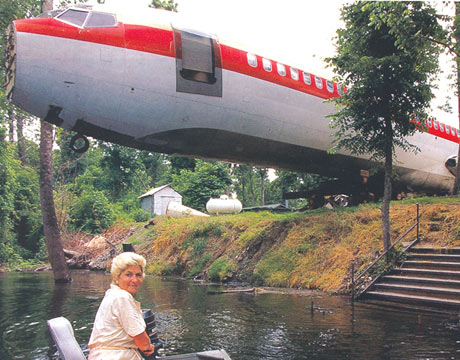 Image: JoAnn Ussery via thedailygreen
This airplane home was just too good to pass by. Just the precarious position by the lakeside in Benoit, MS, makes it a permanent attraction. And, like one of the other homes featured, this old Continental Airlines Boeing 727 was bought by an enterprising woman. Attracted by the low price of just $2,000 (this was way back in 1994) and helped by relatives in the aviation industry, hairdresser JoAnn Ussery bought a used plane after she lost her 1,400-square-foot home in an ice storm. Moving it to her lakeside lot cost another $4,000 and rebuilding it a mere $24,000, because Ussery did most of the work herself. We love the combination of recycling and do-it-yourself!
4. The Jumbo Hostel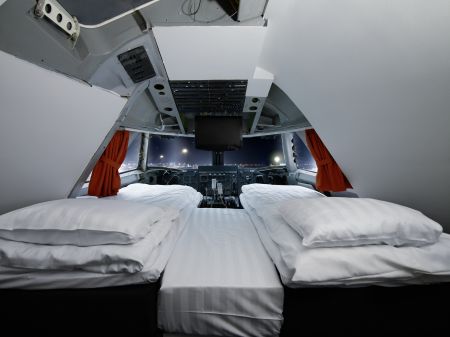 Image: Lioba Schneider
As a home away from home while traveling, what could be better than sleeping in a recycled jumbo jet, perhaps dreaming of being hundreds of miles up in the air? That's what hotelier Oscar Diös might have thought when purchasing a decommissioned 747-200 Jumbo Jet in 2006. Built three decades prior for Singapore Airlines, the plane later served with Pan Am and was last operated by Transjet, a Swedish airline that went bankrupt in 2002 — certainly a turbulent history before the plane was grounded at the entrance to Stockholm's Arlanda Airport to provide rest for tired travelers.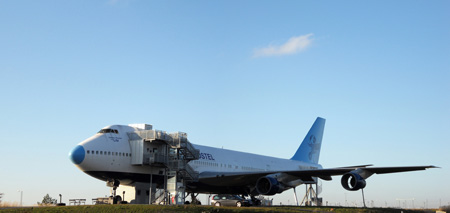 Image: Fredrik Broman
Here's a virtual tour and an interview with owner Oscar Diös:
Recycled Jumbo Hostel
3. The Recycled Boeing 747 Luxury Home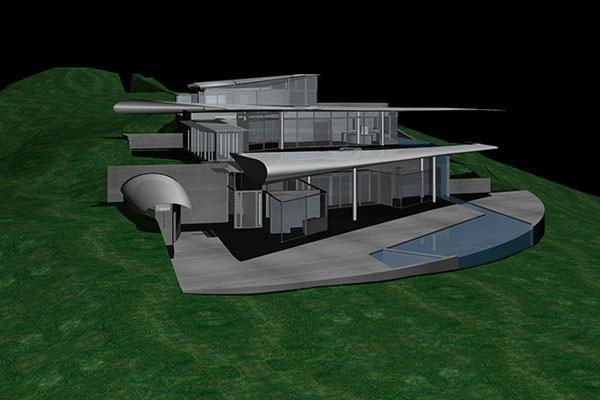 Image via studioea
Mercedes-Benz dealer Francie Rehwald of Malibu, CA, must have been inspired by dealing with luxury items like the cars she sells on a daily basis: The energetic lady will use every part of a 747 airplane to build her new home — the fuselage, for example, will become an art studio. If you ever wanted to buy one, new airplanes usually cost something in the order of $2 million. Rehwald??s old 747 was a steal: just $40,000. However, there's a catch: Dismantling the plane, transporting the parts to Malibu and reconstructing a home from them will cost a proud $2 million. However, Rehwald will be able to claim that she has a recycled home like no one else. If the trend catches on, this might be a great way for recession-plagued airlines to make some cash on the side. Here's a video of Ms. Rehwald during the building process:
California Luxury Boeing Home
2. Hotel Costa Verde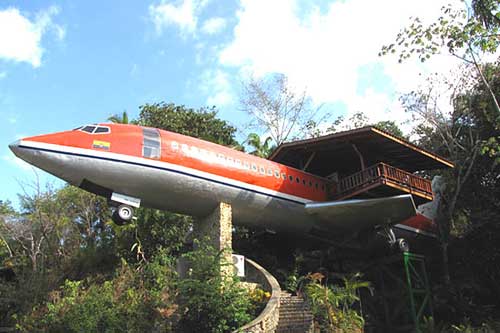 Image via hoax-slayer
This favorite is this Costa Rica abode, an old Boeing 727 converted into living quarters. Well-to-do travelers can rent the two-bedroom apartment, as it is part of the Hotel Costa Verde. We like the way this airplane has been integrated into the lush landscape. Supported by a pillar and with a winding staircase leading to it, this plane has been elevated off the ground once more, if only by a few meters. Unlike the other plane structures featured here, it has also been expanded by a house or porch-like structure, well integrated with the plane's clipped wings. Here are some images from the inside. Cozy! We'd definitely love to stay there.
Image via hoax-slayer
1. New Jalisco Airplane Library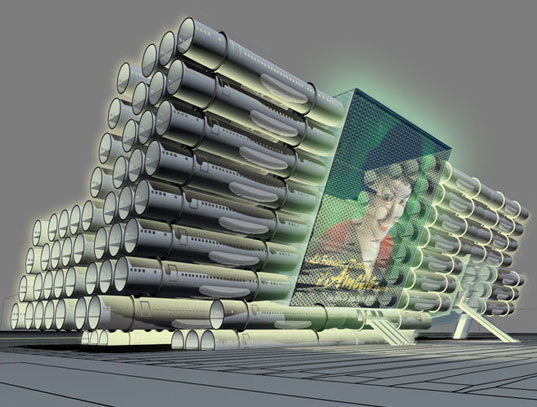 Image via inhabitat
The New Jalisco Library in Guadalajara, Mexico is our number one because not just one retired plane is recycled here, but the fuselage sections of more than 200 old Boeing 727 and 737 jets. However, the project is still on the drawing board, so we look forward to seeing it. The builder of this ambitious project is company
Lot-Ek
— readers might know them as recyclers of old shipping containers, used to create beautiful homes and offices. From containers it's just a small step to planes. So, if anyone can do it, Lot-Ek should be able to make this a reality — we'll stay tuned.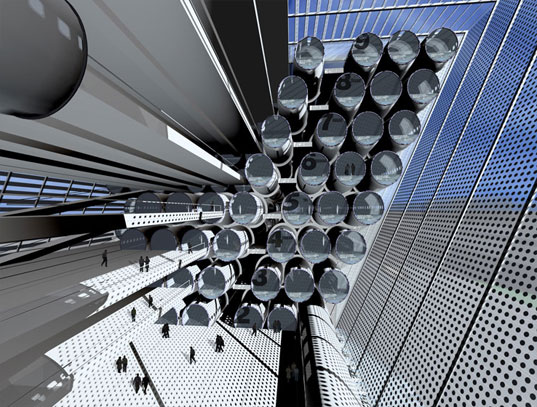 Image via inhabitat
If you're inspired to get your own airplane home now, there's good news: According to Airport Journals, the number of those turning a commercial airliner into a residential home is on the rise. Also, with airline downsizing continuing and more planes going into storage, there should be a steady supply. So, what are you waiting for?
Sources: 1, 2, 3, 4, 5, 6, 7, 8