Smartphones are heralded for their hard-to-come-by options of a mini computer, camera and phone capabilities wrapped up into one affordable package. But along with the Blackberry and iPhone brands come the need for recycling options for the growing number of 3G and 4G phones. From cash, to credit, to charity, recycling and reusing cell phones isn't something to get hung up on. It's easy.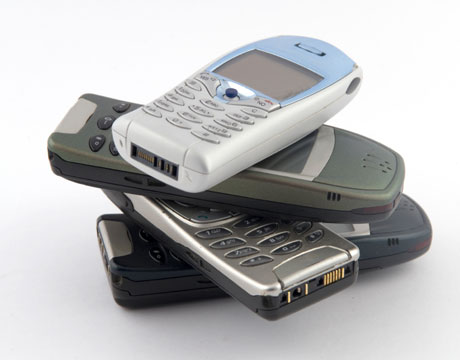 After all, the need for cell phones is as equally important for the environment as it is for the people. According to
ChairtyGuide.org
, more than 500 million unwanted cell phones are either hidden away in homes or seeping hazardous lead, mercury, cadmium, brominated flame retardants and arsenic into the environment. The life of a cell phone is now estimated to be at 18 months. Perhaps we can thank the iPhone for that in big part, though that is a personal opinion. The fact is that by releasing new technology so often, more than 125 million cell phones and their batteries are tossed into landfills
every year
. For the sustainability minded with financial needs, or even just purchase wishes, old cell phones can mean cash when handed over to sites like cellforcash.com. After choosing the manufacturer and submitting the phone info, simply ship in the old phone, and the funds are credited to your account or sent to you. Sound too good to be true? Many similar sites on the market are legitimate, but of course, watch out for any suspicious behavior, including asking for too much of your personal information upfront. Any credit card or social security number requests are scams. Bypass the fraud, and you'll make anywhere from $25 to $240 for your old phones. As for store credit, most of the time, the credit for dropping off a cell phone will be a "thank you," but can result in occasional promotional discounts when dropped off. Stores including Radio Shack, Office Depot and Staples have mobile phone recycling centers, where an in-store recycling bin makes the process a fast one. For a recycling option with a much bigger personal trade-off, consider donating the phone to charity. Charity.org has some great suggestions. To use snail mail when donating phones, send them to
The National Coalition Against Domestic Violence
, which collects and distributes working cell phones to victims of domestic violence so that they may call 911 for help in emergencies.
Phones For Life
gives seniors a lifeline by providing them with a working mobile phone. According to Charity.org, their drop-off locations are in a number of states, or you can
donate your mobile phone by mail
.
Donate A Phone
and Call to Collect have partnered to accept cell phones at
convenient locations
throughout your state, refurbishing and distributing the cell phones to domestic violence shelters in need. More information about cell phone recycling and donation is available from
The Recycling Alliance
,
Charitable Recycling
,
Collective Good
and
Wireless Recycling
. No matter what the recycling choice, remember: A cell phone in a drawer is just clutter, so why not take the call to recycle it?