It is hard to ignore the candor of a company who just comes right out and proclaims that its product is the best buy that customers can possibly make. FEIT Electric does just that, boasting the slogan about its light bulbs and lamps, "It's the bright thing to do." From the company's eco-mission to its environmentally friendlier line of products, FEIT is a plus to consumers who care about recycling and sustainability.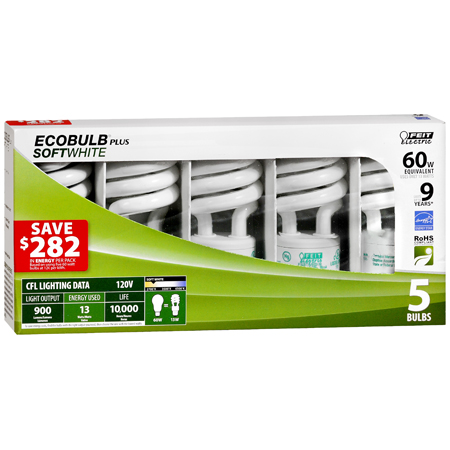 The FEIT eco-mission
"Cleaner bulb, cleaner world" — it's a sentiment that has fueled research and innovation for FEIT, leading to its featured product, a long-lasting compact fluorescent lamp (CFL) bulb. The need for it in place of every incandescent bulb is simply stated by FEIT: If every U.S. household replaced just one incandescent bulb with an energy-saving CFL, it would save more than $600 million in annual energy costs, and prevent greenhouse gases equivalent to the emissions of more than 800,000 cars. Since 1978, FEIT has taken steps to compete in the CFL market with bulbs you may have seen in the store, including: mini twists, ultra mini covered lamps, ICAT (Insulated Ceiling Airtight) approved recessed reflectors and weatherproof floodlights. The newest result of the company's research led to the EcoBulb Plus, the new super-low-mercury CFLs.
FEIT's featured product: EcoBulb Plus
The numbers speak for themselves when justifying the effort spent into creating yet another CFL bulb. Using approximately 75% less energy and displaying 13 times the life when compared to standard incandescent bulbs, they certainly shed light on traditional wasteful bulbs. The brand is also making its mark as the first widely available low-mercury compact fluorescent light bulb in the U.S. The bulbs cost no more than their other products. EcoBulb Plus 13 Watt Light Bulbs cost $2 apiece, available at drugstores, including
Walgreens
. They also stack up well against other CFLs in the lack of toxic products necessary for bulbs, including: mercury, lead, cadmium, hexavalent chromium and polybrominated biphenyls. They also have lower levels than the strict European RoHS (Restriction of Hazardous Substances) and NEMA's (National Electrical Manufacturers Association) standards allow.
Where to recycle FEIT
Recycling starts from the packaging when ordering with FEIT, especially where EcoBulb Plus is concerned. Each item is packaged using recycled material, despite the price hike in doing so, and the company openly encourages curbside recycling of all products. The bulbs themselves are also recyclable at some locations. To find out if there is one near you, search the
recycling location section of 1-800-RECYCLING.com
.