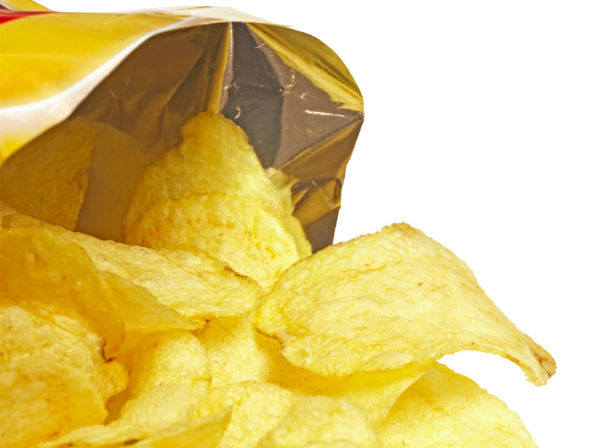 An integral part of America's snack time ritual, Frito-Lay products — encompassing everything from Doritos, Cheetos, Lays and Ruffles Potato Chips to Sun Chips, Cracker Jack, Rold Gold Pretzels, Santitas Tortilla Chips and Grandma's Cookies — account for one-third of its parent company PepsiCo's sales. Garnering 60% of the salty snack market in the U.S. and 35% globally, the company, founded in 1932 by Charles Elmer Doolin for a mere $100, now earns a whopping $50 billion a year hawking just chips and soda alone. Now, take a moment to consider all of the raw resources such as grain, spuds and oil that are used to create this line of salty snacks. Have you ever wondered what type of carbon footprint cloud must be lingering over the company's 30 global manufacturing plants once the products run through the factory line and are shipped out to their final destinations? Admittedly, Frito-Lay provides products that we gamely lap up, but to be honest, they are entirely unnecessary. We would likely be a lot better off if we knew nothing about the finger-licking good, day-glow-orange-tinted, deep-fried extruded corn curls or blood sugar-rocketing high fructose corn syrup-sweetened beverages. Still, the company is in the business to make money and it is well aware of the fact that it is hawking a bevy of goodies that we want. As with any mega corporation operating in 2010 and beyond, it must navigate each day forward with a keen awareness of its eco-responsibility, taking bold steps to demonstrate that profits and environmentalism can truly go hand in hand. Remarkably, the snack food company has been in tune with its corporate responsibility toward Mother Nature as far back as 1939. The chronological timeline below highlights some of the most notable efforts that Frito-Lay has taken throughout the years to operate in a more sustainable and eco-friendly manner.
1939: Cardboard shipping boxes recycled and/or reused.
1979: Following the potato slice washing process, starch-laden water was typically disposed of and treated by municipal wastewater facilities. Instead, the company began recovering residual starch (66 million pounds annually) in an effort to reuse the same water over and over again.
1985: Plano, TX-based factory is constructed, allowing 249 acres to remain untouched and 39 acres to be treated with organic fertilizer.
1986: Kern County, CA-based factory outfitted with a cogeneration system utilizing waste heat to generate electricity and heat, resulting in a 74% improvement in the plant's overall energy efficiency.
1993: Environmental awareness and corporate compliance pursued via the assignment of "green teams" throughout all Frito-Lay factories.
1999: Established "Big Hairy Audacious Goals" for resource conservation throughout a 10-year period, including a 50% reduction in water consumption, 30% reduction in natural gas and 25% reduction in electricity. In the same year, Frito-Lay also began recycling local landfill gas to help offset the energy consumption at its Rosenberg, TX, plant.
2001: Saved more than 570 million gallons of water by recycling potato chip water.
2002: Saved 72,000 football fields worth of packaging by reducing the amount of material it uses by 10%.
2005: In addition to its New York distribution center being awarded LEED Gold certification, Frito-Lay also saved 5 million pounds of packaging by improving its bag performance and further committed to reducing its carbon emissions by 14% per pound of production by 2010.
2007: 100% of PepsiCo's U.S.-based electricity consumption is matched via the purchase of renewable energy certificates, they installed the largest (at the time) solar array at their Arizona service center, saved more than 13 million gallons of diesel fuel by making vehicle improvements/implementing driver training courses and made the transition to a hybrid fleet of 650 sales cars.
2009: Partnered with TerraCycle to urge consumers to mail in empty Frito-Lay snack packages to be recycled into unique consumer goods and outlined "zero landfill" goals for all 30 factories.
2010: Launched fully compostable Sun Chips bags and is in the process of reducing water and electricity consumption at its Casa Grande, AZ, factory by 90%.
Makes you feel somewhat virtuous about plowing into a bag of Frito-Lay snacks, doesn't it?