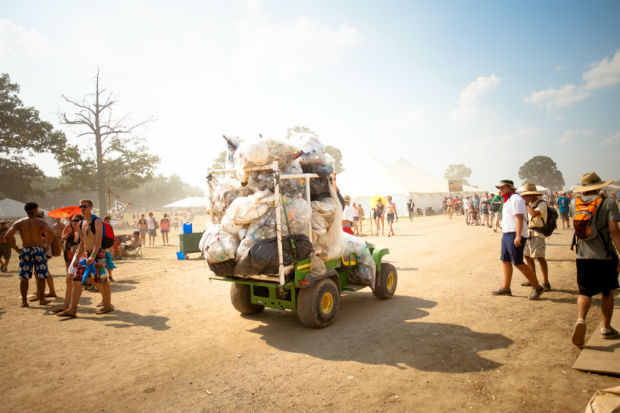 Is there something in the air at outdoor festivals that makes people abandon their eco-common sense in favor of tapping into their inner swine? Each year, countless music fans from here to Timbuktu attend special summer events under the heat of the sun and in the process, something altogether oinky transpires. Vast throngs of people assembled in one location means that an astounding volume of garbage will be left behind.
Although attendees of Great Britain's famed Glastonbury Music Festival have long since returned to the comfort of their own homes following this year's June 27 closing date, their presence lingered on the 600-acre Worthy Farm in the form of heaps upon heaps of cast-aside waste. Compared to last year's 1,650 tons of discarded material (including 6,538 sleeping bags; 5,572 tents; 3,321 airbeds; 2,220 camping chairs; and 400 gazebos) — requiring a team of 1,200 volunteers and 500 paid staff one full month to sort through and clean up — 2010 was actually considered a success story thanks to Glastonbury's "Please Take it Home" and "Love the Farm, Leave No Trace" campaigns.
Granted, it's not easy to convince 175,000 attendees to clean up after themselves. Festival officials are admittedly pleased that this year's staff of 900 was able to restore the farm to its pre-concert condition in just two weeks, noting that
guilting
people into doing the right apparently works, but there are also a whole host of eco-measures at play. As if covering the grounds with 15,000+ clearly labeled recycling bins (either for wet/dry recyclables, non-recyclables or e-waste) isn't impressive enough, the Glastonbury Festival also employs "green police"
to enforce their zero waste aspirations. They've also made the following eco-commitments in recent years:
100% unbleached cotton program bags are distributed to all attendees.
All food purchases come with compostable cups and plates and/or wood cutlery made from locally sourced, sustainably harvested trees or Forest Stewardship Certified wood whenever possible.
Food vendors must compost all remaining food waste, and organic material is then transported to a facility located just 5 miles away.
Coffee, tea and sugar are exclusively fair trade.
Concertgoers can purchase T-shirts dyed with vegetable-based pigments and printed with non-PVC inks.
The festival uses renewable power sources such as "Orion" solar generators and wind as well as low-energy LED solutions to power lights and sound.
Following each annual event, festival organizers plant native trees and hedges around the site to boost the biodiversity of the environment.
Still, attendees pitch and/or abandon some crazy stuff, no matter what sustainable policies are exercised. Following the conclusion of Glastonbury 2008, officials calculated that they recovered 400 tons of wood; 193 tons of compostable material; 66 tons of scrap metal; 54 tons of cans and plastic bottles; 41.76 tons of cardboard; 11.2 tons of discarded tents, clothing and sleeping bags; 10 tons of dense plastic; 9.12 tons of glass; 0.264 tons of batteries; and 0.25 tons of plastic sheeting! While workers were able to recycle an impressive 863.32 tons (48%) of the material left behind, the sheer manpower necessary to pull it all off was in and of itself incredibly energy intensive. In yet another effort to cultivate greener habits, concertgoers are now urged to purchase good-quality tents designed to be used throughout their lifetime (rather than just as a one-time, disposable item). What really happens to the human mind when music, alcohol and the summer solstice mix? Is it really possible that the heady combination triggers a temporary lapse in sanity, compelling people to treat concert grounds as an out-of-site, out-of-mind dumping zone? Fortunately, Glastonbury is one festival that refuses to accept these unfortunate consequences lying down, instead addressing this cultural anomaly through a comprehensive collection of
eco-initiatives
that set the bar high for other outdoor events. Whether you're a greenie or not, that should definitely be music to your ears.