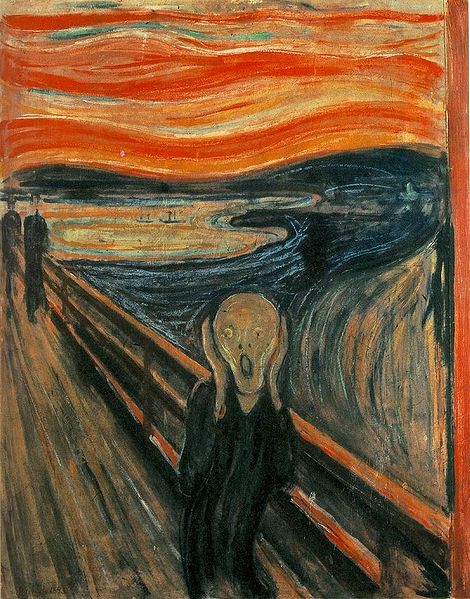 'The Scream' by Edvard Munch
"The Scream" by Edvard Munch is one of the most iconic paintings in history. Presenting a simple, striking image, it is immediately recognizable in whatever form it takes — which is perhaps why it has inspired so many people to rework it, reimagining the picture in new media or liberating its solitary central figure in new contexts. However, just as the image is recycled, so, sometimes, are the materials in which it is recreated!
8.Bernard Pras, Assemblage image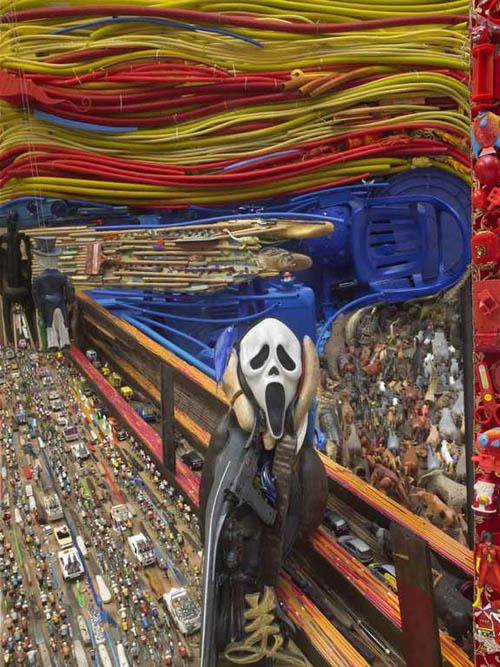 Assemblage image by Bernard Pras
Bernard Pras reworks well-known pictures using huge quantities and varieties of objects. He positions them in his studio so that when viewed from a specific angle they produce a final, complete image, forming an exquisite reconstruction of the original "template." In his version of 'The Scream," the background is formed by swarming toy animals, while the sky is made from red and yellow wires. Perhaps most interestingly, the face of the figure consists of a mask reminiscent of that seen in the
Scream
films — which were, themselves, inspired by Munch's painting.
7. Glass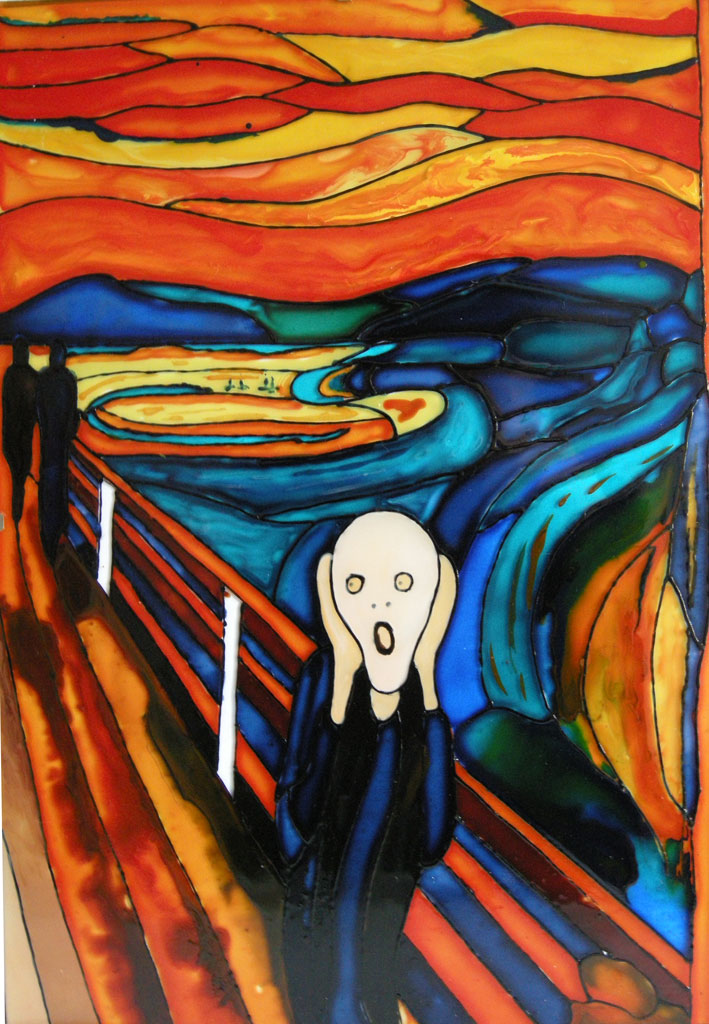 Image used by permission of Brazenjane
This stunning rendition is made from stained glass, breaking the painting up into smaller frames, and then coloring them to give them depth and vitality. The image exhibits an astonishing range of colors, moving from bright luminescent areas, to long, sinister shadows. According to Munch, the original painting was inspired by a moment when, while walking with friends at sunset, he was suddenly struck with the notion that the sky was filled with blood and fire — as if there was "an infinite scream passing through nature." There can be no doubt that this reconceptualization of the image perfectly evokes that sentiment.
6. Lego blocks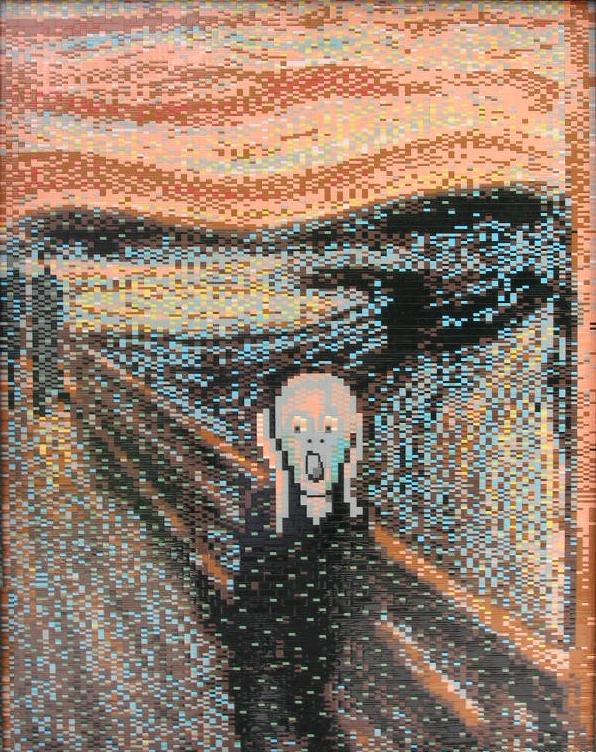 Image used by permission of SuperBagel
This amazing image can be found at LEGOLAND California. Munch's masterpiece has been brilliantly reconstructed using only tiny Lego bricks, emphasizing quite how versatile the toy building blocks can be. Looking like a slightly pixelated version of the original, it vividly captures the tone and expression of the original — recycling the spirit of the work.
5. Cathy Cole, Neon lights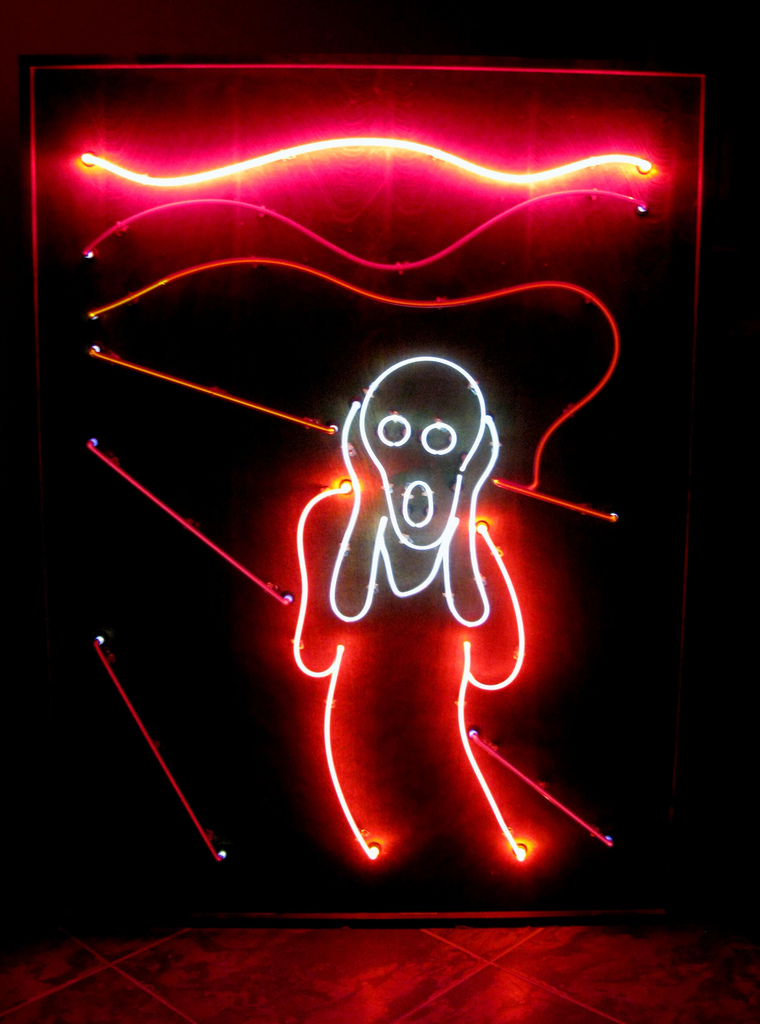 Image used by permission of Cathy Cole
This piece, "I Scream You Scream," was created by artist Cathy Cole in the early 1980s, in reaction to the city of Glendale, CA, enacting a law that prohibited the use of neon lighting. She learned her skills on a course at the Museum of Neon Art — and did everything here, bar bending the tubes. In her "Scream," the lights have been used to reconstruct a rough outline of the original image, while the spaces between the lamps are colored by the illumination that they throw off.
4.Melissa Rachel Black, Gummi bears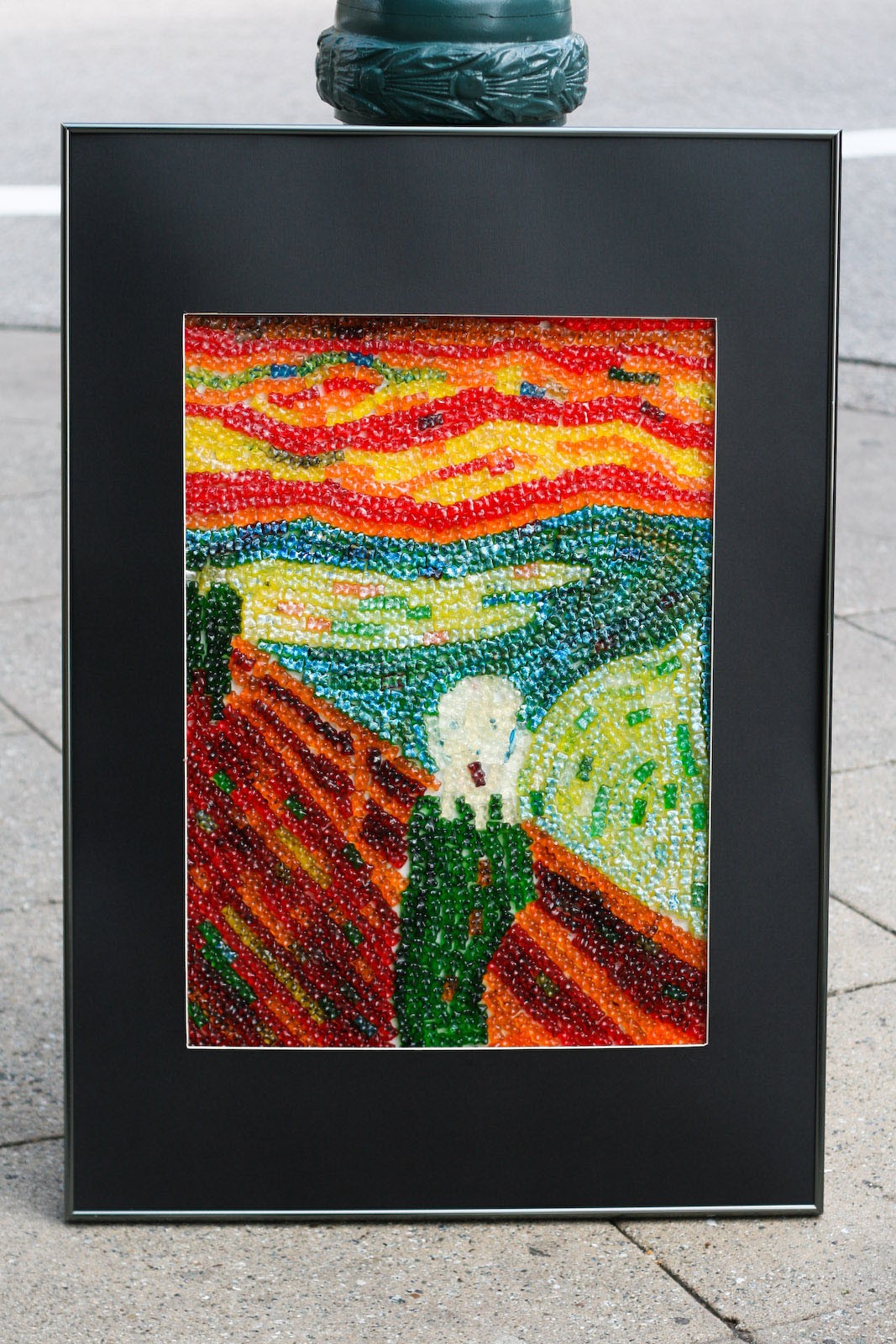 Gummi bear painting by Melissa Rachel Black
Can you improve artwork by making it delicious? Perhaps so. Melissa Rachel Black has reconstructed "The Scream" using only gummi bears (and some acrylic paint), using an array of the different colors in which the sweets come to reflect the original masterpiece. Black's other gummi creations include a copy of the American flag and portraits of Lady GaGa and President Obama. Some of her works have been allowed to melt, creating a horrifying kaleidoscope of rainbow colors as the sweets stream downward. Perhaps Black owes a debt to Francis Bacon's techniques, as well as to Edvard Munch?
3. Mixed recycled materials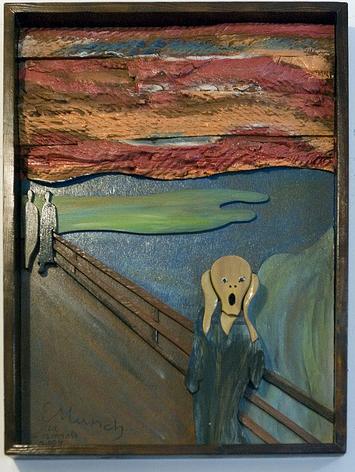 Image used by permission of spacetimecurvature
This amazing work of art takes the form of a three-dimensional collage made from reclaimed scraps of wood, with each layer consisting of an independent piece slotted into place. While it might simplify elements of the original, the multiple layers add vibrancy to the piece, while the rough edges used in the upper half of the portrait add texture and detail.
2. Mark Lawrence, Tiles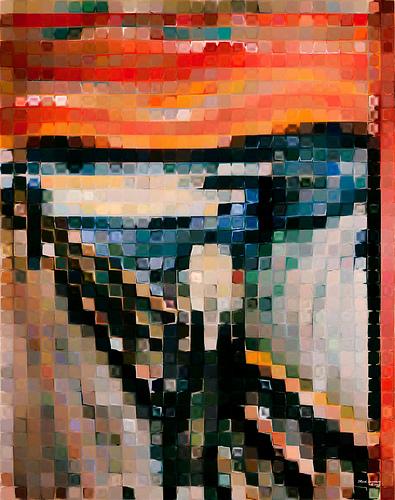 Image used by permission of Mark Lawrence
This copy of "The Scream" pixelates the image using tiles, simplifying the classic painting into single-color squares while retaining the dynamics and focus of the original. Created by self-taught artist Mark Lawrence, this reworking uses over 1,000 individually hand-painted tiles to capture the essence of Munch's masterpiece.
1.Mark Langan, Cardboard boxes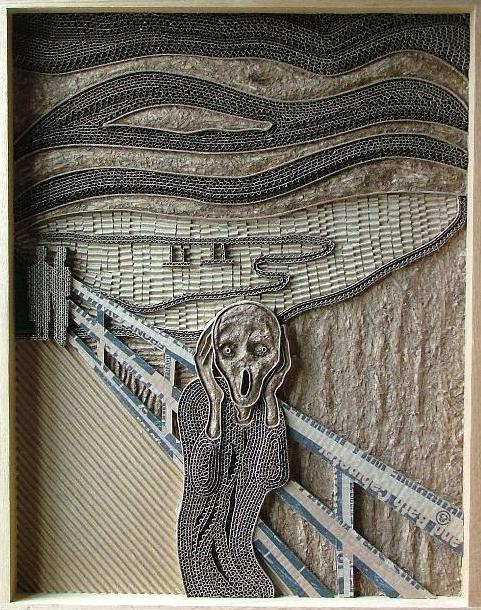 Cardboard box sculpture by Mark Langan
It's natural that Mark Langan's version of "The Scream" should be made out of finely worked cardboard — he is an artist who specializes in working with reclaimed packaging to create amazing three-dimensional sculptures. His green artwork can now be found in boardrooms across the country. Here, the different colors in Munch's painting are achieved by using a variety of textures, whether that means using rough or corrugated sheets, or using a side view of reinforced cardboard to create lines across the image. In any case, it's a stunning image!