With the return of alarm clocks and back-to-school shopping is the question of what exactly kids have in their bags. From paper and notebooks, to pencils and pens, is any of it recyclable or made from recycled material? If it is from
Crayola
, as one concerned parent pointed out, the answer on all accounts is no. Crayola makes 500 million markers every year, and they are made from polypropylene (#5 plastic) — a material not widely accepted at recycling facilities. Luckily, alternative products are on the market.
Paper and notebooks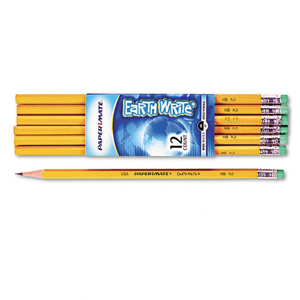 Ah, the things kids scribble, doodle and occasional write perfect notes on. When it comes to paper, the plethora of post-consumer used content claims and alternative products used can make a parent's head spin. There can be a high price attached to sustainability. There is never a promise that just because paper is better for the environment that it will be easy to write on, either. Notebooks offer even more of a hazard where paper is concerned; if the pages aren't of a quality texture, the whole thing will fall apart.
Green Earth Office
has some pretty cool alternatives in an affordable price range. The most budget-friendly idea is a $25 paper sampler pack. It includes a selection of Forest Saver obsolete map paper, Eco 21 hemp/flax/cotton paper, Genesis 100% post-consumer recycled paper, New Leaf 100% post-consumer copy paper, Everest 100% post-consumer recycled paper, 100% denim blue paper, banana/post-consumer paper, coffee/post-consumer paper, Nepal Lokta paper and Hemp Heritage 25% hemp/75% post-consumer paper. Now how is that for multiple choices?
Pens and pencils
Pens and pencils are notorious for being the first items to disappear during the school year. They are often lost, stolen or forgotten about. Thanks to the Internet, there is no need to wander through aisles of Crayola and claims; there are specialty stores online that won't charge (much) more than that. What will $10 get you? To name a few possibilities: a pack of Papermate Earthwrite recycled pencils from BuyOnlineNow.com, made with reclaimed wood; recycled mechanical pencils from WholeSale Industrial Supply; and retractable recycled pens with a soft grip from Eco Green Office. Another hint: Papermate is the most widely available recycled pencil supplier. To bust a common myth, many recycled pens and pencils look like run-of-the-mill pens and pencils. The moral of that story is to always be on the lookout while shopping for school supplies; the masses won't be looking, and there will be plenty for the taking. Now sharpen those pencils and hit the aisles; school is almost in session!