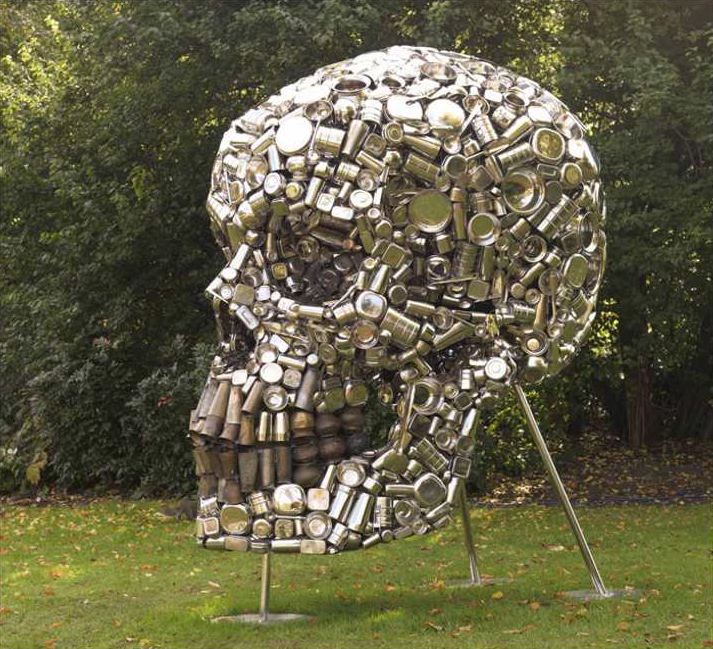 Image via bookofjoy
Subodh Gupta is a New Delhi-based artist whose installations borrow heavily from his cultural heritage; yet he uses everyday materials that are universally recognizable. "Very Hungry God" (2006) is such an artwork. Made from reused stainless steel containers, it weighs nearly a ton, and at 94.5″ x 59″ x 80.75″, it towers imposingly over viewers.
"Very Hungry God" (2006)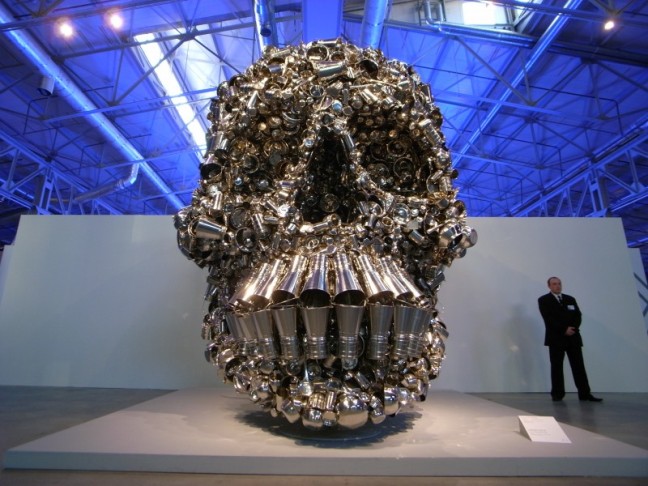 Image via searchit
Whoever has had the chance to go into an Indian kitchen will have noticed two things: Regardless of whether it's in a one-room chawl apartment or a 10-bedroom bungalow, it will be spotless. And, it will contain a myriad of stainless steel containers, pots and pans, usually neatly stacked on a rack designed especially for them.
Inside the Eglise Saint Bernard church in Paris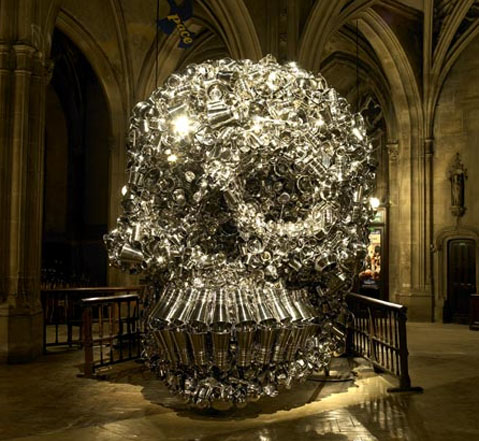 Image via clarin
Central to Indian society is the tiffin concept, the same system that the
dabbawallas
are known for — the brave men who transport thousands of tiffins each day through India's bustling metropolises. A tiffin is ultimately a lunch box, but one that has been designed to perfection — form and function blended in perfect harmony. Tiffins can have anywhere from one to five compartments (the family version) and are usually round stainless steel boxes held together by a steel contraption stowed in a plastic container to keep them warm.
Next to the Grand Canal in Venice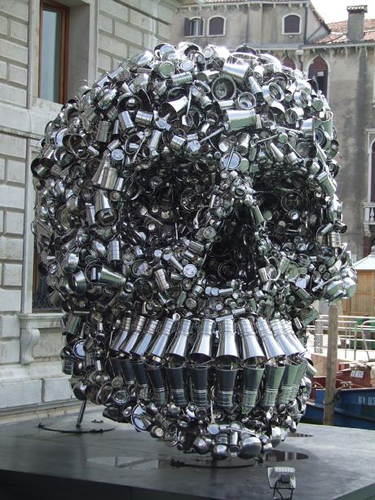 Image via mustangreporters
The tiffin concept is much more than the practicality it symbolizes; it is about the love that goes into food preparation and the central role it plays in any Indian household. Speaking about borrowing from this most sacred of places in an Indian home (Indian kitchens usually house the family idols and cannot be entered with shoes on), Gupta says: "I am the idol thief. I steal from the drama of Hindu life. And from the kitchen — these pots, they are like stolen gods, smuggled out of the country. Hindu kitchens are as important as prayer rooms."
Yes, you can touch it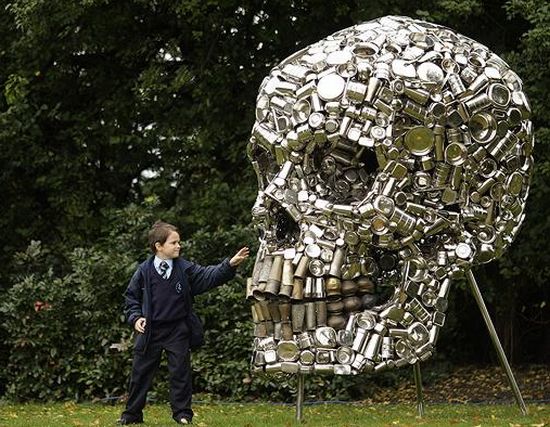 Image via bookofjoy
By using these icons of Indian everyday life, Gupta not only turns them into artworks that are universally readable, but he also points to his roots and tries to highlight a culture that is rapidly transforming. In an interview with ArtNews, Gupta admitted that "my work is about where I come," adding, "the medium[s] I pick already have their own historical and cultural significance, [I] put them together to create new meanings." He has masterfully done that, as the popularity of "Very Hungry God" proves. The sculpture has traveled through European cities like Venice and Paris and even crossed the Atlantic to find a temporary home in Chicago, changing with each cultural context it sits in.
A close-up of "Very Hungry God"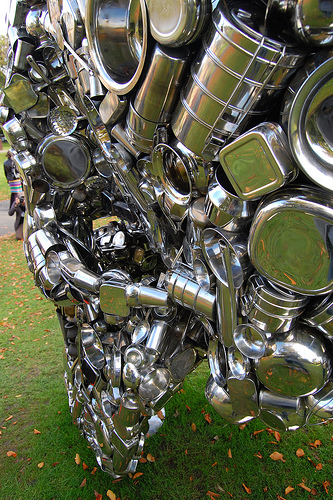 Image via bookofjoy
Pots and pans are universally understandable symbols, as is the skull. Gupta's talent emerges by bringing the two together, creating a sculpture of such impact that it will make viewers in the East and in the West stop in their tracks.
Subodh Gupta's "Curry 2" (2005)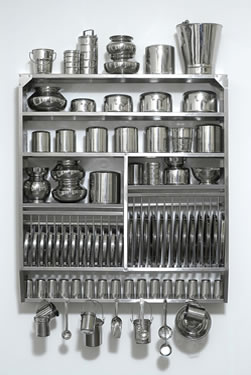 Image via artpublic
Gupta was born in 1964 in a small town called Khagaul in Bihar, India. Growing up in India's rural north had a huge impact on Gupta's work. Improvisation started even when Gupta was still in school; with no art teacher, the students were left to educate themselves in the subject. Says Gupta about his early years: "We would all just meet and read books, talk, and make art. We learned from each other."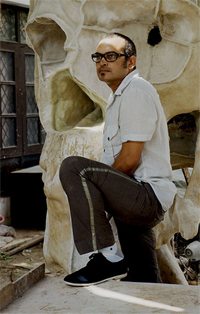 Image via saatchi-gallery
Gupta studied art at the College of Art in Patna from 1983 to 1988, focusing on painting. He then moved to New Delhi, where he currently lives and works. His work is varied and includes, apart from painting, sculptures, installations, photography, performance and video. He's had numerous solo and group exhibitions worldwide.
Sources: 1, 2, 3, 4