Walk onto to any high school or college campus and you are likely to find some friendly debates of supremacy. Much like arguments over whose car is faster and slicker, a contemporary show of bravado is centered on today's gadgetry.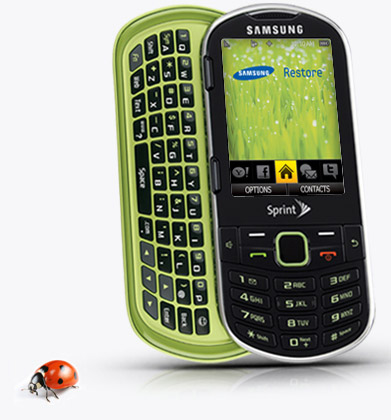 Today's cell phone industry is based on the same principles. Apple's
iPhone
revolutionized the cellular phone industry from fancy miniature phone to incredible palm-sized computer for standard consumers. However, Apple's spot as king of the smartphone hill is constantly being challenged, most notably by the newer, and some would argue "cooler" and "smarter" Droid phone manufactured by Motorola. While this proxy war between Apple and Motorola is waged largely by their carriers, AT&T and Verizon Wireless, on the battleground of the contemporary consumer's conscious, another wireless carrier has created a wholly different battle plan to win customers in the long run: greening the cell phone industry. Sprint Nextel Corporation, typically known simply as Sprint, is catering its business model to the eco-minded consumers of the world. When researching a company's sustainability initiatives, one is used to seeing major companies pay lip service to real green practices. Known as "greenwashing," many major corporations can be accused of falsely promoting eco-friendly practices when their operations involve anything but. Sprint isn't one of those companies. While Sprint certainly has its hat in the ring when battling for smartphone dominance — HTC's Evo, sold by Sprint, is making waves as the first 4G phone in the U.S. and boasts an impressive list of features — the company is concurrently battling the negative effects of climate change as well through many environmentally focused initiatives.
The Samsung Restore cellular phone is Sprint's newest green product. This Energy Star-rated cell phone is created from 77% recyclable materials, and with a shell that is already made from 27% recycled plastic, this phone even comes in an eye-catching green hue.
According to the company's website, Sprint is the first and only U.S. telecommunications provider to publicly commit to significantly increasing phone recycling efforts. Sprint pledged to collect enough phones to equal 90% of what it sells per year by 2017.
Sprint leads the U.S. telecommunications industry in terms of actual renewable energy in use and has committed to securing 10% of its total energy needs from renewable sources by 2017.
Sprint has switched to using solar panels to generate enough energy to light all signage on its corporate campus.
Sprint has eliminated the usage of Styrofoam cups in its facilities.
Sprint has led an increased effort to use natural lighting where applicable, less paper by printing receipts on thinner sheets and earning 70% greater efficiency in lighting by switching from incandescent lights to CFL bulbs.
All of these choices seem to be a standard gauntlet of quick fixes that many companies play to when "proving" their commitment to the environment. Sprint, however, goes above and beyond the greenwashing bag of tricks, as evidenced by its
long-term goals of sustainability
. Everything from the company's networking equipment to the type of structures built is redirected down an eco-friendly path. To learn more about Sprint Nextel Corporation's impressive laundry list of forward-thinking and next-generation-of-business-building practices, be sure to check out the
Corporate Responsibility page
online — of which eco-friendliness is just a portion.