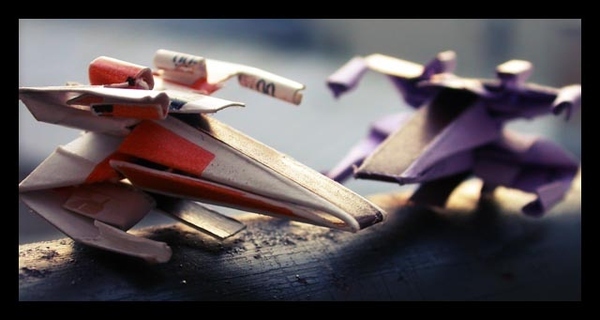 X-wings by Demilliac inspired by Hubert de Lartigue
From the streets of Coruscant to the deserts of Tatooine, the
Star Wars
saga featured some of the most brilliant design ever to have graced the big screen. Whether it was Darth Vader's armor or the mechanics of the X-wing's hull, this amazing level of detail brought the fantastic fairytale storyline to life. Perhaps it's only natural that these amazing visuals have been immortalized by the series' legion of fans in the form of origami, using the exquisite Japanese art form of paper folding to recreate the cinematic spectacle in miniature — and reusing paper and cardboard while they're at it!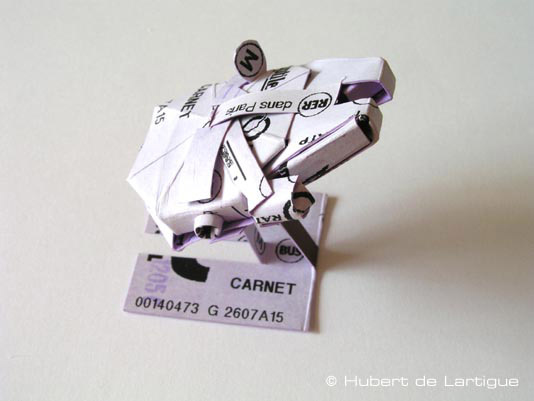 Millenium Falcon. Image used by permission of Hubert de Lartigue
A pioneer in the field of
Star Wars
origami is Parisian artist Hubert de Lartigue. While he usually works with an airbrush, luckily for us, an idle moment saw him turning his hand to transforming Parisian Metro tickets into
Star Wars
space vessels — recycling in action!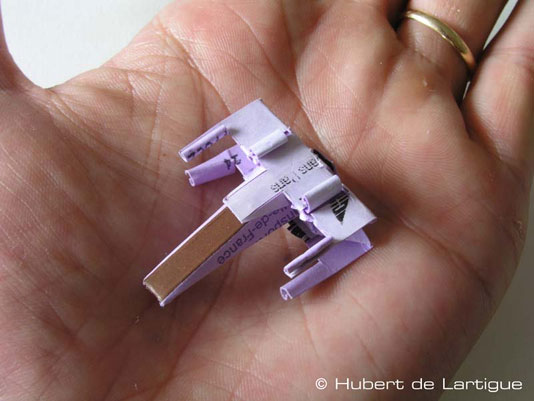 X-wing. Image used by permission of Hubert de Lartigue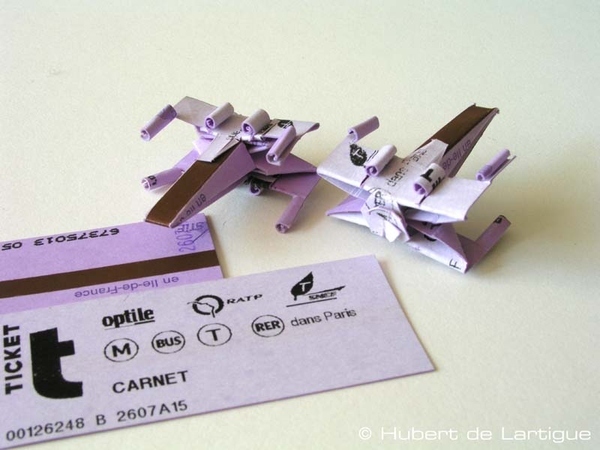 X-wings. Image used by permission of Hubert de Lartigue
Above are Hubert's beautiful X-wings, as well as his fantastically crafted Millennium Falcon. The image below, showing two Millennium Falcons alongside the scalpel with which they were made, illustrates just how tiny they really are. However, despite their small scale, they perfectly capture the high-tech romance of the sci-fi spaceships.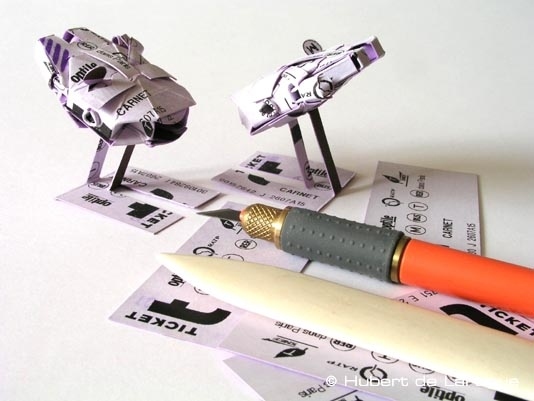 Millenium Falcons with scalpel. Image used by permission of Hubert de Lartigue
Hubert has written extensive bilingual tutorials explaining exactly how you can make your own origami
X-wings
and
Millenium Falcons
using his designs — you just have to get a hold of some Parisian Metro tickets! The devilishly detailed Falcon takes four tickets to complete and makes use of the logos and designs on the ticket, while the X-wing puts to good use the card's thick central strip for its nose. As Hubert comments, all the X-wing is missing is R2-D2.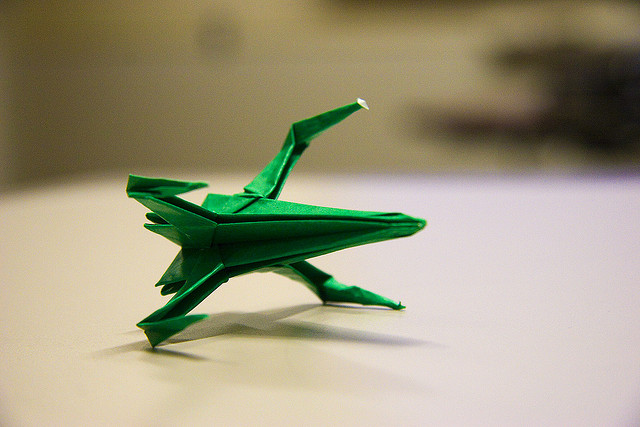 X-wing. Image by kbaird
Hubert's amazing pieces aren't strictly speaking pure origami — he works with 30-mm by 65-mm Metro tickets, rather than with squares, he uses multiple sheets and he cuts the card to give him more flexibility as he works. The design above shows an X-wing made from a single piece of paper, and, by necessity, comes with a pointed noise, made from folds of paper, and lacks the detail and complexity of Hubert's design.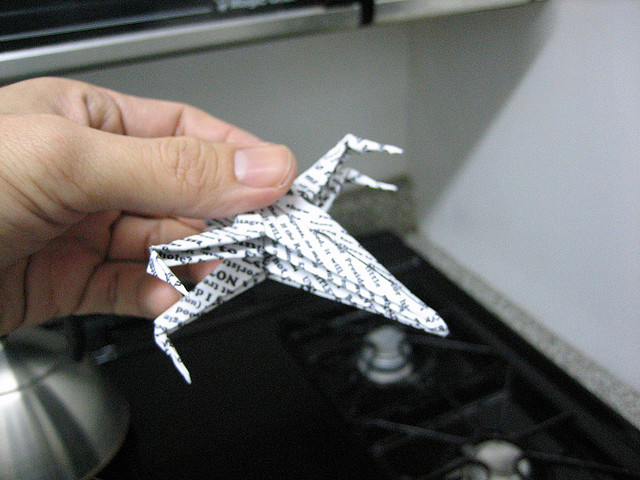 X-wing. Image by klyphord
This design is slightly different again, featuring a flatter upper side, but it can nevertheless fit in the palm of your hand. If anything, the recycled print gives an added layer of depth to the piece as the text runs over and around the vessel. It's easy to imagine this piece flying across the room and into a paper dogfight.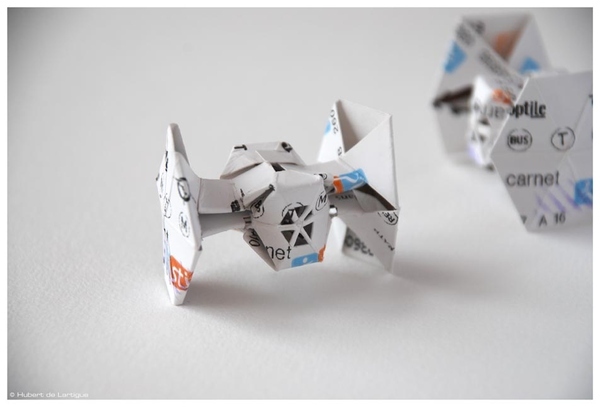 TIE fighter. Image used by permission of Hubert de Lartigue
Hubert didn't just stop at X-wings; he also made TIE fighters (above) while his work inspired a fan to create an Imperial Shuttle (seen below, alongside his other designs).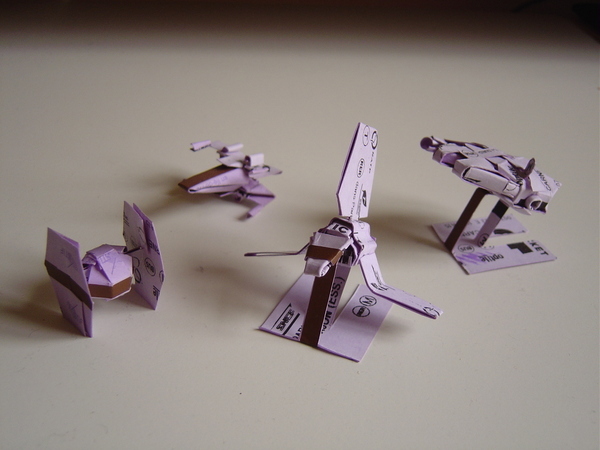 Assorted vehicles. Imperial Shuttle by taklyt inspired by Hubert de Lartigue
In all, Hubert spent six months working on the designs — and as you can see below, he certainly made a few of them. It's a veritable fleet!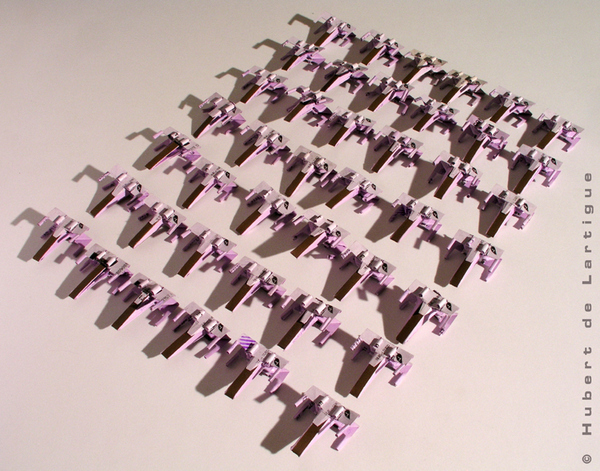 X-wings. Image used by permission of Hubert de Lartigue
Science-fiction is certainly close to Hubert's heart — he originally decided to become an artist after seeing draft designs for Alejandro Jodorowsky's planned filming of Frank Herbert's
Dune
. He now specializes in the human form, and in particular pinups. However, there is a world of
Star Wars
origami beyond Hubert, and the series has inspired recreations spanning far beyond its iconic vehicles. Below is a startlingly effective miniature of the great Jedi master himself, Yoda, which perfectly captures his hunched shoulders and pointy ears. The reverse side of the paper has cunningly been used to color Yoda's face and hands, distinguishing his skin from his cloak.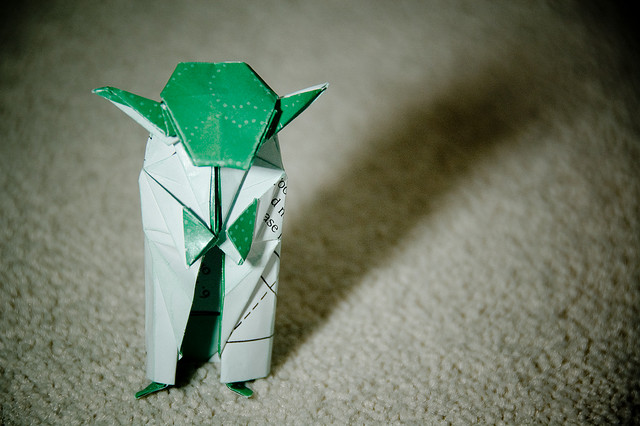 Yoda. Image by Jonathan_W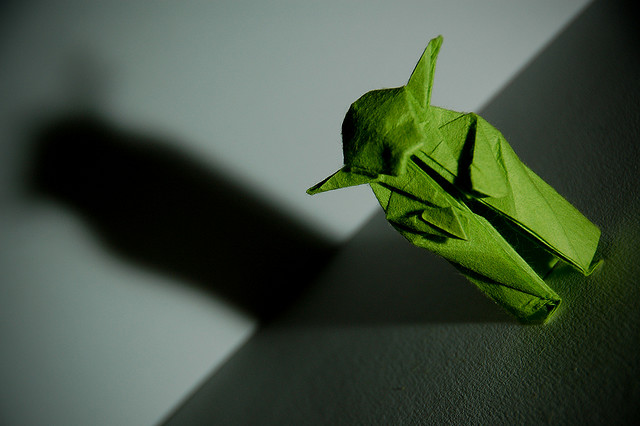 Yoda. Image by Jonathan_W
While the more recent prequels might be considered to be rather less iconic, that's not to say that they didn't inspire some amazing recreations. Below is a battle droid designed and folded by Phillip West from a single 17-inch square of tissue foil — using the reverse side to color the droid's weapon. It stands next to an action figure so you can see the design that the paper artist was working toward.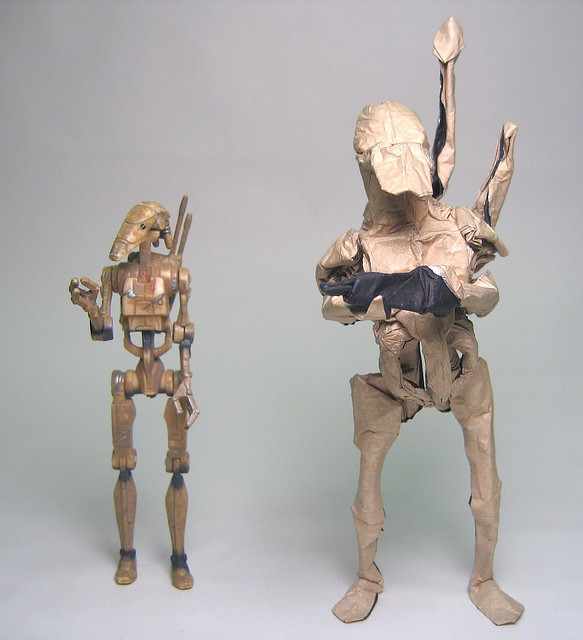 Battle droid. Image by PhillipWest
Meanwhile, below is a simple but effective TIE fighter design. You can just see this one whooshing into battle, while John Williams' classic score booms out of the stereo!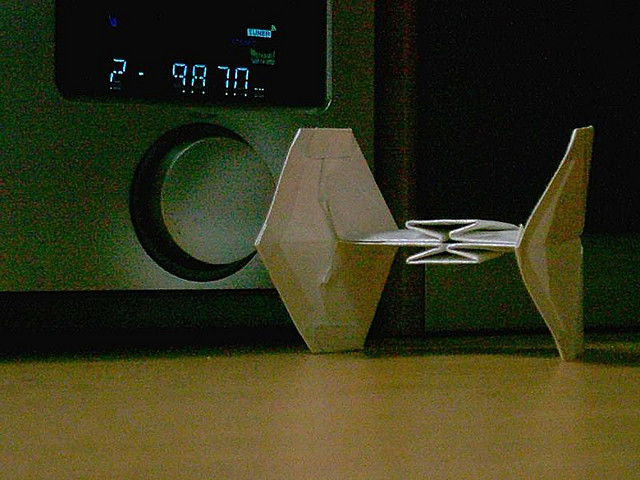 TIE fighter. Image by Steel Wool
Here is yet another X-wing design, and in this case the main body of the ship is made from a folded X. The potential variety of designs available is almost endless, while the range of inspiration is equally stupendous.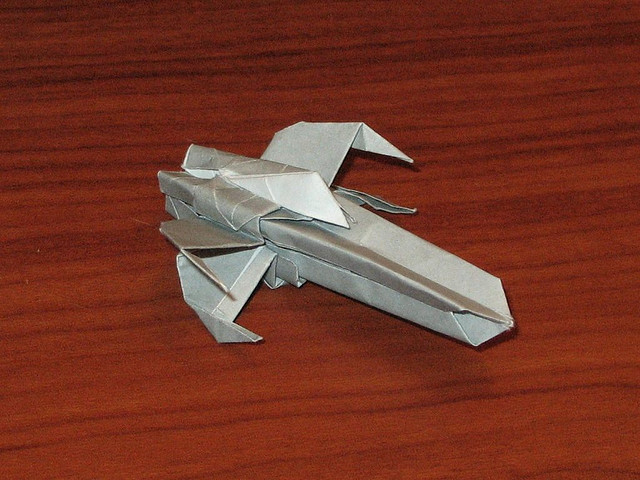 X-wing. Image by sparr0
If you've been inspired to get to work, there are numerous guides on the Internet that will give you detailed instructions about how to make your own origami figures.
Star Wars Origami
offers an array of designs, while
Chris Alexander
will have a bantha (think a large, elephant-sized creature with curly horns) in your hands in no time. On the other hand,
The Origami Resource Centre
can give you instructions on everything from AT-ATs to Y-wings and, if you're willing to spurn George Lucas's creations, you could even build a Borg cube. Perish the thought!