As the go-green movement gets into full swing here in the United States, colleges across the United States are launching or expanding their sustainability education programs. Arizona State University (ASU) is leading the pack with the first-ever School of Sustainability, the Global Institute of Sustainability and a new minor in sustainability that is available campuswide. The School of Sustainability was launched in the spring of 2007 and the first class of students enrolled in the fall of 2008. The school offers several sustainability degrees, including a Bachelor of Arts, a Bachelor of Science, a Master of Arts, a Master of Science and of course a doctorate program. ASU also offers its students the ability to earn a degree in business, law or engineering with a sustainability concentration.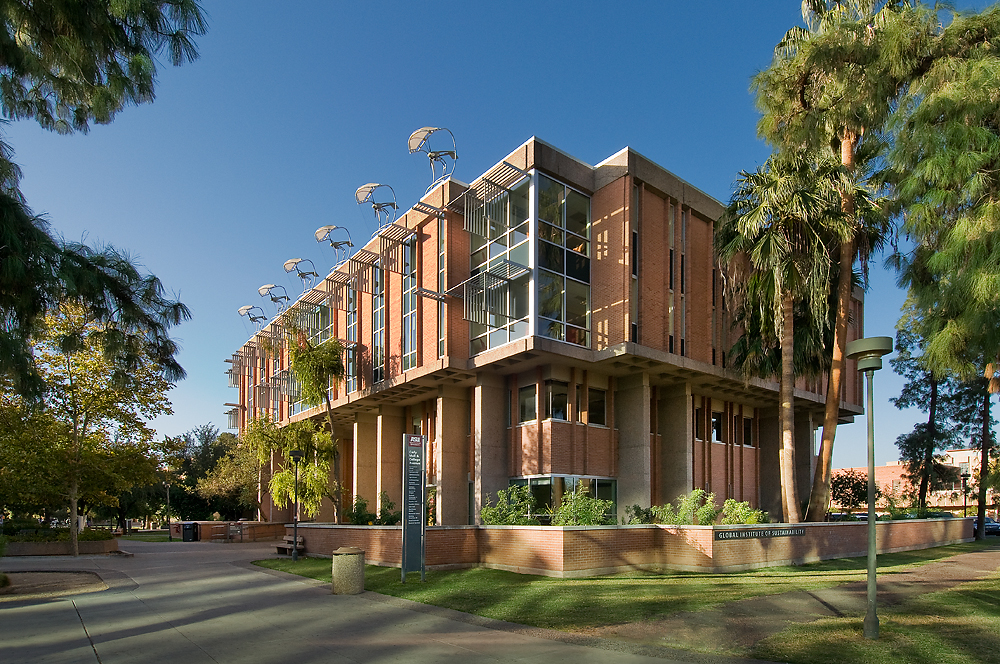 While the multiple degree tracks and sustainability concentrations have been available to students for some time, ASU is continuing to expand its sustainability education options with a new minor in sustainability. The minor program is open to students across all of ASU's campuses that aren't already enrolled in a program with a sustainability concentration. The 18-credit minor track allows students to complement their education with a basic introduction to sustainability issues, better preparing them for today's environmentally minded world. Students enrolled in one of the many sustainability degree tracks at ASU can take advantage of several learning opportunities. Honors students can participate in the Community of Undergraduate Research Scholars on sustainability-focused research projects at ASU. Other programs available to students include the Integrative Graduate Education and Research Training in Urban Ecology program, the opportunity to study abroad, internships for both undergraduate and graduate students and research assistantships available to graduate students. ASU is the perfect campus for acquiring a solid sustainability education. Both the Sierra Club and The Princeton Review have recognized the school as one of the nation's greenest campuses. ASU is home to several LEED-certified buildings, including the LEED Silver-certified Global Institute of Sustainability (GIOS), home of the ASU School of Sustainability. The GIOS building was once home to ASU's College of Nursing and after an extensive green renovation, the school opened the doors to the first dedicated sustainability school in the nation. The building is equipped with roof-mounted wind turbines that generate 1,000 watts of power, countertops made from recycled milk jugs that have recycled can shavings inlaid to add a bit of design flair, a high-tech occupancy sensor-controlled lighting system, extensive natural lighting features and as an added bonus, the school is located near one of the light rail stops in Tempe. ASU's commitment to sustainability doesn't just stop at the doors of the School of Sustainability; the school also has a comprehensive campuswide recycling program. Students at ASU can recycle all of the typical items like paper, cardboard, plastic and cans, but ASU's recycling program doesn't stop there. ASU students, staff and faculty can also recycle glass, vinyl banners, non-hazardous aerosol cans, batteries, cell phones, concrete, CFLs, packaging material, all types of computer technology and other electronics and shoes. Yes, ASU students can recycle their shoes on campus. ASU has partnered with the Nike Reuse-a-Shoe program to recycle athletic shoes into sports surfaces — think basketball courts, running tracks and even playground surfaces. Shoes that are in good condition are sold through the university's Surplus Property program for reuse in communities in Mexico. If you're interested in obtaining a sustainability degree on a campus that allows you to practice what you're learning, then Arizona State University may be your answer. For more information about the programs, visit the
ASU School of Sustainability website
.