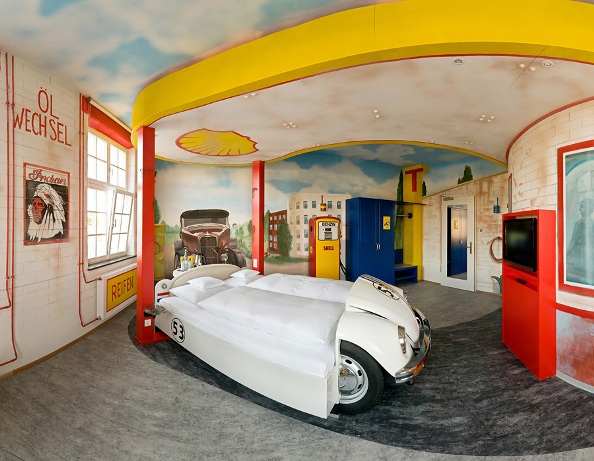 Image: Frank Hoppe
Upon hearing the terms "cars" and "recycling," many of us will think of old cars rusting in a field or a junkyard, waiting to be dismantled and perhaps reused, if only for scrap. But nothing could be further from the truth. Old and new cars that are still in fairly good condition can get a new lease of life and remain in one piece — for example as amazingly stylish flowerpots…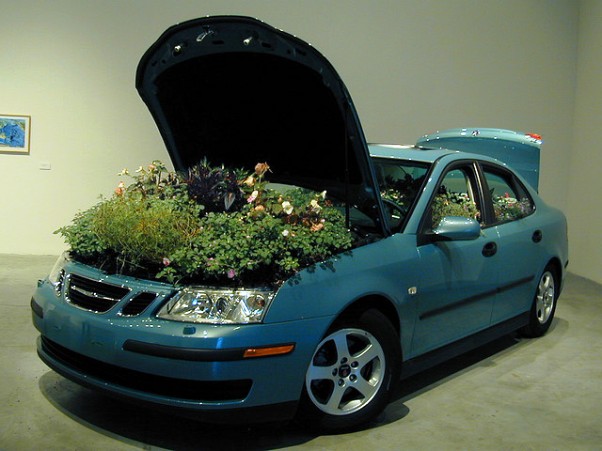 Image: striatic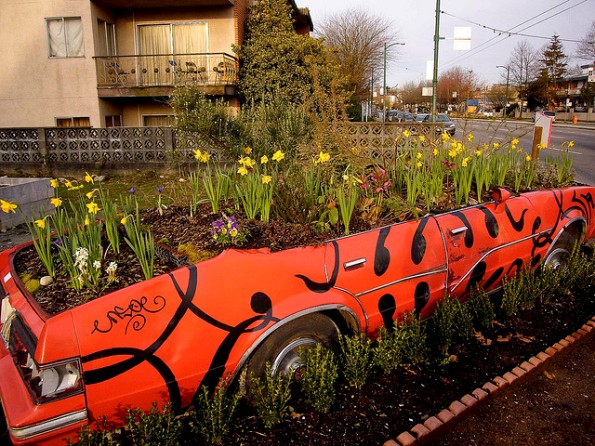 Image: Paul Joseph
… If not, significant parts of cars can at least be reused, like this amazing Mercedes-Benz "car wash bed" at the V8 hotel in Stuttgart, Germany.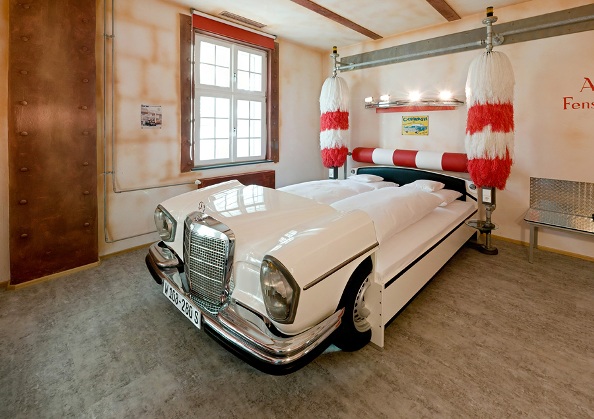 Image: Frank Hoppe
This comfy car sofa invites visitors to sit down in style at Stockholm's convention center.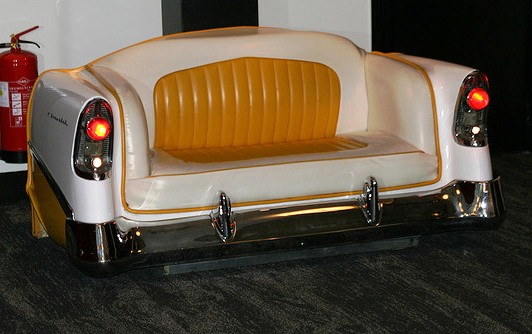 Image: Wrote
Whereas this 600 SEAT Model D sofa even comes with working headlights and an audio player. Cool stuff!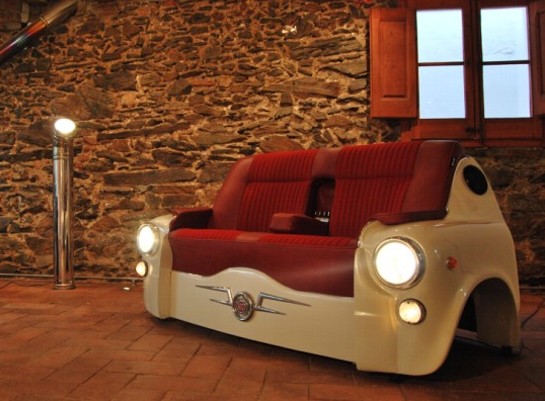 Image: Bel&Bel
Real automotive fans will enjoy the Meilenwerk Stuttgart and its brand new V8 hotel, which opened its doors in September 2009. Its USP? Everything revolves around cars, unsurprisingly for a city that also houses the famous Mercedes-Benz museum and many car factories. The hotel features old and new models of various makes, all in mint condition, though not necessarily in one piece.
The garage: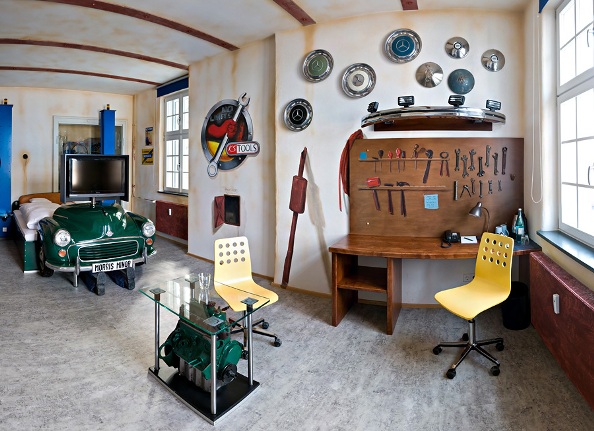 Image: Frank Hoppe
If staying at the V8, make sure to request one of the hotel's 10 "theme rooms" (from EUR 160), which are designed to represent a gas station, an old car junkyard, a garage, a car wash, a drive-in movie theater and more.
Ah, the days of the drive-in movie theater: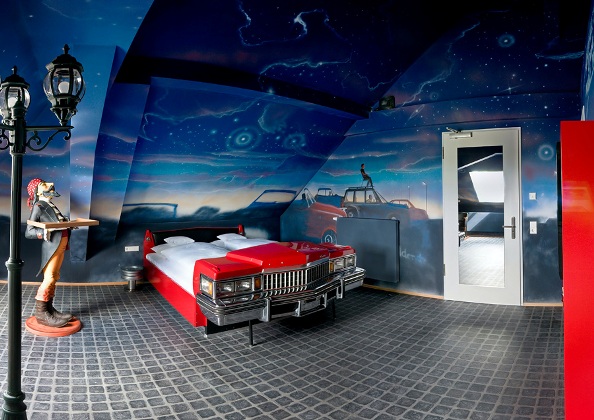 Image: Frank Hoppe
Many a Mercedes fan's heart will bleed upon seeing the image above — a Mercedes-Benz hacked into two parts to make way for a bed. With a brilliant concept and amazing execution, though, maybe fans might be reconciled with the idea by actually being able to sleep comfortably in their favorite car (all beds are 2.1m long).
Formula 1: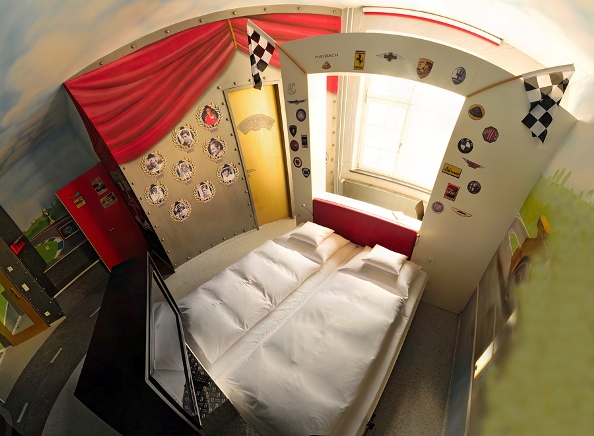 Image: Frank Hoppe
The V8 hotel is just one part of the Meilenwerk, an industrial complex in Stuttgart that includes a garage, a museum, a car dealership and various restaurants. A one-stop shop for automobile fans, so to speak! Below is a once trusty engine that now supports a coffee table top in the V8 lobby.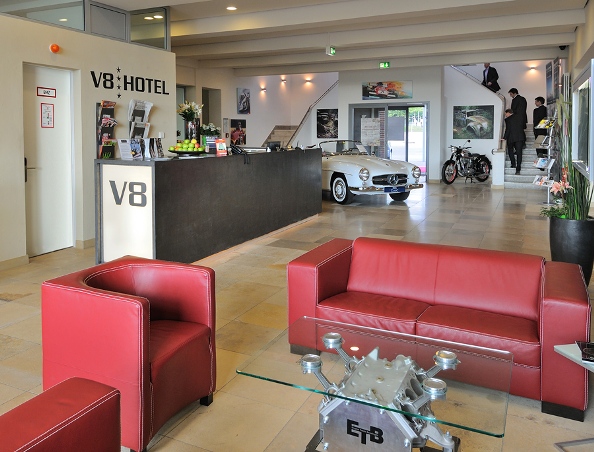 Image: Frank Hoppe
Art, of course, has used cars or their parts for almost as long as they have existed, usually focusing on turning them into something completely different. Carhenge in Alliance, NE, is a prime example. It is made up of 38 vintage cars, now silver-coated to imitate Stonehenge's great pillars, but once rusting on local farms and dumps.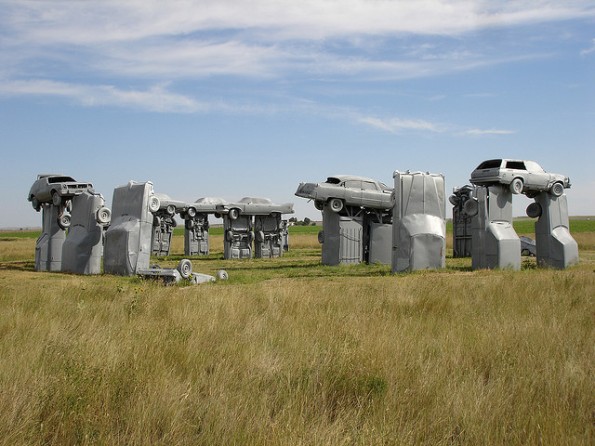 Image: Kevin Saff
If you're looking for a creative new purpose for your old car or if you just want to fulfill your desire to be as close to cars as possible, there are many great ideas out there. Hope you've been inspired!
Sources: 1, 2, 3