There are certain office supplies that will never go out of style. Simple necessities that, despite the hands of time, we reach for without fail. Coffee might be the first thing that comes to mind, and sure, it's certainly an essential staple guaranteed to restore the pep to even the most uninspired employee's step, but dig a little deeper. Unfortunately, an ever-changing collection of music, while nice, is not what I was getting at. What about something to write with?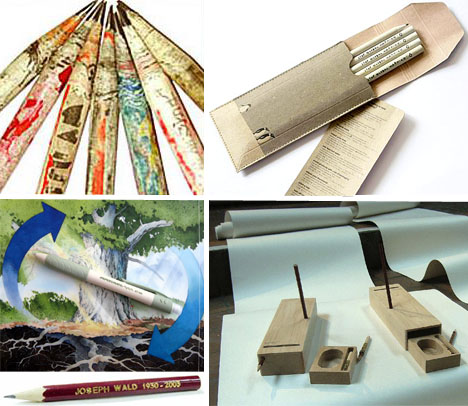 Oh,
right
! So basic, yet so crucial. Offices from London to New York and everywhere in between may consider computers to be their number one go-to resource, yet when the power goes out, what can you always rely on? Yup, plain ole pens and pencils. The underappreciated workhorses of the business and school set, we use and ultimately cast aside remnants to the tune of
6 billion pens
and
14 billion pencils
annually in the United States. Despite their seemingly slim profile, all of that material ends up compounding the burden on our landfills when it really should not. We could presumably just turn over a green leaf by recycling every graphite-filled wooden nub and/or plastic pen skeleton that passes through our fingers, but consumers continually prove that sifting through the waste stream to retrieve reclaimable materials isn't exactly our strong suit. That's where manufacturers are galloping in to save the day and make our lives infinitely easier in the process. In record numbers, they're greening these most humble writing implements so that we can use and dispose of them without batting an eyelash (or causing significant planetary harm). As it turns out, corn is for so much more than eating. One hundred percent biodegradable corn starch is now being converted into eco-friendly plastic that breaks down in approximately one year. When you see a photo of the plastic waste that finds its way from our homes into the middle of the ocean and back onto shorelines around the world,
battered and ocean-bleached plastic pens
are almost always among the list of usual suspects. Why wouldn't we spend a little extra money on this new advancement in order to do right by our planet? Depending on the company, you can support semi-green to turbo-green implements, from
Bic's Ecolutions Round Stick Pen
to
Senator's Super Hit Eco Ballpen
, and Paper Mate's reusable, compostable
FlexGrip Ultra Recycled Ball Point Pen
to
DBA's ecological ink-filled 98% biodegradable pen
(produced with wind power) and
Biopla's 100% biodegradable corn plastic pens
. You can even get your pen with a dash of sustainable bamboo, recycled rubber, denim or old misprinted U.S. currency thrown in for good
repurposing measure
.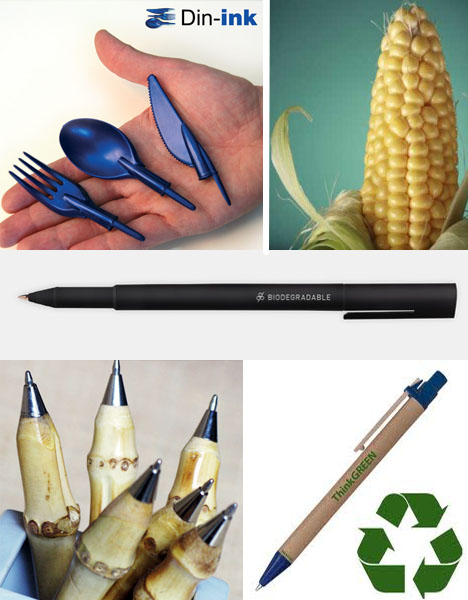 For the chronic pen cap nibblers out there,
Din-ink
's 100% biodegradable GM-free natural starch and fiber-based alternative comes in particularly handy. The handsome set of three pen caps serve double time as eating implements for the eco-conscious among us. Poised to help facilitate absentminded chewing along with actual dining, they could conceivably render disposable plastic ware in the office entirely obsolete! Pencil lovers, fret not — there are eco-alternatives a plenty for you, too! Since traditional virgin wood versions account for the
felling of 11,600 cedar trees
in the United States every year, it's heartening to learn that the super greenie underdog in the pencil world happens to be post-consumer newspaper. Offering the strength and durability of wood with none of the carbon-sink depletion,
TreeSmart
manufactures artful-looking implements topped with a latex-free eraser for even more planet-friendly punch. Korean designer Gongjang's 100% recycled paper
"Stop Global Warming" pencils
are another slick contender, as are
Greenciles
and
Earthzone
brand pencils. If you really want to go full circle, you might consider transforming the cremated remains of a loved one into 240 of
Nadine Jarvis' handcrafted pencils
, appropriately dubbed "Carbon Copies,"
but for most, opting for
reusable pencils made with Mirel
(a plant-based sugar feedstock courtesy of corn) is just dandy, thank you very much.